---
Weekly DOJ Investigation Update
Week of June 20
---
See You In September: Community Meeting
Thank you for coming out to Monday's meeting. WE WILL NOT BE MEETING IN JULY OR AUGUST. See you in September!
---
COVID-19 Free Testing & Vaccine
COVID-19 Testing & Vaccinations
As many of us begin the trek back to the workplace, some companies may require employees to get tested or vaccinated for COVID-19 before coming back.
Testing and vaccinations are offered by the city at no out-of-pocket cost. Please check out the Phoenix COVID testing and vaccination page for a list of events scheduled.
---
A Local Call To Action: Make Our Schools Safe
Children deserve to be safe at school... and Valley first responders have partnered to provide critical active shooter preparedness training to make sure of that.
This is a call to action to local school districts, officials, and employees to participate in this fully funded training. The national program we are using is called "ALICE" (Alert, Lockdown, Inform, Counter, Evacuate). This training provides basic violent incident awareness that demonstrates different techniques on lockdown, classroom security, and how to actively distract the shooter, among other important safety tips.
This free two-day event will include effective active shooter training and preparedness solutions. The event is scheduled for July 28th and 29th. The first day will be focused on education and ALICE based curriculum. The second day will include a mock-shooter scenario.
Road Safety Action Plan: We Value Your Feedback
Thank you for your involvement with helping the City of Phoenix develop its comprehensive Vision Zero Road Safety Action Plan. Your continued participation is important to this process.
The next phase of community engagement is underway, and I encourage to you to visit Phoenix.gov/RoadSafety to watch a short video presentation, read the draft plan and take a survey in response. The survey will take about 15 minutes of your time and be available through August 31, 2022.
if you're ready to take the survey now, please click the button below, and it will take you directly to the survey.
Literacy Tutors Needed at West Valley School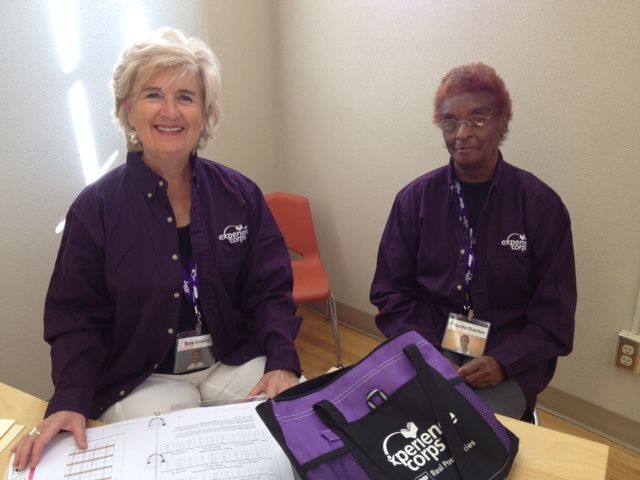 Attention West Phoenix residents, we need your help! The City of Phoenix and the AARP Foundation Experience Corps are looking for volunteers ages 50 and up to help tutor Phoenix students, particularly in West Phoenix. During the pandemic, the literacy rate for Phoenix third-graders dropped to 25 percent, which is the lowest it has been in seven years.
Those interested in volunteering are invited to attend an upcoming information session. To register for an information session, visit Phoenix.gov/Education/Experience.
Calling All Community Volunteers!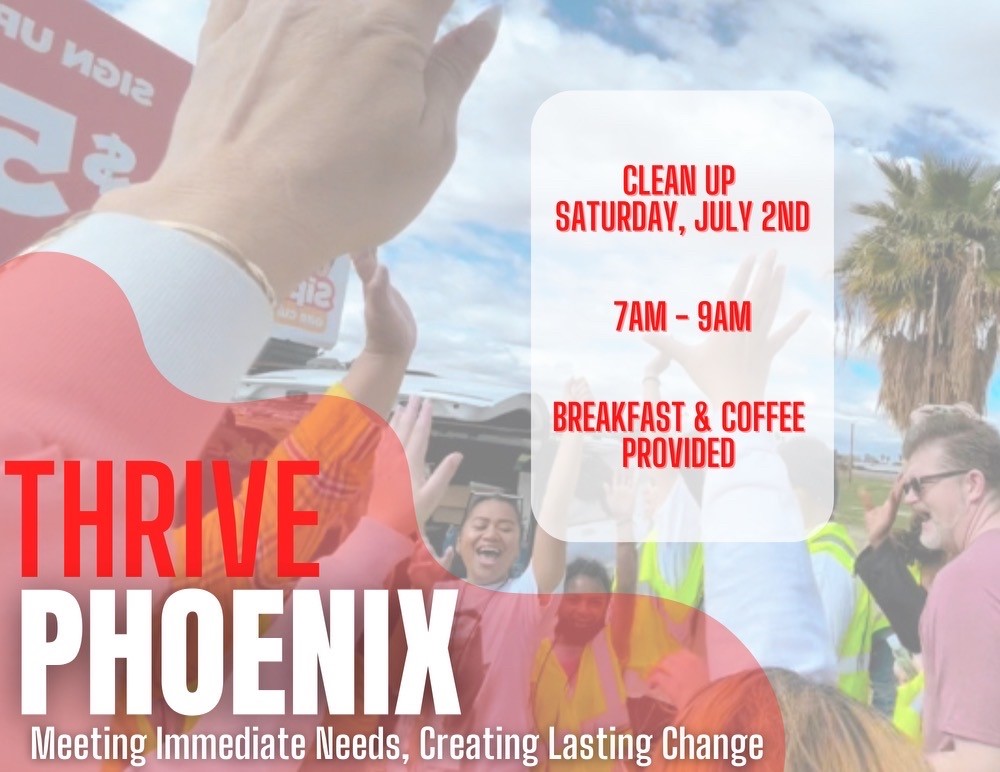 We have a service project in our community coming up! Thrive Phoenix will be performing a cleanup along Bell Road from 7th Ave to the I-17. The cleanup will be on Saturday, July 2nd, and start at 7am. Show up to Lamar's Donuts with a can-do attitude and get ready to help keep our City and streets clean!
Star Spangled Splash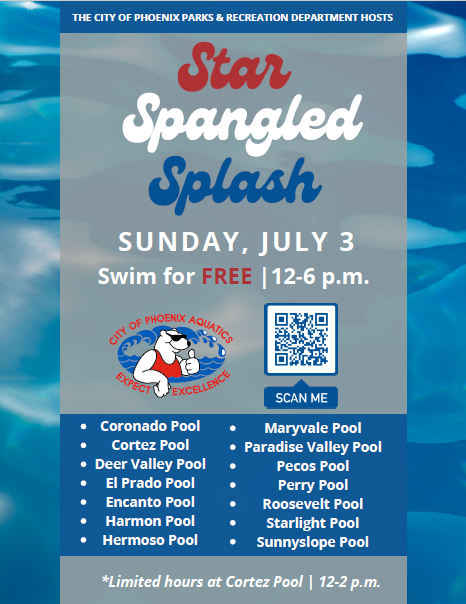 The Parks and Recreation Department is excited to announce the Star Spangled Splash Event taking place this Sunday! In celebration of Independence Day, the City will be offering free open swim at City Pools on July 3.
Drought: Do Your Part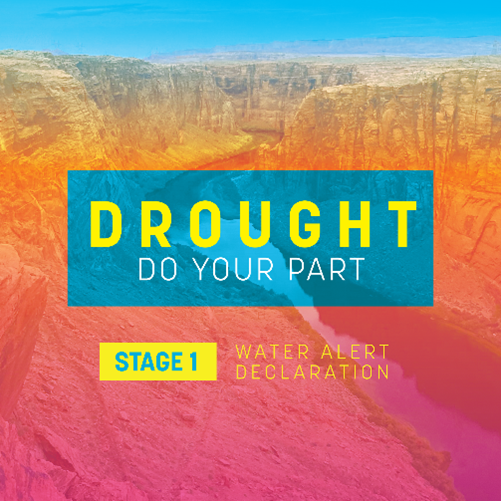 As the drought intensifies, the City must continue to innovate new, proactive actions to prepare for even deeper shortages on the Colorado River. We need you to be our partner in water conservation. Let's all continue to do our part to be #PHXWaterSmart.
Learn more: Phoenix.gov/drought
Eastbound Greenway Road Near I-17 to Close For Two Weeks Starting Friday, June 24
The Arizona Department of Transportation advises drivers who use Interstate 17 in north Phoenix to plan for continued closures of Greenway Road between 25th and 29th avenues, as well as on- and off-ramp closures at Greenway Road as crews make progress on the regional drainage system project.
Eastbound Greenway Road is scheduled to be closed between 25th and 29th avenues, starting at 9 p.m. Friday, June 24. It will remain closed through July 8. The following ramps and frontage road also are closed during these times:

The northbound I-17 on- and off-ramps at Greenway Road, along with the northbound frontage road between Thunderbird and Greenway roads.

The southbound I-17 on-ramp is accessible from eastbound Greenway Road only.

Detours

: Drivers can use 19th or 35th avenues to Cactus or Bell roads to access north- and southbound I-17. To access Greenway Road, drivers may exit I-17 at Bell or Thunderbird roads and use 19th or 35th avenues.
Drivers should slow down and use caution around construction workers and equipment.
Phoenix Public Library Summer Reading 2022 Game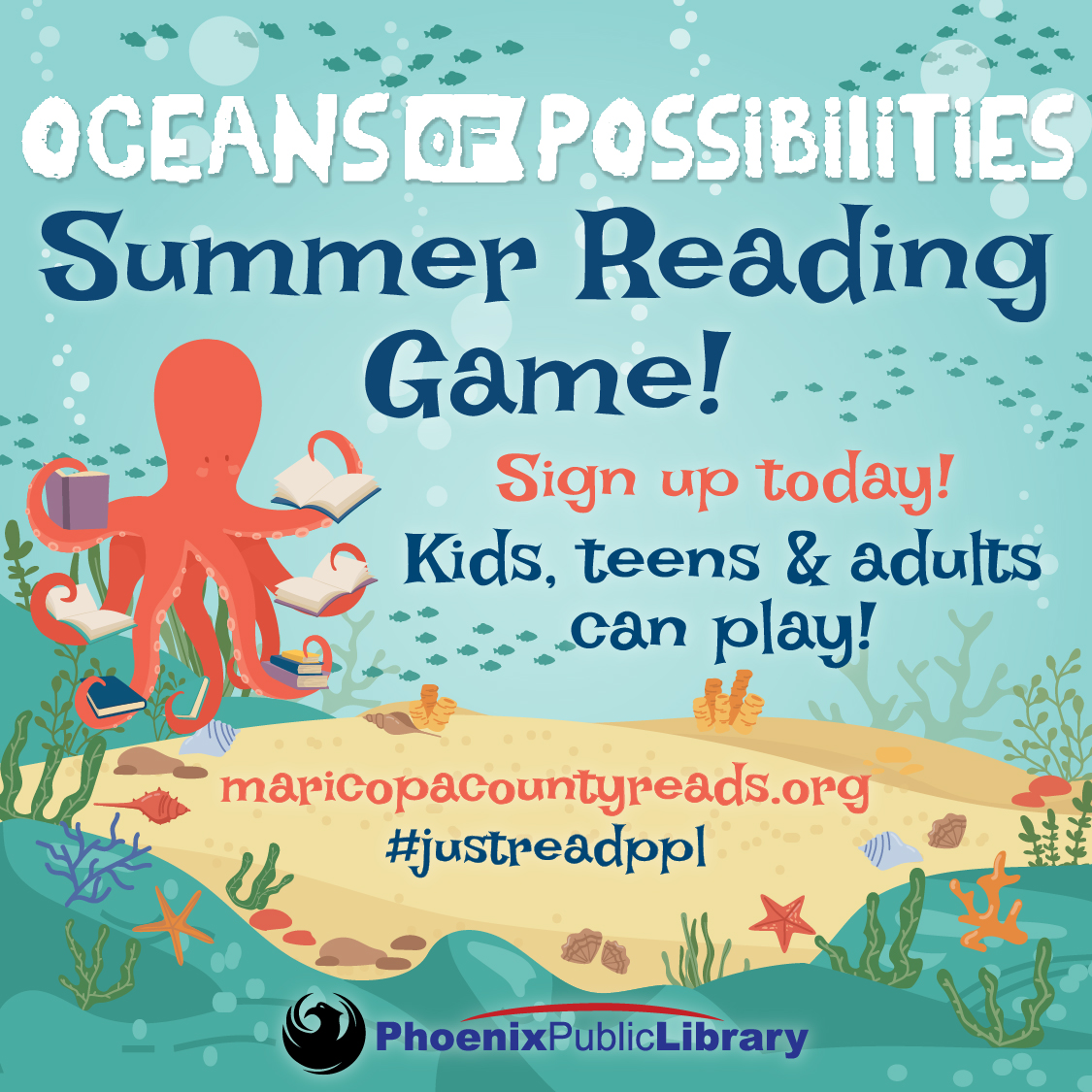 As of Sunday, May 1st, registration for Summer Reading 2022, themed, "Oceans of Possibilities" is open on maricopacountyreads.org and the game officially begins on June 1st. From June 1st through August 1st, participants are encouraged to read (and log) at least 20 minutes a day…and all reading counts! Throughout the 2 months of the game, those playing and achieving 500-1750-1,000 minutes read are eligible to earn special badges and prizes such as: free books, AZ State Park Passes, Phoenix Mercury tickets; free Rubios, Raising Caine's and Peter Piper Pizza meals. And those achieving 1,000 minutes or more read are entered into a drawing to win a Family 4 pack to the Superbowl Experience 2023 and more! Learn more by clicking here.
---
News From Deer Valley Unified School District
DVUSD Big Kid Book Club is Here!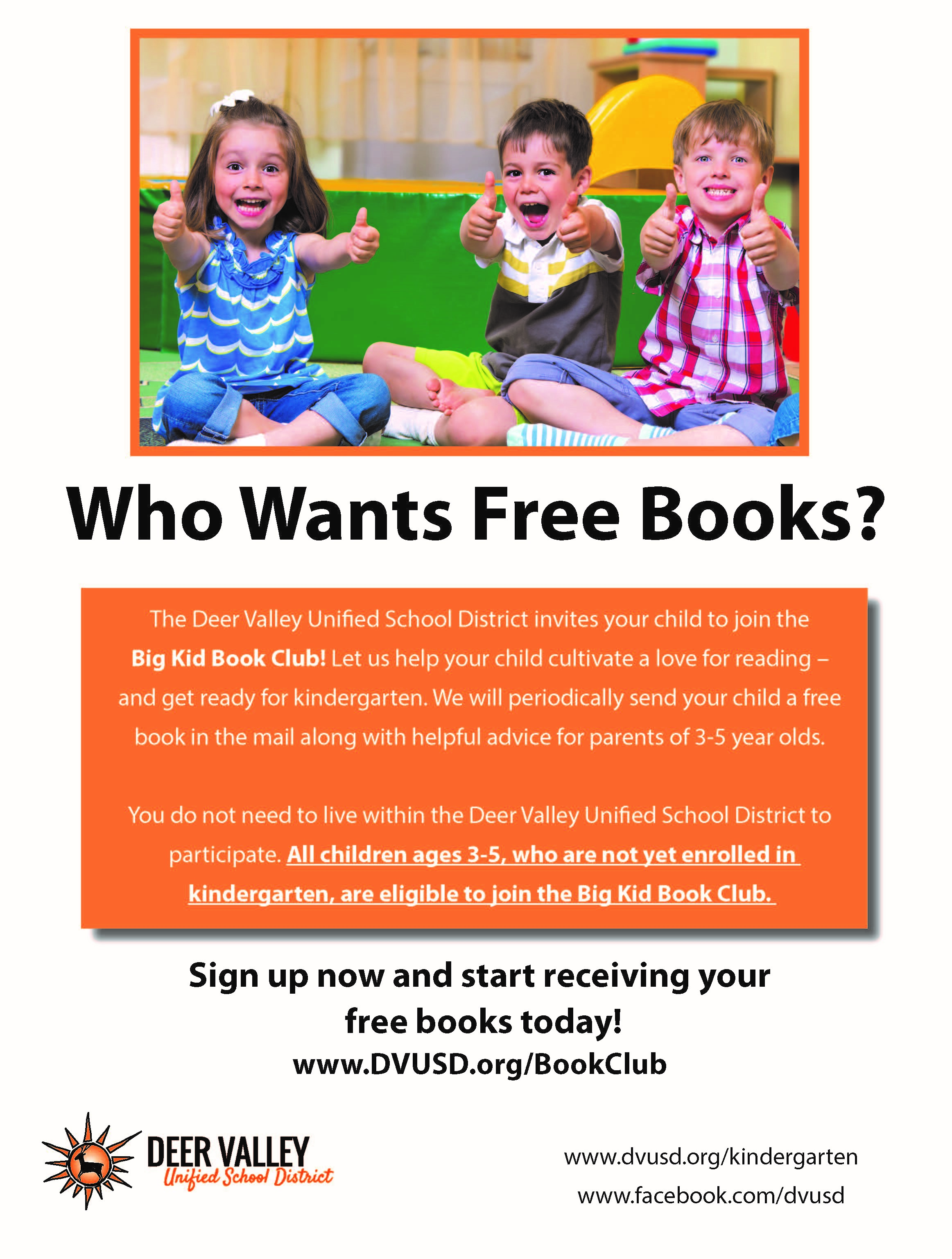 Deer Valley Unified School District's Big Kid Book Club sends FREE books to kids! Sign up your 3-5 year old to start receiving free books at www.dvusd.org/BookClub
All children between the ages of 3-5, who are not yet attending kindergarten, are eligible to join the Big Kid Book Club.
We will periodically send your child a free book in the mail, along with fun work sheets, and helpful advice for parents of 3-5 year olds. You do not need to live within the Deer Valley Unified School District to participate. Let us help your child cultivate a love for reading – and get ready for kindergarten.
---
News From Washington Elementary School District
WESD Offers Rewarding Employment Opportunities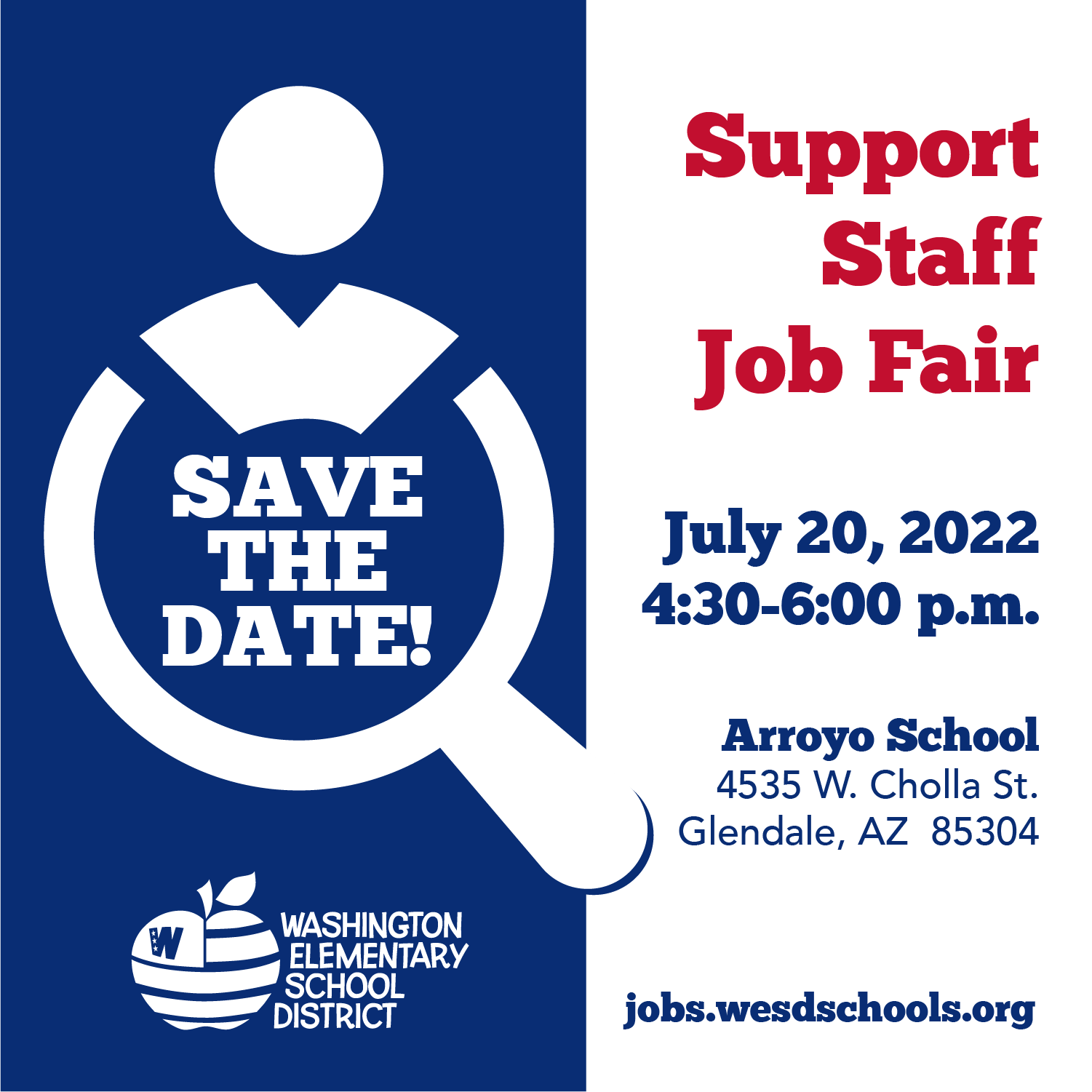 The Washington Elementary School District (WESD) is hosting a Support Staff Job Fair Wednesday, July 20 from 4:30 to 6:00 p.m. at Arroyo School, 4535 W. Cholla St., Glendale, AZ 85304. The WESD is looking to fill a variety of full and part-time positions in the following areas: office technicians, instructional assistants, paraprofessionals, transportation (drivers and bus assistants), KidSpace (WESD's before and after-school program), Nutrition Services, custodial and more!
The WESD offers employees extensive benefits including paid holidays and personal leave, employer-matched contributions to Arizona State Retirement, insurance benefits for employees working 30 hours a week, discounts on WESD-sponsored childcare, extensive training and opportunities for advancement.
Interested individuals can view all open positions at jobs.wesdschools.org and are encouraged to complete an interest form at by clicking here. Walk-ins are welcome. To learn more about classified positions in the WESD, contact Jenny Champ, Classified Recruiter at Jennifer.Champ@wesdschools.org or by calling 602-347-2611.
WESD Offers Engaging Learning for Preschoolers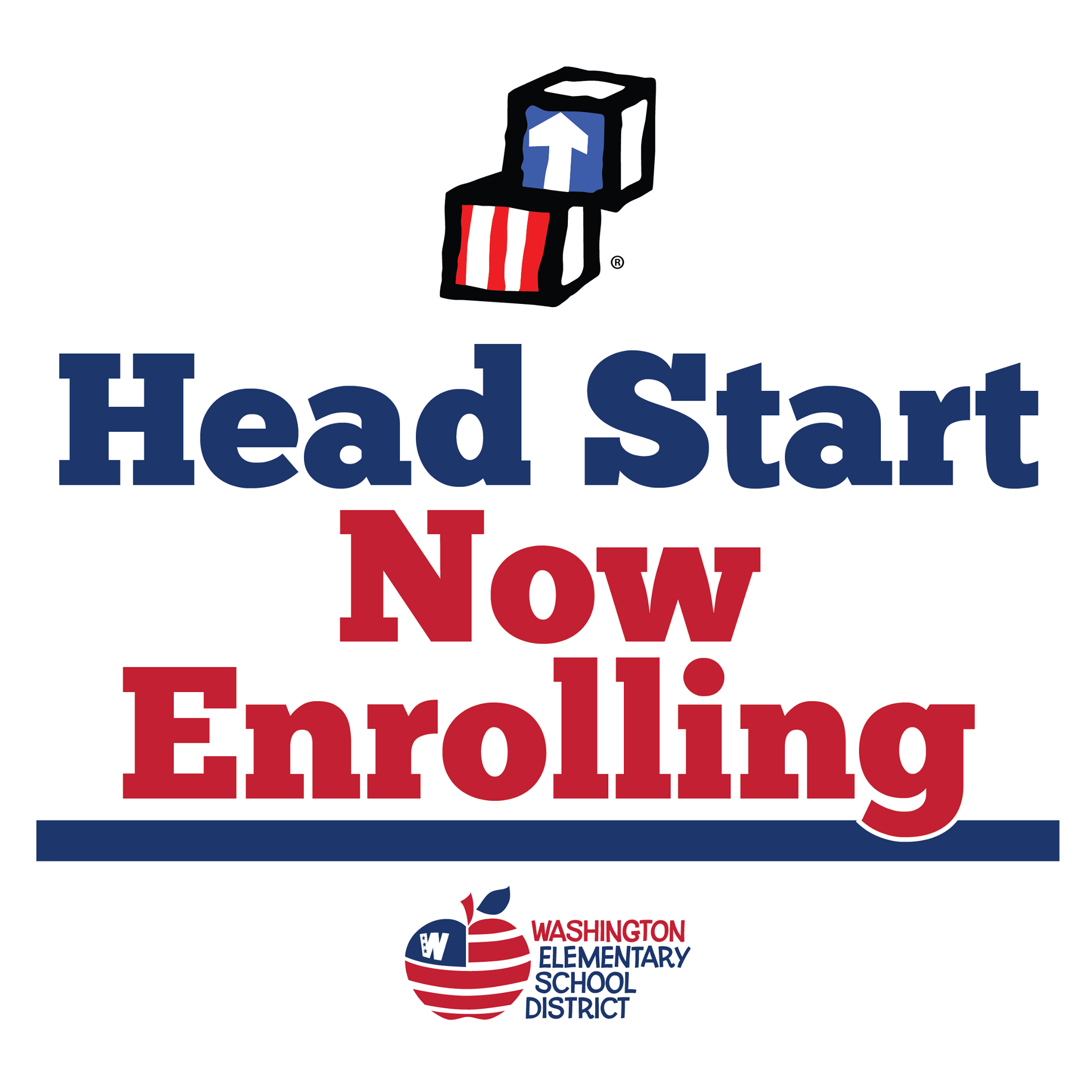 Did you know that WESD offers a Head Start program to children ages 3-4 at 19 locations through a partnership with the city of Phoenix?
The WESD Head Start program emphasizes school readiness through early learning opportunities that emphasize social and emotional development, language, cognitive, early reading, science, math and physical development. Qualified students attend at no cost. To learn more about this program, visit https://www.wesdschools.org/HeadStart or call 602-347-4806.
Now Enrolling Families for the 2022 - 2023 School Year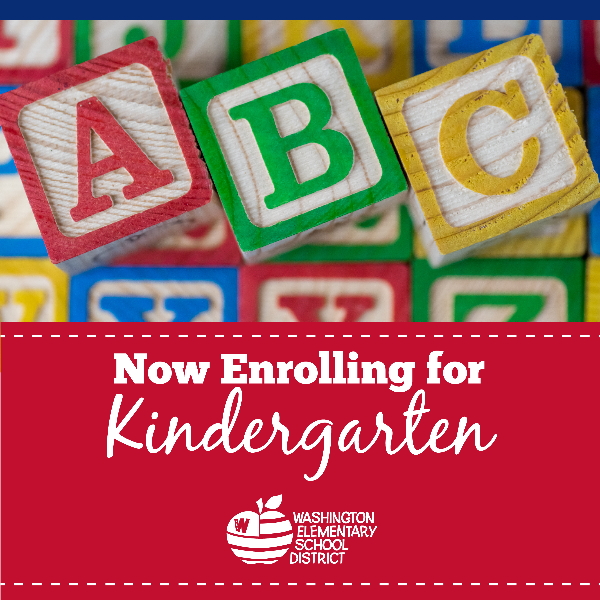 WESD is enrolling kindergarteners for the 2022-2023 school year. Our free, full day program includes research-based curriculum that addresses reading, writing, math, science, social studies, physical education and art with plenty of time for exploration and play. Please share this information with your friends and neighbors who have children turning 5 before September 1. Online registration makes enrollment easy! Click the link for more info.!
https://www.wesdschools.org/registration
---
News From Glendale Union High School District
World-class Education in Your Own Backyard: Enroll Today!
Glendale Union High School District offers nine nationally recognized high schools right in your own backyard. All schools are ranked among America's best high schools by U.S. News & World Report. GUHSD is proud to provide championship athletics, extracurricular activities, cutting-edge STEM opportunities, career & technical education options, and so much more. The new school year begins on August 8. It is not too late for new students to enroll for the 2022-2023 school year.
To learn more GUHSD news, visit our Facebook page @GUHSDAZ.
2022 GUHSD Graduates Set All-Time High Record of Earning Over $114 million in Scholarships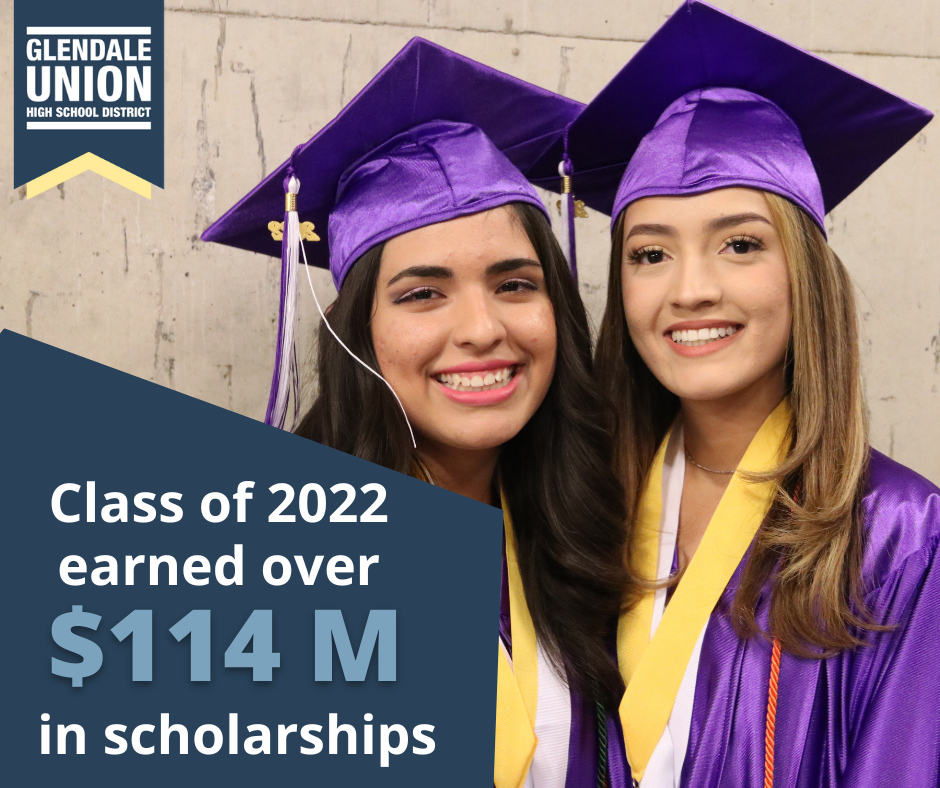 The 2021-2022 Glendale Union High School District school year ended with excellent measures of success. Over 2,000 students graduated from all nine of GUHSD's high schools this year. The Class of 2022 set a new record by earning more than $114 million in scholarships, which was a $16 million increase from the previous year. GUHSD is incredibly proud of the Class of 2022's achievements and wishes all of the graduates continued success in their future endeavors.
To learn more about GUHSD's accomplishments, visit @GUHSDAZ on Facebook.
Become Part of the Glendale Union High School District at our Support Staff Job Fair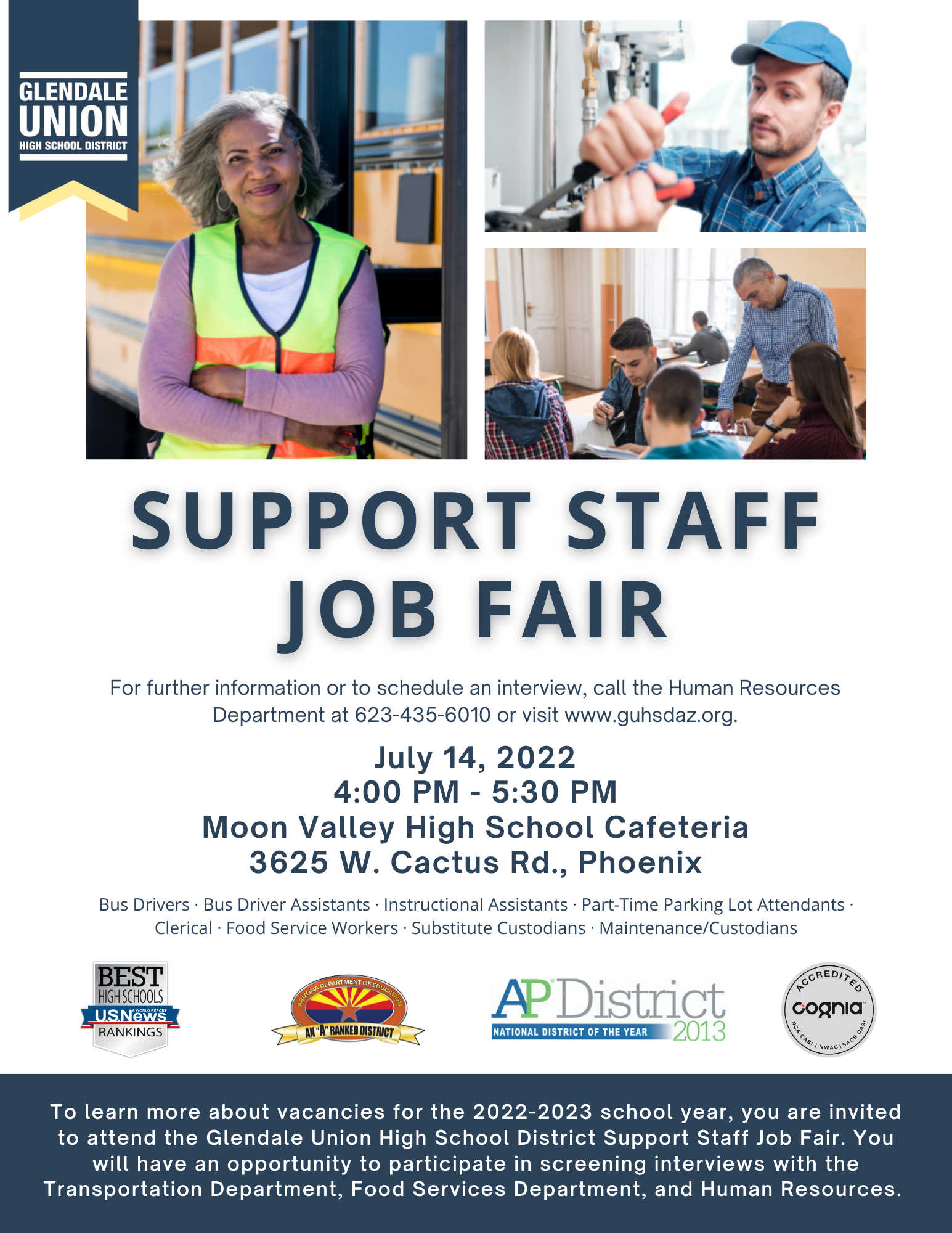 Become part of the Glendale Union High School District at our Support Staff Job Fair! Visit us on Thursday, July 14, from 4 p.m. to 5:30 p.m. at Moon Valley High School for an opportunity to join the Metro-Phoenix area's top-performing high school district! Representatives will be on-site to hold open interviews for careers in transportation, clerical, food services and maintenance.
To learn more about GUHSD, visit @GUHSDAZ on Facebook.
---
Interested in serving on Phoenix's Boards and Commissions?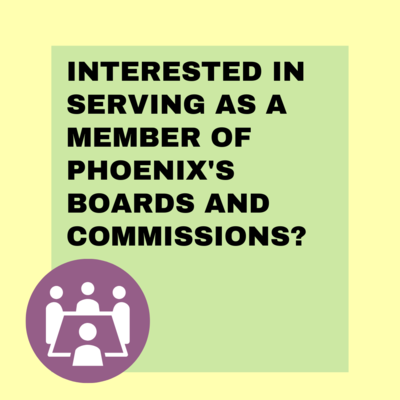 District 1 is seeking community leaders interested in serving as the District's representative for various boards and commissions, such as the Village Planning Committee.
To start the application process, please visit the Boards and Commissions webpage.
---

Upcoming City Council Meetings
Next City Council Policy Meeting: Sept 13th

Next City Council Formal Meeting: July 1st
Councilwoman O'Brien has been appointed chairperson of the Public Safety and Justice Subcommittee, and is also a member of the Transportation, Infrastructure and Innovation Subcommittee and the Economic Development and Equity Subcommittee. Visit the Council Subcommittee webpage for the schedule of public meetings.
---
Learn more about Councilwoman O'Brien, her priorities and focus for District 1 on the district's webpage.
---