---
Mark Your Calendars: Community Meeting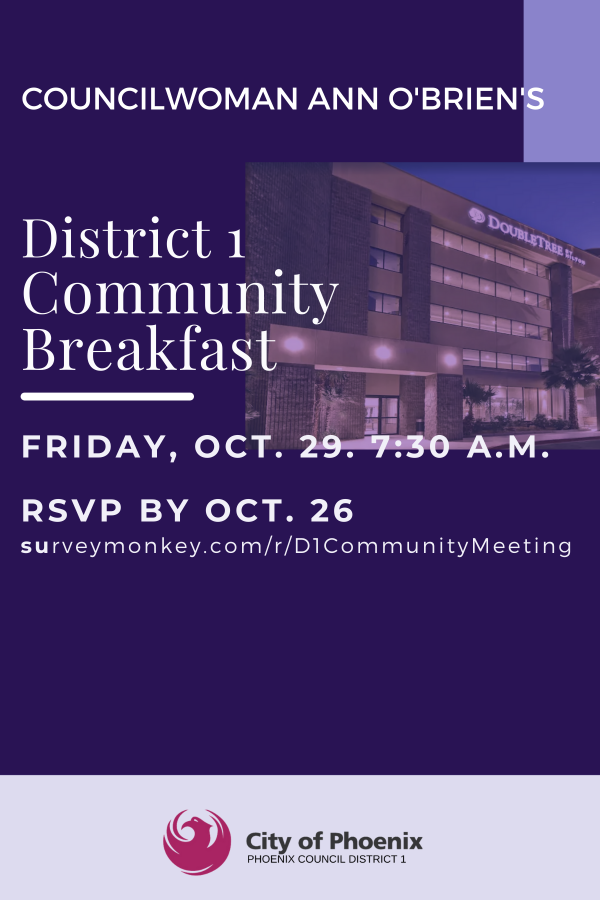 The next D1 Community Meeting will be a breakfast on Friday, Oct. 29, 2021 at 7:30 am. We will be back at the DoubleTree Hotel in MetroCenter and I look forward to seeing you all again soon!
We have invited Phoenix Police Chief Jeri Williams and Asst. Chief Michael Kurtenbach to give an overview of current Phoenix Police staffing.
---
COVID-19 Free Testing & Vaccine
COVID-19 Testing & Vaccinations
As many of us begin the trek back to the workplace, some companies may require employees to get tested for COVID-19 before coming back.
Testing and vaccinations are offered by the city at no out-of-pocket cost. Please check out the Phoenix COVID testing and vaccination page for a list of events scheduled.
---
Add Some Art to Your Life!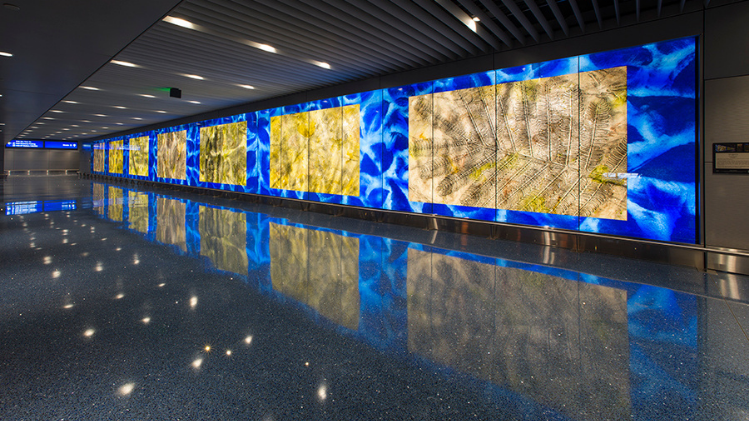 The City of Phoenix Office of Arts and Culture's new online Public Art Map is up and ready for self-guided tours. It features more than 200 major public art projects created throughout Phoenix by the city's award-winning Public Art Program.
Check out the online art map and experience for yourself the amazing sculptures, installations and infrastructures that make Phoenix a diverse art community!
https://www.phoenix.gov/arts/publicartmap
Financial Assistance for Phoenix Families: Your FAQs Answered
On Sept. 21, the Phoenix City Council approved the allocation of $12 million for the Financial Assistance for Phoenix Families Pilot Program. This program will be utilizing American Rescue Plan Act (ARPA) dollars.
We have received questions from D1 families regarding this program, particularly about the application process. The city has compiled the frequently asked questions about the pilot program to help residents navigate the process. This link will be updated with new information as it becomes available.
Phoenix Road Safety Action Plan
The city of Phoenix is investing in a comprehensive Road Safety Action Plan (RSAP) that will further the city's current safety efforts and provide a framework and key strategies for safety enhancements citywide. The development of the plan is spearheaded by the city's Street Transportation Department. Click here to view the plan and to register for the virtual community meeting on Nov. 16.
Deer Valley Fall-O-Ween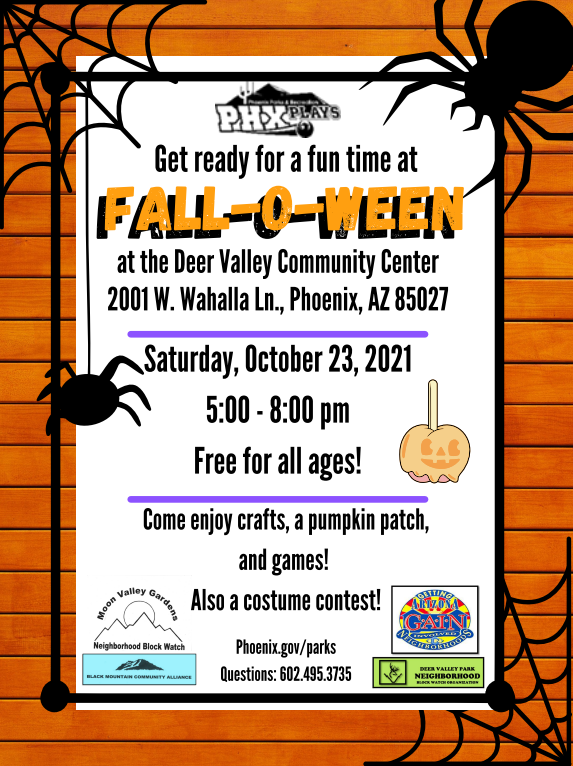 Join us at the Deer Valley Community Center on Saturday, Oct. 23, from 5:00pm to 8:00pm for this year's Fall-O-Ween event! This is free for all ages to come, enjoy and have fun! There will be a costume contest and lots of crafts to make, games to play and pumpkins to pick from the pumpkin patch.
Fall is officially here at Fall-O-Ween!
Boo Fest is Back!
The City of Phoenix Parks and Recreation Department is excited to present Boo Fest! This exciting event is partnering with local businesses, PHX Teens and PHX Police to bring fun activities for all ages. This event will be held at the Beuf Community Center on Saturday, Oct. 30, from 6:00pm to 9:00pm. There will be a train ride, costume contest, face paintings and inflatable slides and obstacle courses. We'll have music, a diverse selection of food trucks and so much candy from our trunk or treat event!
Head Start Applications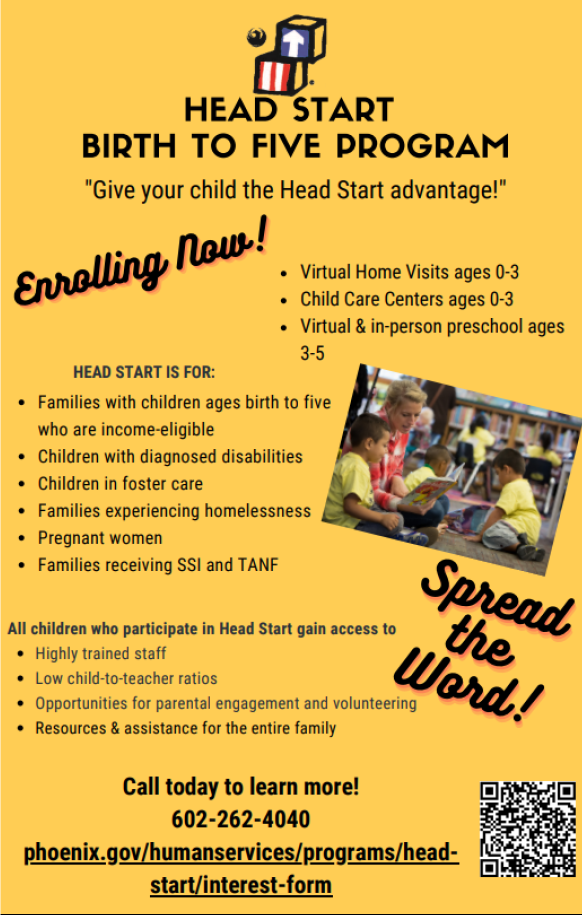 The city of Phoenix Head Start program is still accepting applications for enrollment in all programs this fall. The free programs offer comprehensive early childhood development and family support services to income-eligible families. Our programs are currently offering online and in-person services. Availability depends on the area. Apply now and for more information, call 602-262-4040.
For more information and to apply click here!
Drive-thru Phoenix Food Day
Don't miss this year's Phoenix Food Day & Healthfest events. This year's drive-thru and virtual events will include free food boxes and goodie bags filled with prizes, kids activities, health and wellness vouchers, and much more. Cooking and gardening demos online too! Drive-thru events:
Oct. 23: V.H. Lassen Elementary, 909 W. Vineyard Rd.

Nov. 6: Cartwright Community Garden, 4208 N. 51 Ave.
For times and other details click here!
Cactus Park Coffee With A Cop:
Please join the Cactus Park Precinct at our upcoming 'Coffee with a Cop' at Jason's Deli located at 10217 N Metro Pkwy W on Nov. 10 at 6:00 p.m. This is a great opportunity to meet Commander Wickers and your Community Action Officers from the Cactus Park Precinct.
Black Mountain Coffee With A Cop:
Please join the Black Mountain Precinct at our upcoming 'Coffee with a Cop' at Biscuits Café located at 310 E Bell Rd. on October 28th, 2021, at 8:30 a.m. This is a great opportunity to meet Commander Viner and your Community Action Officers from the Cactus Park Precinct.
We look forward to seeing all of you there!
CONSTRUCTION INFORMATION — 67th Avenue and Deer Valley Road
Glendale's Water Service crews and its contractor, Achen-Gardner Construction, are scheduled to work on various water system improvements along 67th Ave intermittently over the next several weeks. These efforts contribute to Glendale's commitment to ensuring water system reliability, redundancy, and resiliency. The following information is provided related to upcoming work: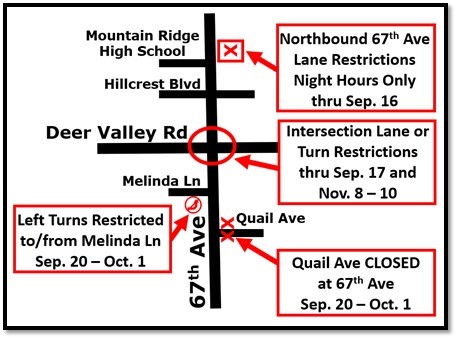 Nov. 8 – 10: For about 1-2 hours each day or evening, intermittent lane/turn restrictions in the 67th Ave / Deer Valley Rd intersection as crews open and close water valves to move water through the system to accommodate water improvements. No water interruptions are expected; however, you may experience issues with water pressure or cloudy water, which is normal and doesn't affect water quality.
This work has been coordinated with emergency responders and access to businesses and residences will be maintained.
Thank you for your patience during this work.
Project Hotline: 602.532.6250
---
News From Deer Valley Unified School District
Free COVID-19 Testing during October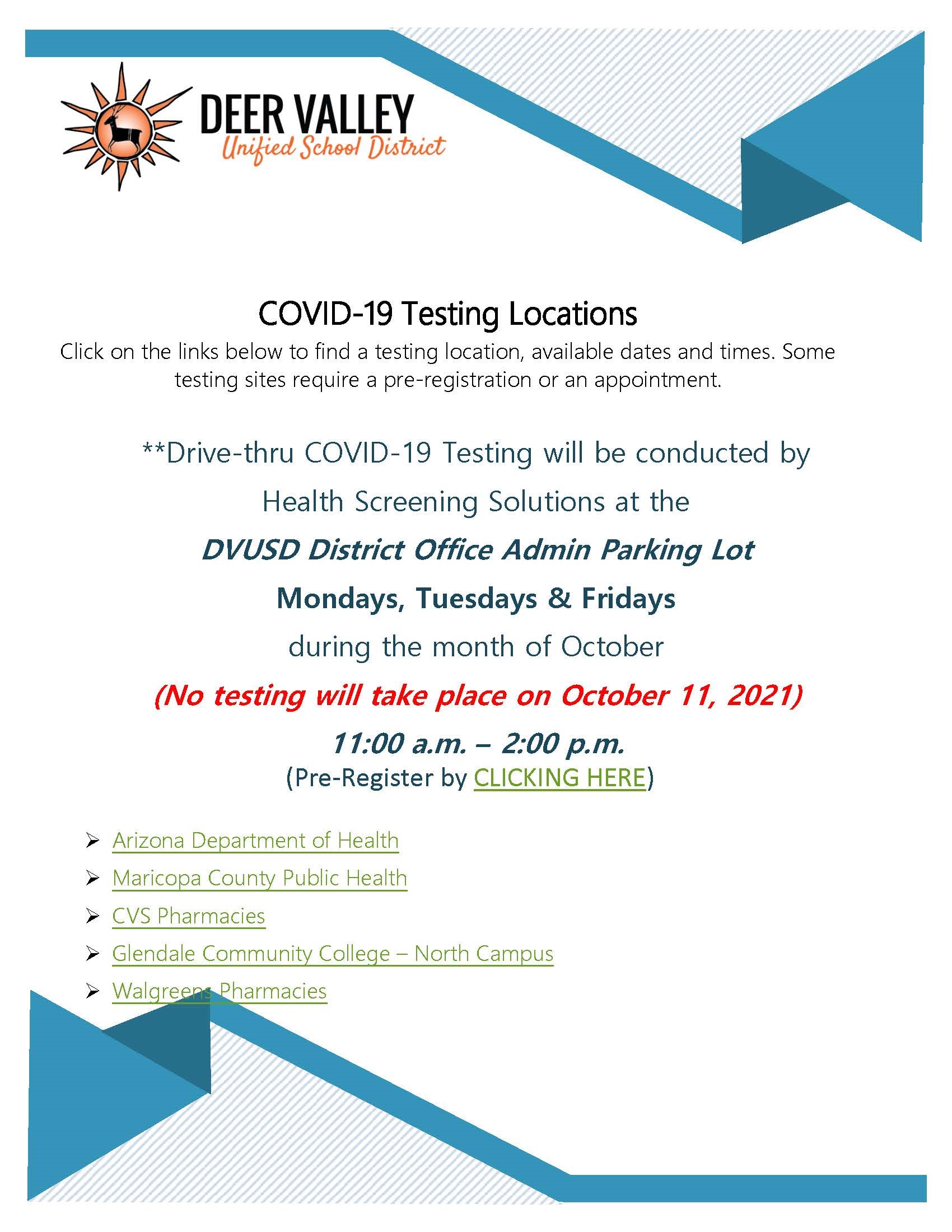 During the month of October, Deer Valley Unified School District will be holding drive-thru COVID-19 testing events every Monday, Tuesday and Friday. Testing will be done at the DVUSD District Office Admin Parking Lot (20402 N 15th Ave, Phoenix, AZ 85027) between the hours of 11:00 a.m. and 2:00 p.m. Pre-Registration is required and can be done by clicking here.
Big Kid Book Club - Free Books For Kids!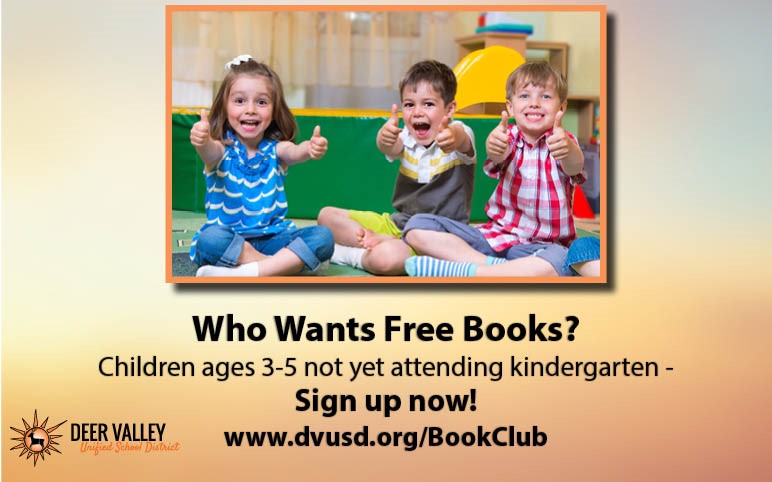 The Deer Valley Unified School District invites your child to join the Big Kid Book Club! Let us help your child cultivate a love for reading – and get ready for kindergarten.
We will periodically send your child a free book in the mail along with helpful advice for parents of 3-5 year olds.
You do not need to live within the Deer Valley Unified School District to participate. All children between the ages of 3-5, who are not yet attending kindergarten, are eligible to join the Big Kid Book Club.
---
News From Washington Elementary School District
WESD to Host Job Fair for Bus Drivers, Assistants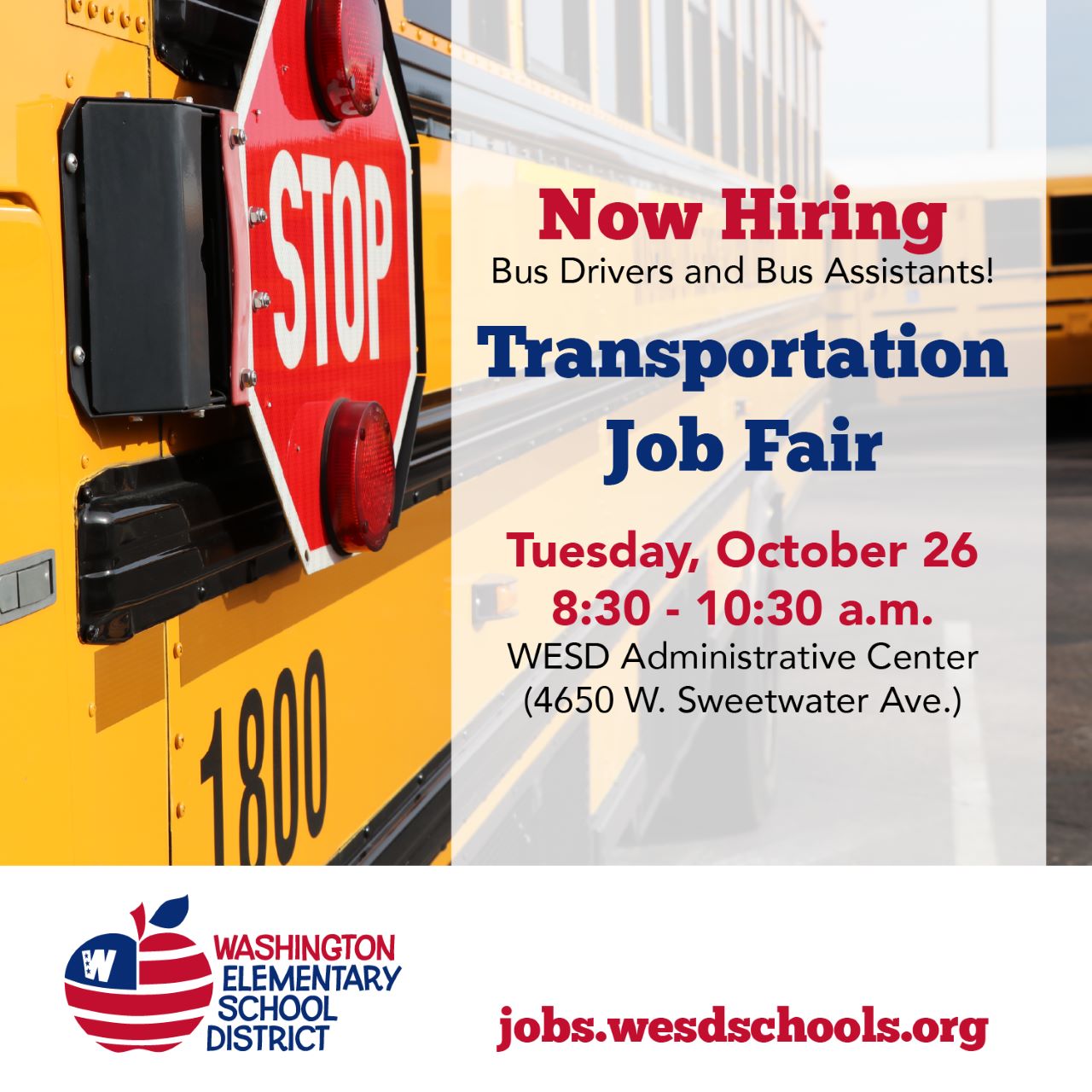 WESD is looking for bus drivers and bus assistants to transport our students to and from school with a smile! We will be hosting a Transportation Job Fair on Tuesday, October 26 from 8:30-10:30 a.m. at the WESD Administrative Center (4650 W. Sweetwater Ave.).
WESD offers competitive salaries and other great benefits such as the Arizona State Retirement, holidays, paid time off, medical and dental benefits and much more!
Sign up to receive reminders about the job fair and view open positions at jobs.wesdschools.org.
Acacia Teacher Receives Recognition from KTAR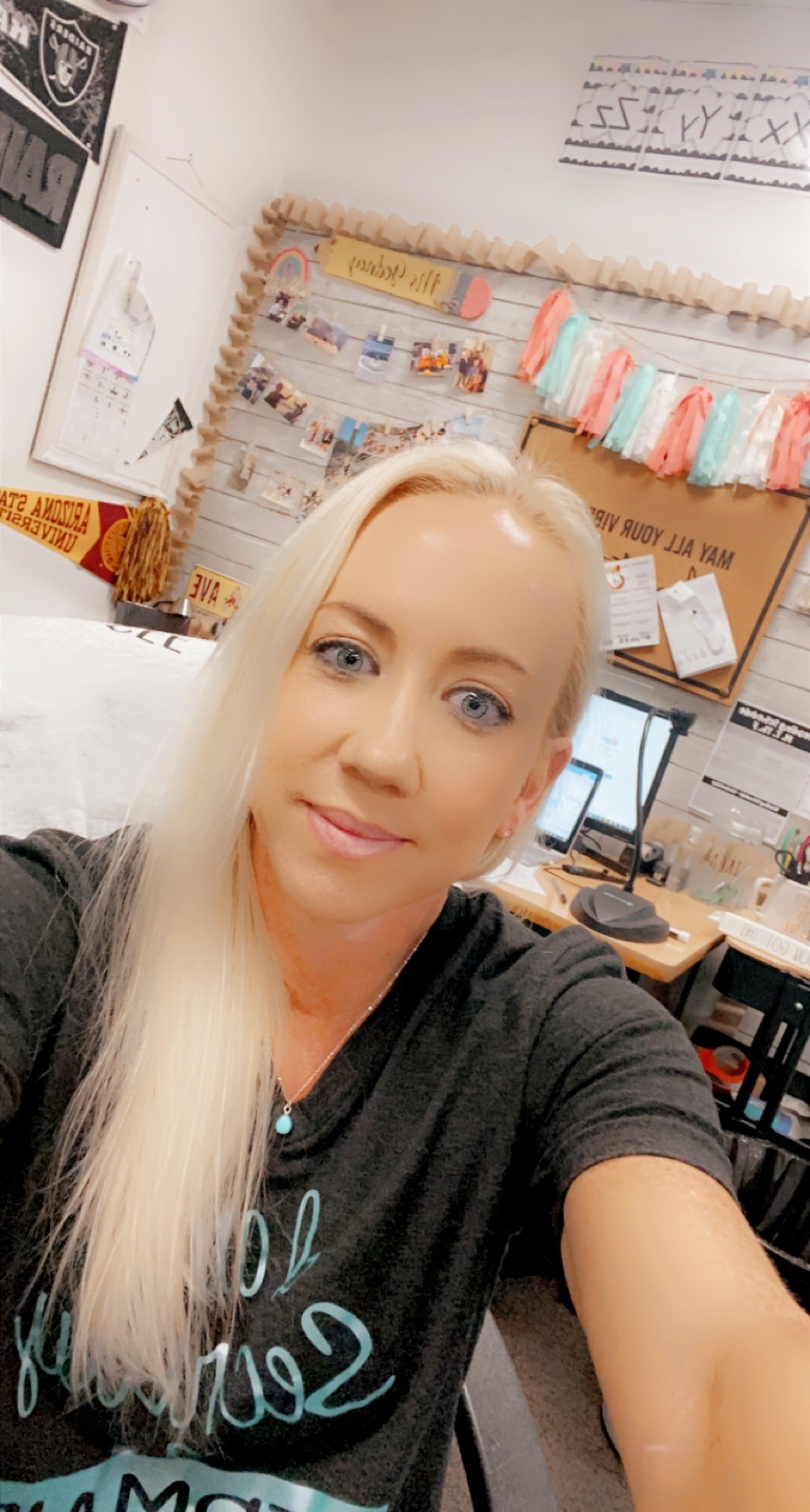 WESD teachers truly have the biggest hearts! Cheryl Gedney, first grade teacher at Acacia Elementary, was named KTAR Gaydos and Chad Show's Pay Tribute to a Teacher $2,500 winner for September!
Cheryl is known the way she goes above and beyond for her students. She learned at the start of the school year that one of her students had never gotten ice cream from an ice cream truck, so she gave him $2 to visit the ice cream truck. He came back grinning from ear to ear. This student had struggled with online learning, at times having behavioral and attention issues. Cheryl got to know him better and decided to use that special experience with the ice cream truck as a way to celebrate his successes.
It became a Friday tradition that if he worked hard in class and had great behavior, he would get $2 to visit the ice cream truck. When asked how she would use $2,500, Cheryl said that she wanted to invite the ice cream truck back so that every student in her class could share in this special tradition!
Listen to the full segment here.
---
News From Glendale Union High School District
Save the Date for Future Freshman Night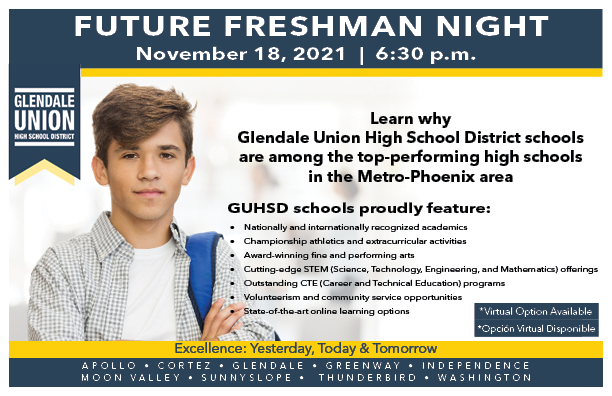 Save the date for Glendale Union High School District's upcoming, signature event Future Freshman Night, on Thursday, November 18 at 6:30 p.m. During this event, eighth-grade students and their families will discover why GUHSD is the top-performing high school district in the Metro-Phoenix area. Join us to learn about our nationally recognized academics, championship athletics, fine and performing arts courses, resources for college and career opportunities, plus much more! A virtual option will be available. Please visit www.guhsdaz.org for more information about your local school's Future Freshman Night.
To learn more about GUHSD, visit @GUHSDAZ on Facebook.
Cortez High School's Student-Athletes to Receive New Shoes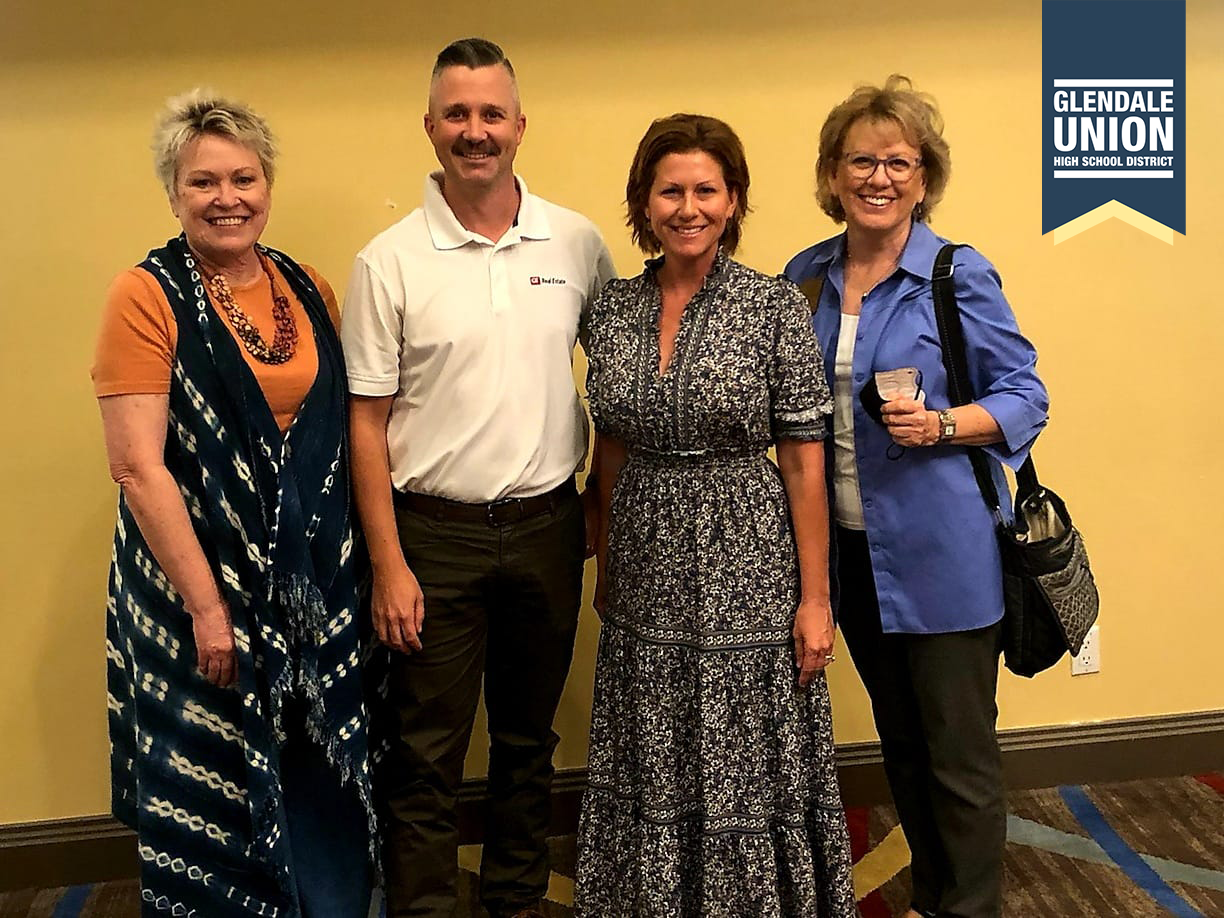 Excellence continues at Glendale Union High School District as Cortez High School partners with 19North Executive Director Shannon McBride. McBride helped Cortez receive a grant from Quick Trip Corporation. This grant will help assist student-athletes to receive shoes in the future.
To learn more about Cortez High School, visit @CortezHighSchoolAZ on Facebook.
Greenway High School Honors Athletes of the Month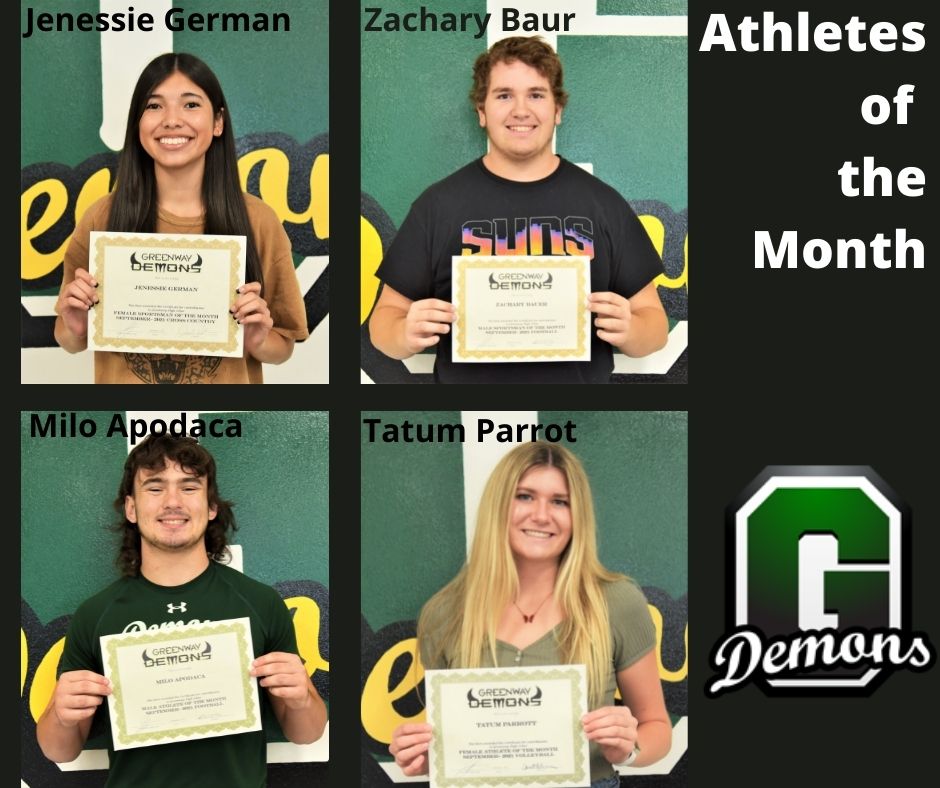 Academic excellence continues at Greenway High School as four students are honored with Athlete of the Month certificates. Student-athletes Jenessie German, Zachary Baur, Milo Apodaca, and Tatum Parrot all participate in fall sports including, cross country, football, and volleyball. Athletes of the Month must be seniors with good standing with the student body, great grades, display proper sportsmanship, and excellent attendance at school, practices, and games.
To learn more about Greenway High School, visit @GreenwayHighSchoolAZ on Facebook.
---
Interested in serving on Phoenix's Boards and Commissions?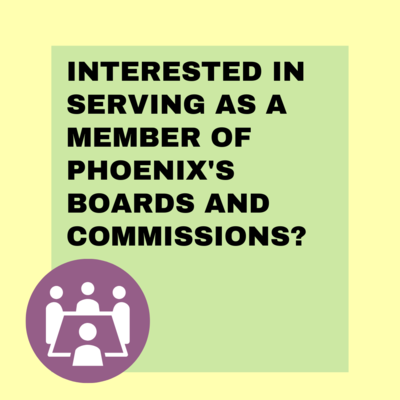 District 1 is seeking community leaders interested in serving as the District's representative for various boards and commissions, such as the Village Planning Committee.
To start the application process, please visit the Boards and Commissions webpage.
---

Upcoming City Council Meetings
Next Policy Meeting: October 26th

Next Formal Council Meeting: October 27th
Additionally, Councilwoman O'Brien has been appointed chairperson of the Public Safety and Justice Subcommittee, and is also a member of the Transportation, Infrastructure and Innovation Subcommittee and the Economic Development and Equity Subcommittee. Visit the Council Subcommittee webpage for the schedule of public meetings.
---
Learn more about Councilwoman O'Brien, her priorities and focus for District 1 on the district's webpage.
---