---
Weekly DOJ Investigation Update
Week of May 9
DOJ and city staff conduct several meetings to discuss further interviews for investigation and document production.

DOJ virtually observes recruit class instruction on crowd control formation and tactics.

City staff continue to debrief last visit, plan for the next DOJ in-person visit, and review further documents for production.
---
Mark Your Calendars: Community Meeting
Our next meeting will be May 23rd and located back at the DoubleTree. We will be meeting at our regular scheduled time for our breakfast meeting. Plan for checking to begin at 7:30am and the meeting to start at 8am. Our guests will be SRP to discuss what's happening along the canal and our new Fire Chief, Mike Duran.
You can register below for the upcoming meeting! As a reminder, please fill out the form SEPARATELY for EACH member of your family planning to attend. Thank you!
---
COVID-19 Free Testing & Vaccine
COVID-19 Testing & Vaccinations
As many of us begin the trek back to the workplace, some companies may require employees to get tested or vaccinated for COVID-19 before coming back.
Testing and vaccinations are offered by the city at no out-of-pocket cost. Please check out the Phoenix COVID testing and vaccination page for a list of events scheduled.
---
Free statewide Legal Aid Clinic

When it comes to legal matters, knowing where to start is sometimes the hardest part. The State Bar of Arizona is helping people statewide to take that first step by offering a free legal aid clinic Saturday, April 30th. Whether it's an issue relating to Family Law, Bankruptcy, Landlord/Tenant, Employment, Immigration or Wills & Estates, Arizona Attorneys stand ready to respond. To set an appointment for a free 30-minute virtual consultation, check out the home page of The State Bar of Arizona's website at www.azbar.org
Bingo is Back!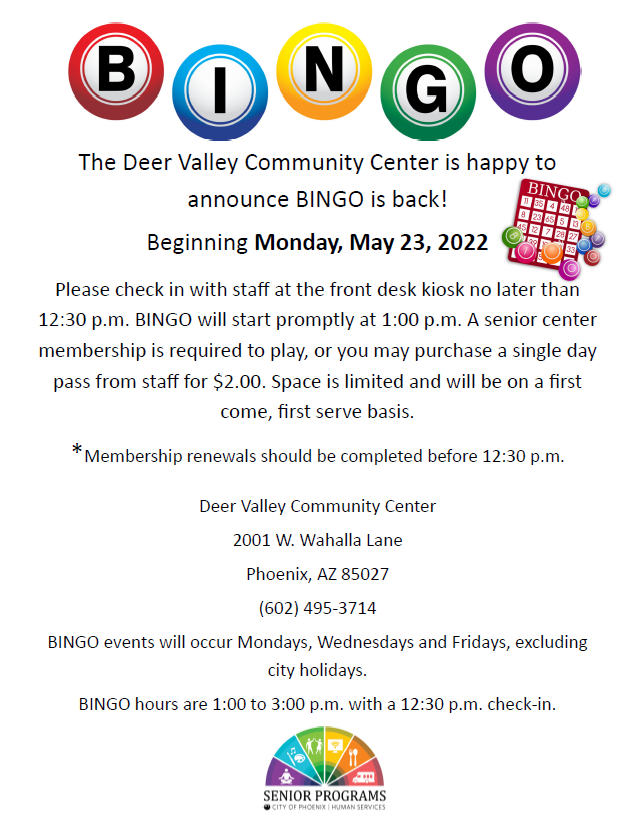 Bingo is coming back to the Deer Valley Community Center! Beginning Monday, May 23, 2002. Please check in with staff at the front desk kiosk no later than 12:30PM. Bingo will start promptly at 1:00PM. A senior center membership is required to play, or you may purchase a single day pass from staff for $2.00. Space is limited and will be on a first come, first serve bases. At this time, potlucks will not be returning.
I-17 Frontage Road and Ramp Restrictions in North Phoenix Planned
The Arizona Department of Transportation advises drivers who use Interstate 17 in north Phoenix to plan for the following restrictions as crews perform electrical work as part of the I-17 Van Buren to Anthem Way: Intelligent Transportation System (ITS) Infrastructure Installation project:
The northbound I-17 frontage road between Williams Drive and Pinnacle Peak Road will be restricted to one lane from 9 a.m. Wednesday, May 18, to 3 p.m. Saturday, May 21.
The east- and westbound Loop 101 northbound ramp to I-17 will be restricted to one land from 9 p.m. Thursday, May 26, to 4 a.,. Friday, May 27.
The fiber-optic cable installation project, which is expected to continue through 2023, is scheduled to proceed along I-17 in segments of several miles at any one time.
ADOT advises drivers to slow down and use caution around construction personnel and equipment while work is underway.
First Annual Officer Appreciation Water Drive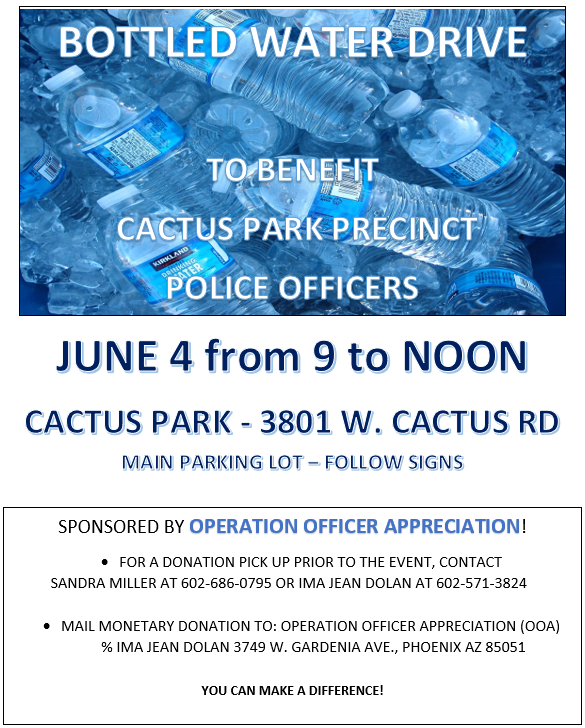 Sandra Miller is the head of the Officer Appreciation Program for the Cactus Park Precinct and has been for two and a half years. This program has provided snacks, water, pizzas, 6' sandwiches, bagels and cream cheese, cakes, etc. for the officers and civilian employees in the Cactus Park Precinct. They bought a new coffee pot to replace their broken one, and were able to get a refrigerator donated to the precinct when theirs died.
They are able to do this through the generous donations that they receive from the communities within the Cactus Park Precinct boundaries. Since May is the last of the association meetings for the summer, they won't be getting any donations until the meetings start up again in September, so they decided to have a water drive to help get them through as much of the summer months as possible. Their goal is at least 5,000 or more bottles of water.
June 4, 2022 from 9:00 am to noon is the scheduled date and time of the drive at Cactus Park, across from the precinct.
Please let your communities know about this project so that they can have a successful turnout and show of support for our "Boys and Girls in Blue" as well as the civilian support staff? If there is anyone that wants to donate water or cash, but will be unable to attend on June 4th, they will be happy to pick up their donations. Please contact any of the people listed below.
Sandra Miller
602-237-5669 [home]
602-686-0795 [cell]
Deanna Hulse
602-316-1731 [cell]
Ima Jean Dolan
602-571-3824
Phoenix Public Library Summer Reading 2022 Game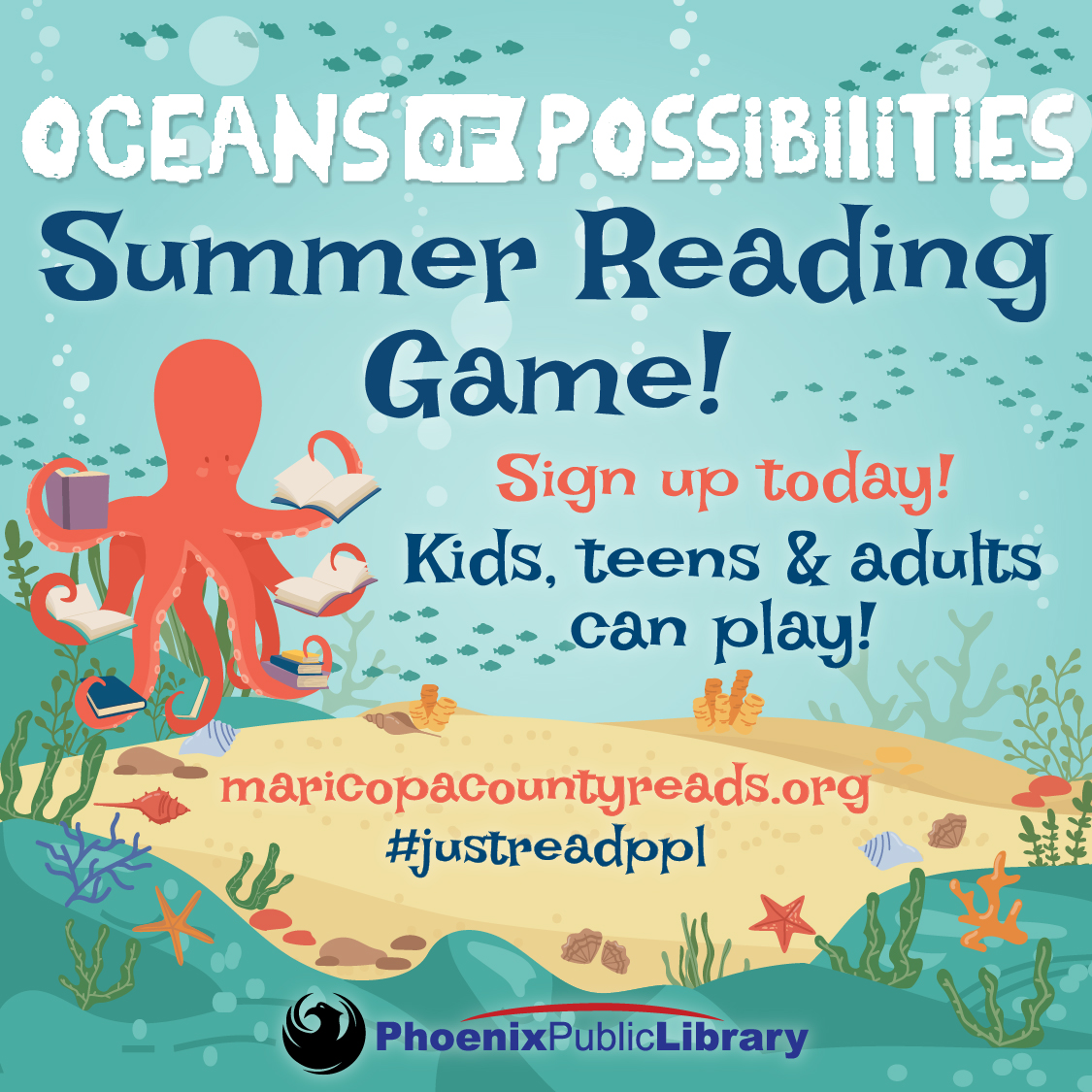 As of Sunday, May 1st, registration for Summer Reading 2022, themed, "Oceans of Possibilities" is open on maricopacountyreads.org and the game officially begins on June 1st. From June 1st through August 1st, participants are encouraged to read (and log) at least 20 minutes a day…and all reading counts! Throughout the 2 months of the game, those playing and achieving 500-1750-1,000 minutes read are eligible to earn special badges and prizes such as: free books, AZ State Park Passes, Phoenix Mercury tickets; free Rubios, Raising Caine's and Peter Piper Pizza meals. And those achieving 1,000 minutes or more read are entered into a drawing to win a Family 4 pack to the Superbowl Experience 2023 and more! Learn more by clicking here.
---
News From Deer Valley Unified School District
DVUSD Kindergarten Registration Now Open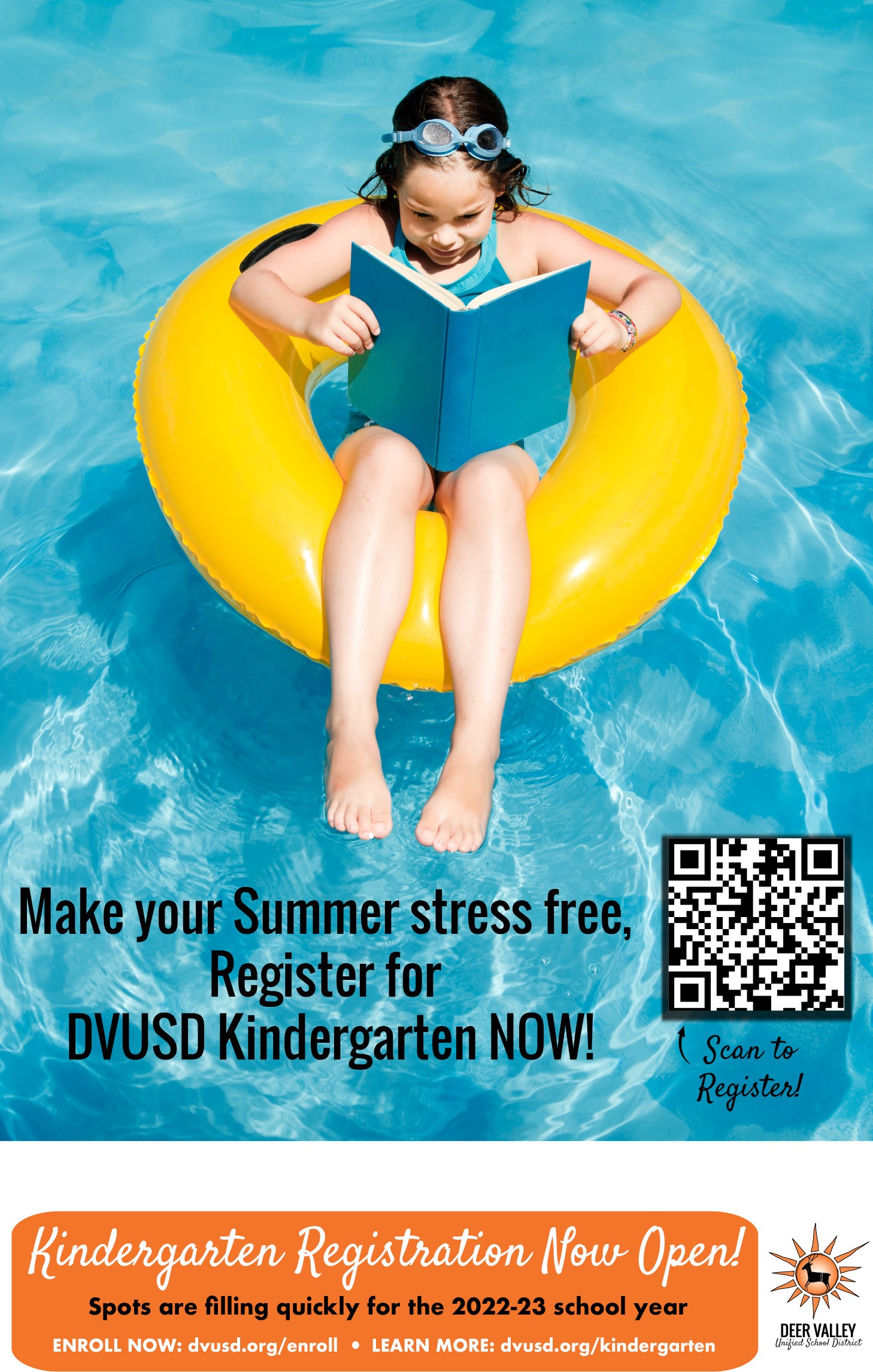 ---
News From Washington Elementary School District
New Principals Selected for Arroyo, Ironwood
Two WESD team members will be in new leadership roles next school year! Introducing, our new principals - Rebecca Burd, Arroyo School; and Stacey Sallee, Ironwood Elementary!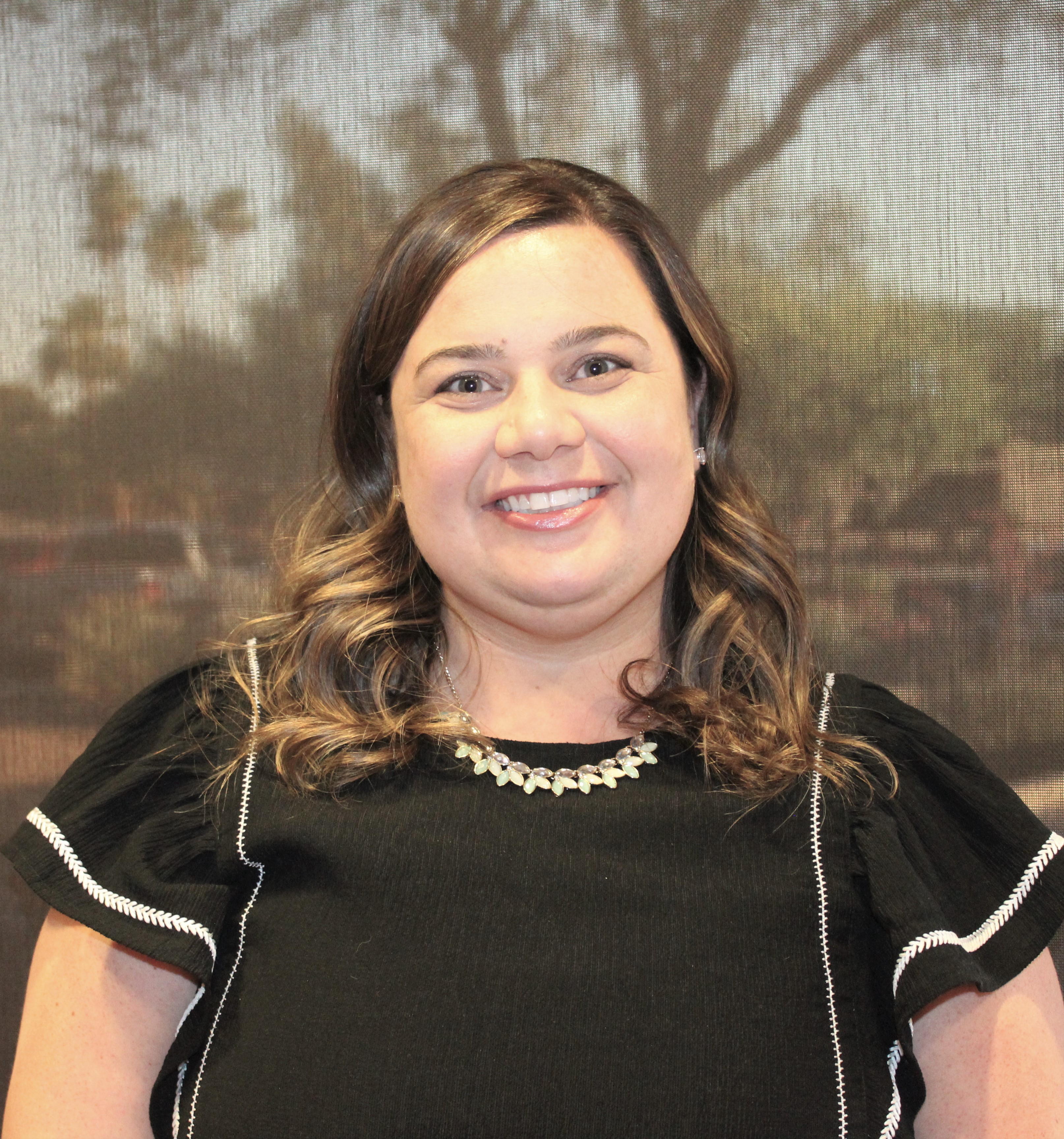 Ms. Burd has been the assistant principal at Roadrunner Elementary for the last two years. Ms. Burd came to the WESD from Deer Valley Unified School District where she served as a teacher, 504 coordinator and PBIS lead.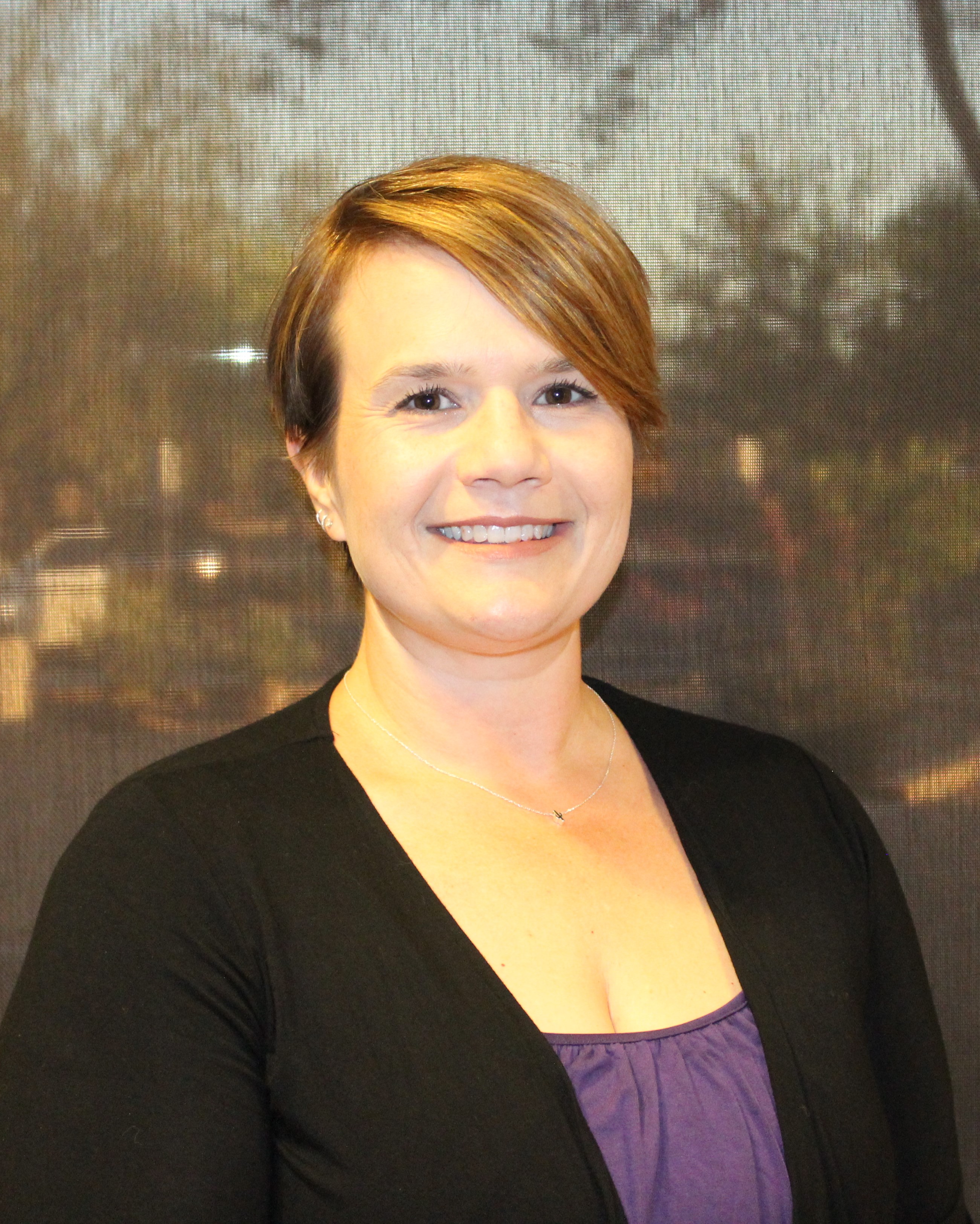 Ms. Sallee joined the WESD in 2004 as a primary teacher at Mountain View School. After moving to California to teach briefly, she returned to the WESD in 2014 as a teacher then an instructional coach. She has been the assistant principal at Acacia Elementary since 2019.
Our new principals were recognized at last week's Governing Board meeting. They will begin their respective roles on July 1, 2022. Congratulations!
WESD Hiring Special Education Teachers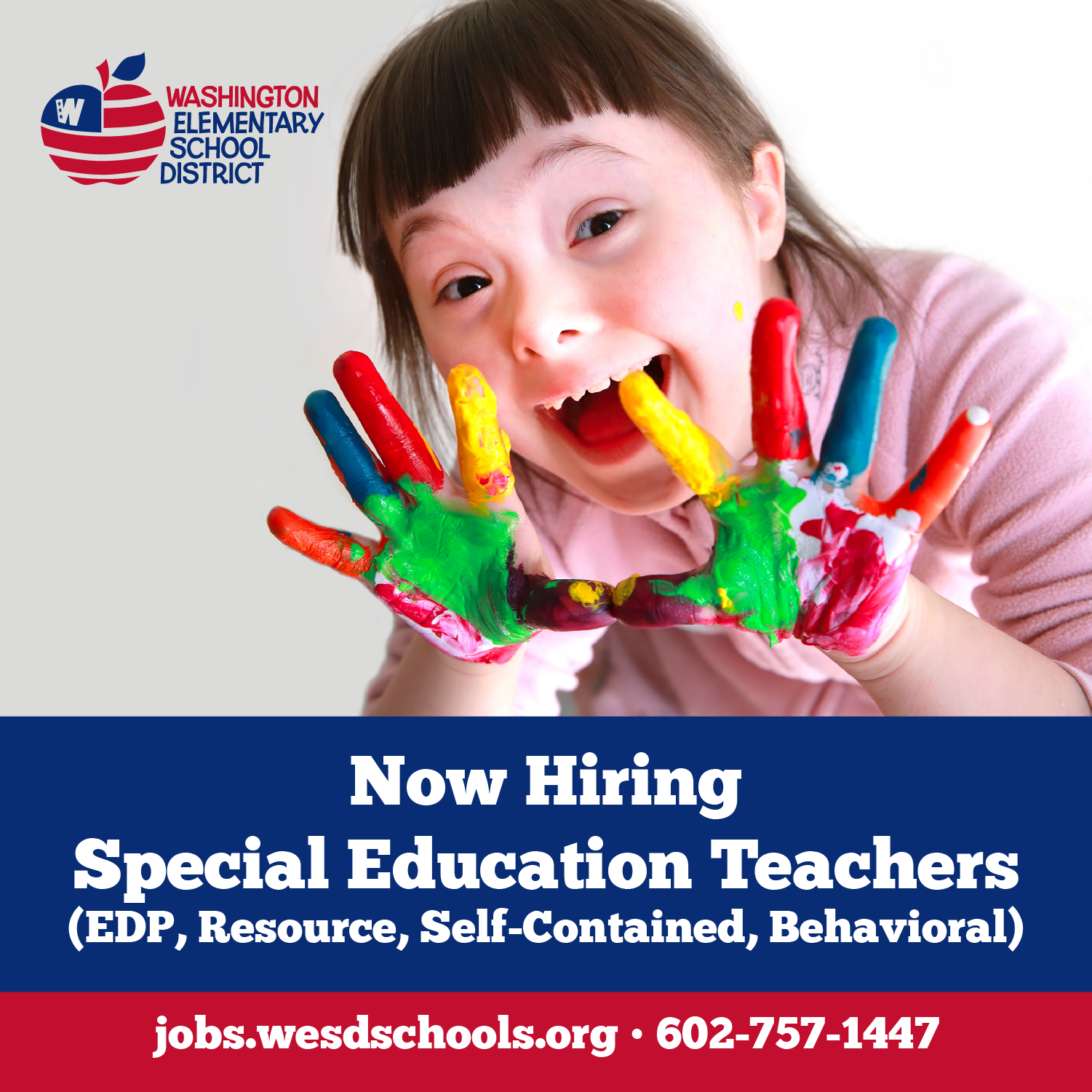 The WESD is looking for special education professionals to join the team for the 2022 - 2023 school year! WESD is proud to offer our special education teachers extensive training and ongoing support through school and district coaches. The district also offer employer-matched contributions to Arizona State Retirement, performance pay and additional compensation for up to 20 years special education experience! Apply online today at jobs.wesdschools.org or call Lydia Garcia, Senior Recruiter, for more information at 602-757-1477.
---
News From Glendale Union High School District
Save the Dates for GUHSD Graduations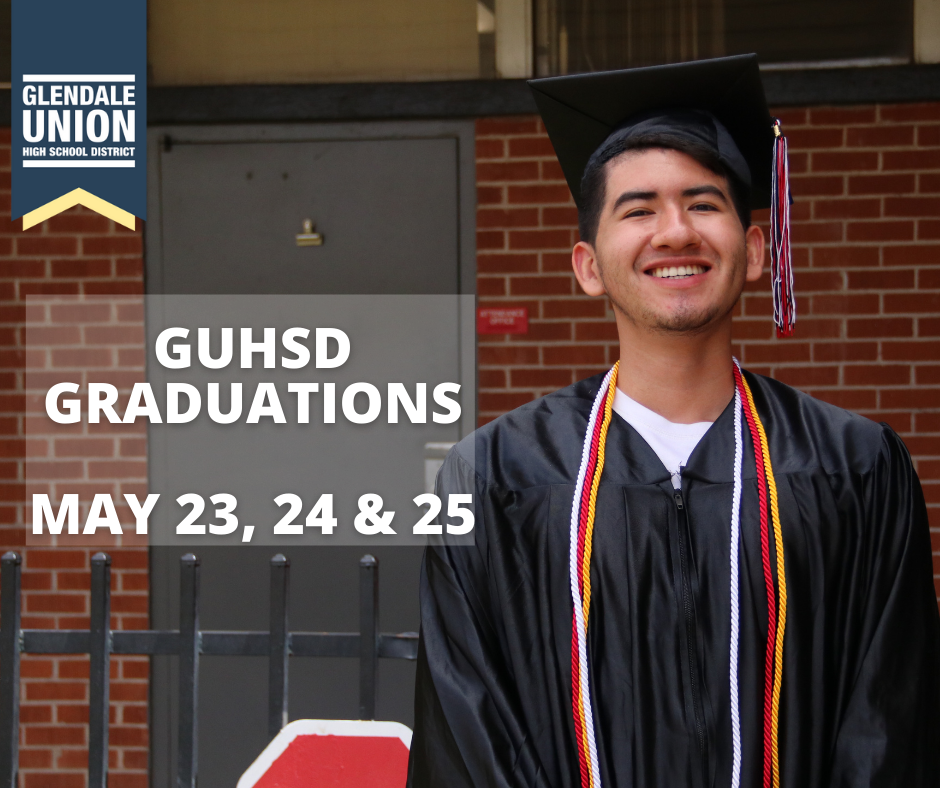 Mark your calendars for Glendale Union High School District graduations! All graduations will be held at the Grand Canyon University Arena located at 3300 W Camelback Rd Building 38, Phoenix, AZ 85017. To view, all dates and times see the list below. We look forward to celebrating the Class of 2022.
May 23, 2022
Apollo High School - 1:00 PM
Washington High School - 4:30 PM
Thunderbird High School - 8:00 PM
May 24, 2022
Glendale High School - 1:00 PM
Independence High School - 4:30 PM
Cortez High School - 8:00 PM
May 25, 2022
Sunnyslope High School - 1:00 PM
Greenway High School - 4:30 PM
Moon Valley High School - 8:00 PM
To learn more GUHSD news, visit our Facebook page @GUHSDAZ.
Join GUHSD's Free, Signature Summer Opportunities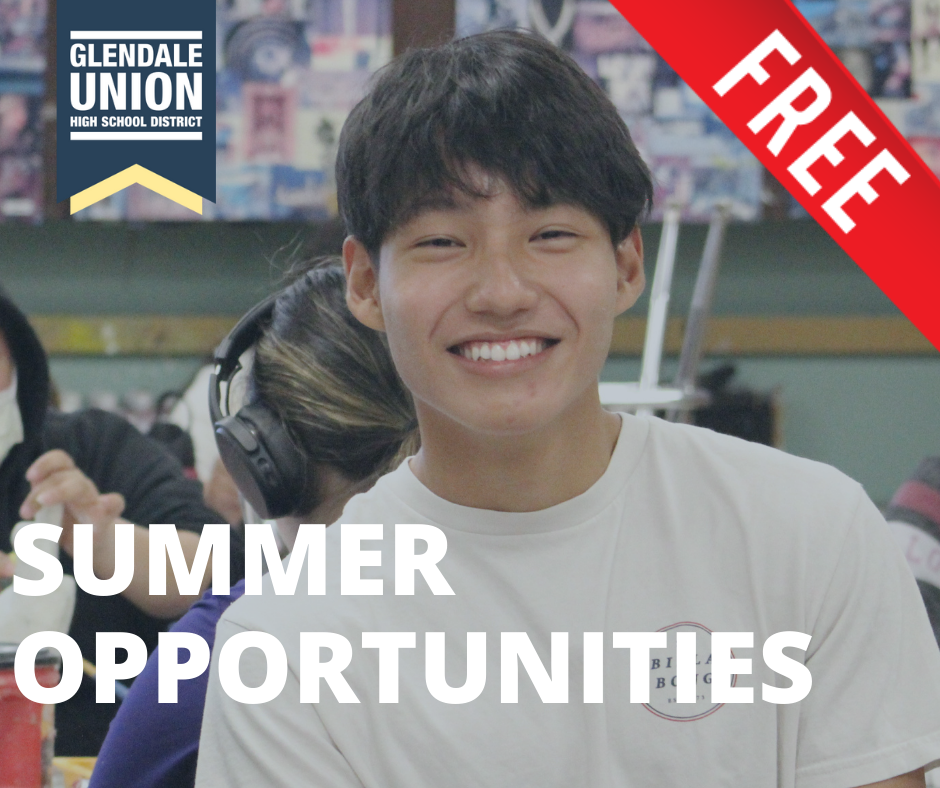 Glendale Union High School District's signature, free Summer Opportunities are available once again to sixth through eighth-grade students and current GUHSD students. GUHSD's Summer Opportunities include Summer School, Summer Camps, and Summer Academies, which will provide students with opportunities to expand their skills and knowledge, and prepare them for the important next step. Don't allow your child/teen to miss out on this chance to attend GUHSD summer opportunities!
To learn more GUHSD news, visit our Facebook page @GUHSDAZ.
Greenway's NJRTOC Take 1st Place in Drill Meet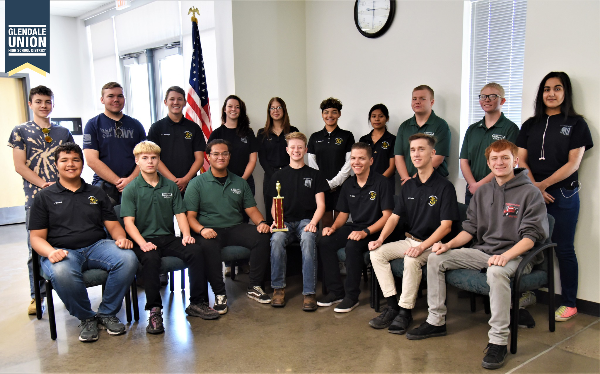 Excellence continues at Greenway High School as Navy Junior Reserve Officers Training Corps (NJROTC) program takes 1st place at this year's Desert Classic Drill Meet.
To learn more about Greenway High School, visit @GreenwayHighSchoolAZ on Facebook.
Moon Valley Football Players Sign Letter of Intent to Compete at the Collegiate Level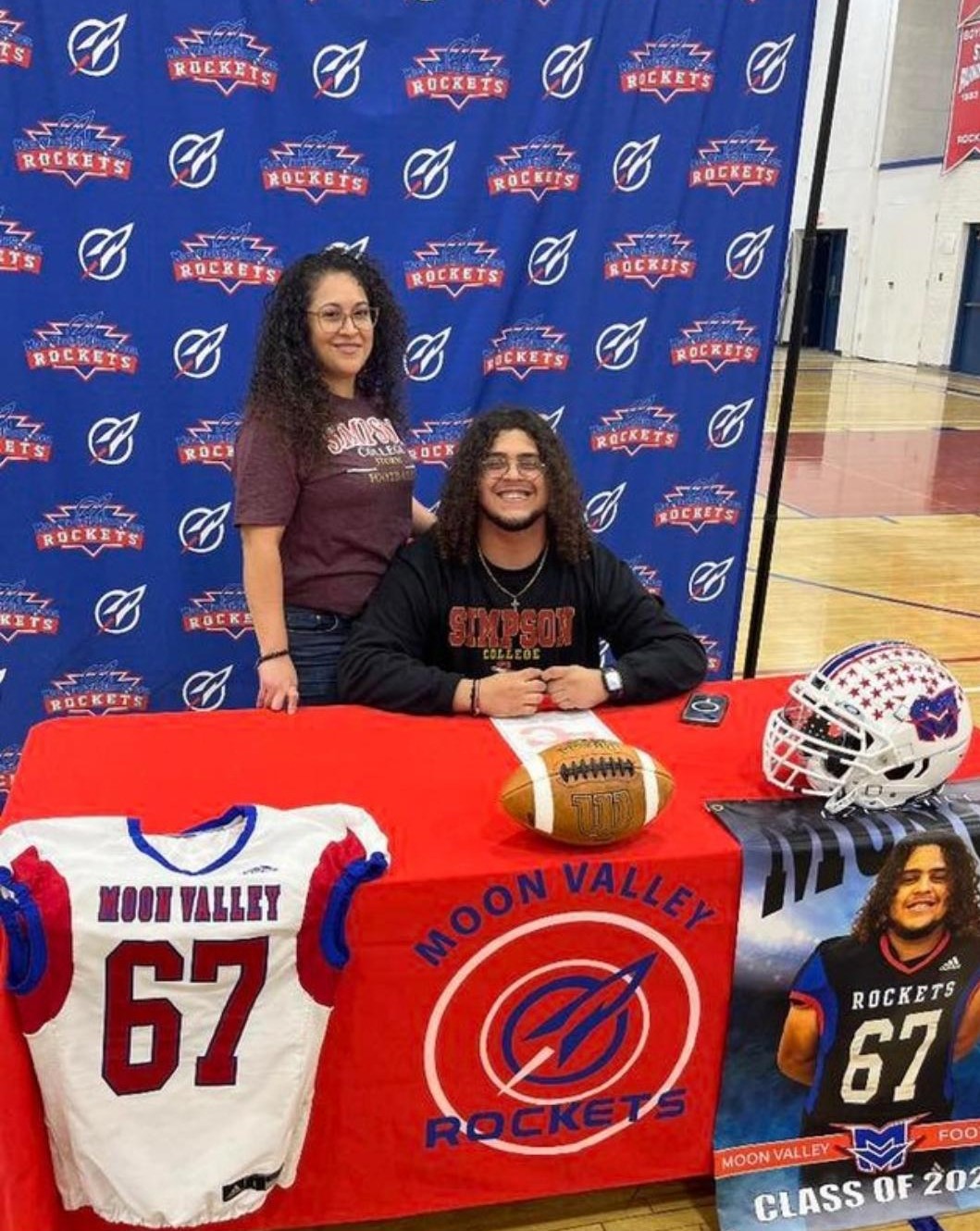 Athletic excellence continues at Moon Valley High School as three football players sign their letters of intent for college. Micah Southwick signed his letter of intent at Mayville State University. Adrian Satterwhite signed to compete at Arizona Christian University. Zeke Munoz signed his letter of intent at Simpson College.
To learn more about Moon Valley High School, visit @MoonValleyHighSchoolAZ on Facebook.
---
Interested in serving on Phoenix's Boards and Commissions?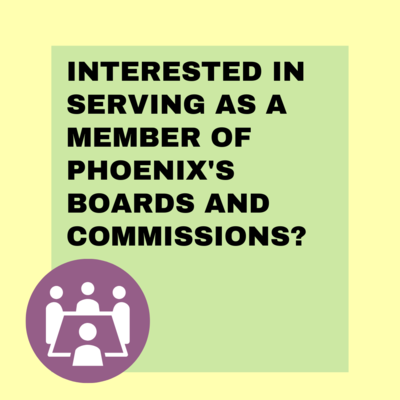 District 1 is seeking community leaders interested in serving as the District's representative for various boards and commissions, such as the Village Planning Committee.
To start the application process, please visit the Boards and Commissions webpage.
---

Upcoming City Council Meetings
Next City Council Policy Meeting: June 7th

Next City Council Formal Meeting: May 25th
Councilwoman O'Brien has been appointed chairperson of the Public Safety and Justice Subcommittee, and is also a member of the Transportation, Infrastructure and Innovation Subcommittee and the Economic Development and Equity Subcommittee. Visit the Council Subcommittee webpage for the schedule of public meetings.
---
Learn more about Councilwoman O'Brien, her priorities and focus for District 1 on the district's webpage.
---