The city of Phoenix is accepting proposals to lease and develop a 7-parcel site in a vibrant, fast-growing area of the city.

The site, located between 14th and 15th Streets along Jefferson Street, is in the Eastlake Park Neighborhood, which has a mix of historic properties, single-family and multi-family homes, and is home to one of Phoenix's oldest parks, Eastlake Park.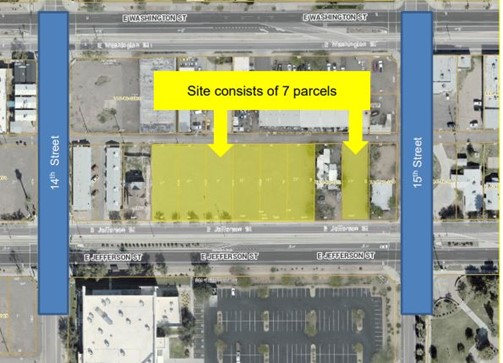 "This site is a truly unique opportunity for the developer, the city and our community," said Christine Mackay, Community and Economic Development Director. "A great project with mixed uses and mixed-income housing options to compliment this location in the Eastlake Park Neighborhood and along light rail will add to the vibrancy, diversity and livability of this distinctive downtown community."

The site is zoned for high-density development and is near light rail stations that connect within minutes to shopping, the airport, universities and community colleges and employment opportunities.

The official Request for Proposals (RFP) was posted at phoenix.gov/solicitations on June 18, 2021. The pre-proposal meeting will be conducted at 10 a.m. on June 30, 2021, and proposals are due by 2 p.m. on August 17, 2021. The City's Solicitation Transparency Policy is now in effect for this business opportunity. Please contact the procurement officer at procurement.request.ced@phoenix.gov with questions.