---
Weekly DOJ Investigation Update
Week of March 13
City staff met with the DOJ to continue planing for April site visit.
---
The City of Phoenix opposes the following bills:
Senate Bill 1117 – Restrictions to Zoning Local Authority and Public Input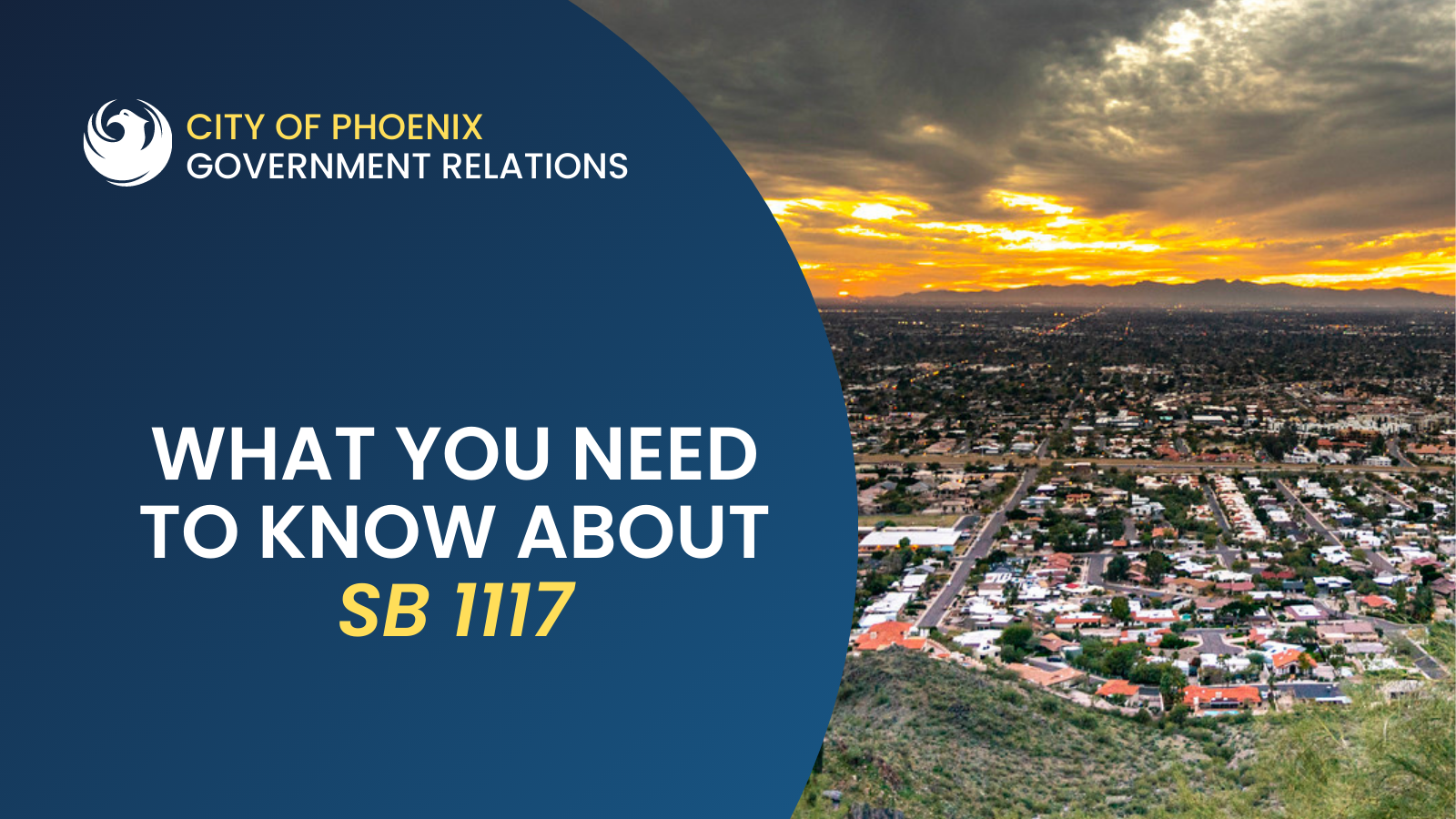 SB1117 entirely removes residents' ability to have a say in how their neighborhoods look and feel. The bill preempts cities and towns in all housing matters and prohibits any "undue burden" on a developer. Under this law, developers would be able to ignore zoning districts, codes, design standards, parking requirements, walkability standards, and other conditions. The bill eliminates the citizen review process for residential and multifamily developments, which will prevent residents from learning about projects or providing input. It prohibits planning commissions from reviewing housing projects, getting community input and providing recommendation to our City Council. Contact your legislator and make your voice heard.
House Bill 2094 – Licensing and Fingerprinting of Mobile Food Vendors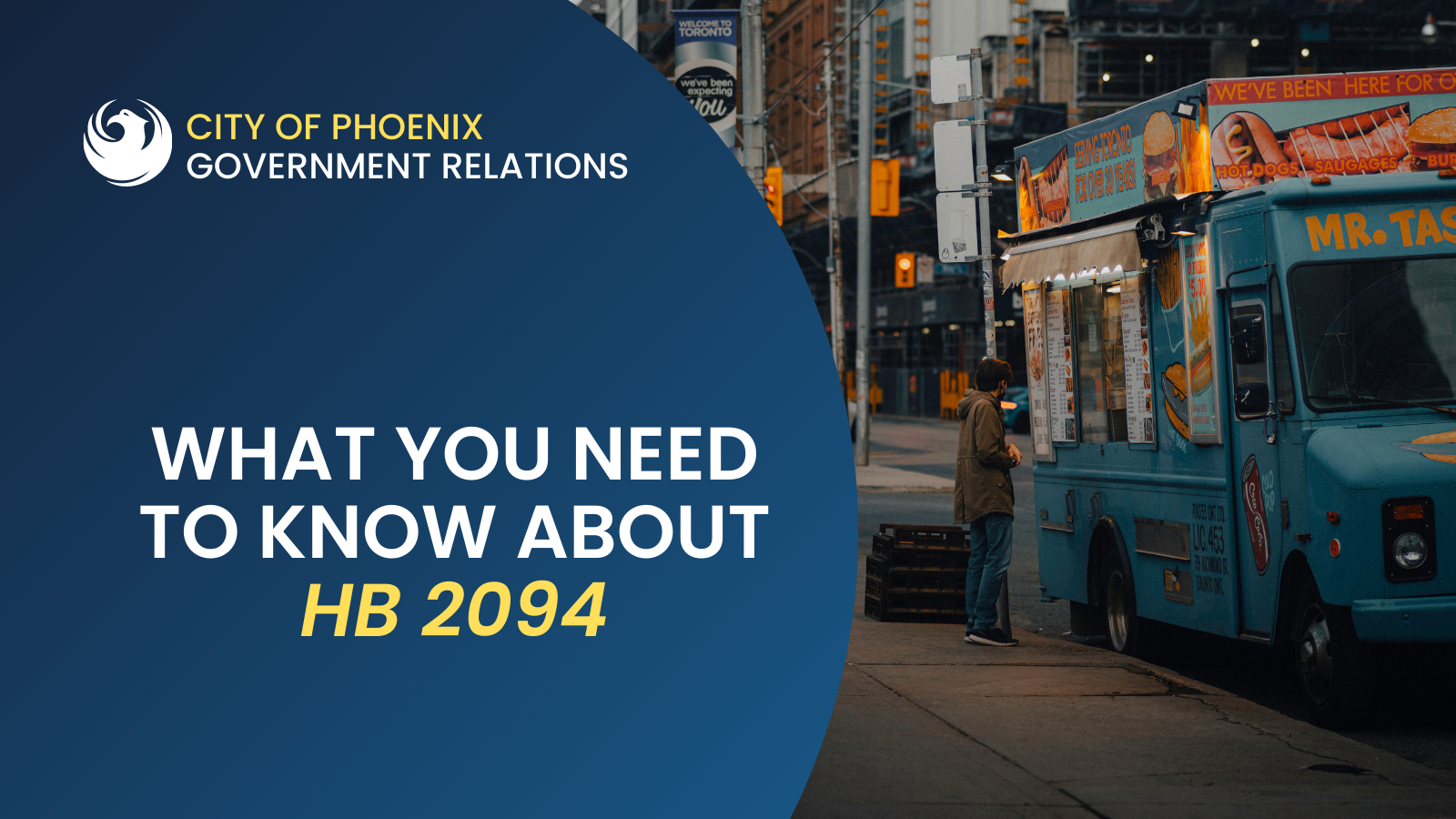 HB 2094 prohibits local governments from requiring mobile food vendors operators to submit fingerprint clearance cards. This would upend the City of Phoenix's current licensure program which has successfully been in place for decades after food and ice cream truck operators came together with residents to develop a system that worked for our community.
Due to public safety concerns, mobile food vendors are required to be fingerprinted prior to being issued a license to operate. It is important for us to go through the extra step of fingerprinting in order to assure our residents' safety due to their proximity to residentially zoned property and interaction with children. Contact your legislator and make your voice heard.
Senate Bill 1162 – Limiting Local Authority of Home-Based Businesses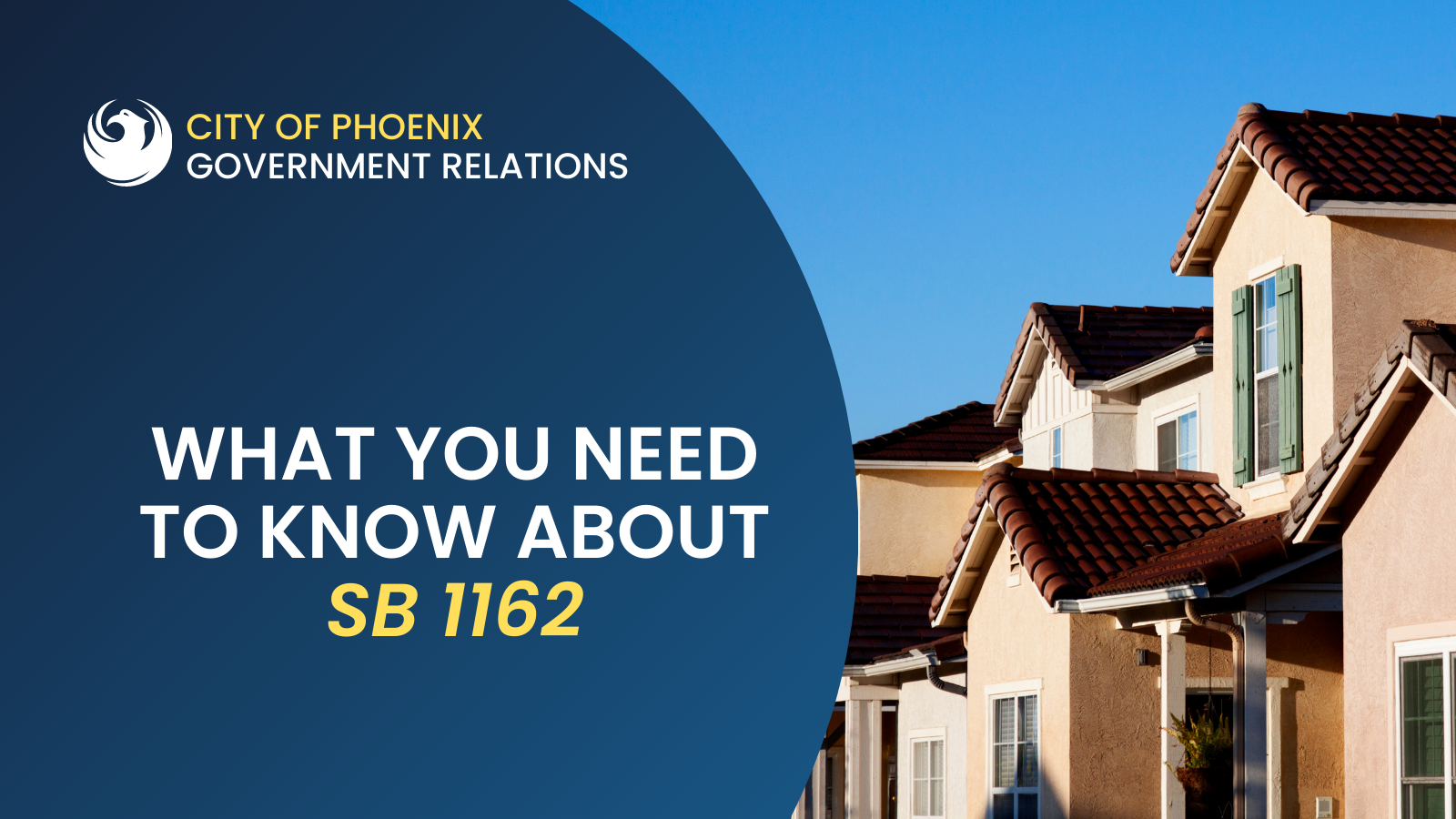 SB 1162 would limit local authority over businesses operating out of a residential home and make it much more difficult to manage the needs of neighboring property owners. The City of Phoenix currently works in collaboration with home-based business owners and their communities to strike a balance that works for everyone, SB 1162 upends this balance.
The City of Phoenix currently allows residential home-based businesses that do not detract from the residential feel and characteristics of the neighborhood by requiring standards to operate a home-based business. Allowing a home-based business by-right and not allowing the City to require the standard already in place could be detrimental to Phoenix neighborhoods. Contact your legislator and make your voice heard.
The City of Phoenix supports the following bills:
Senate Bill 1585 – Funding for Homelessness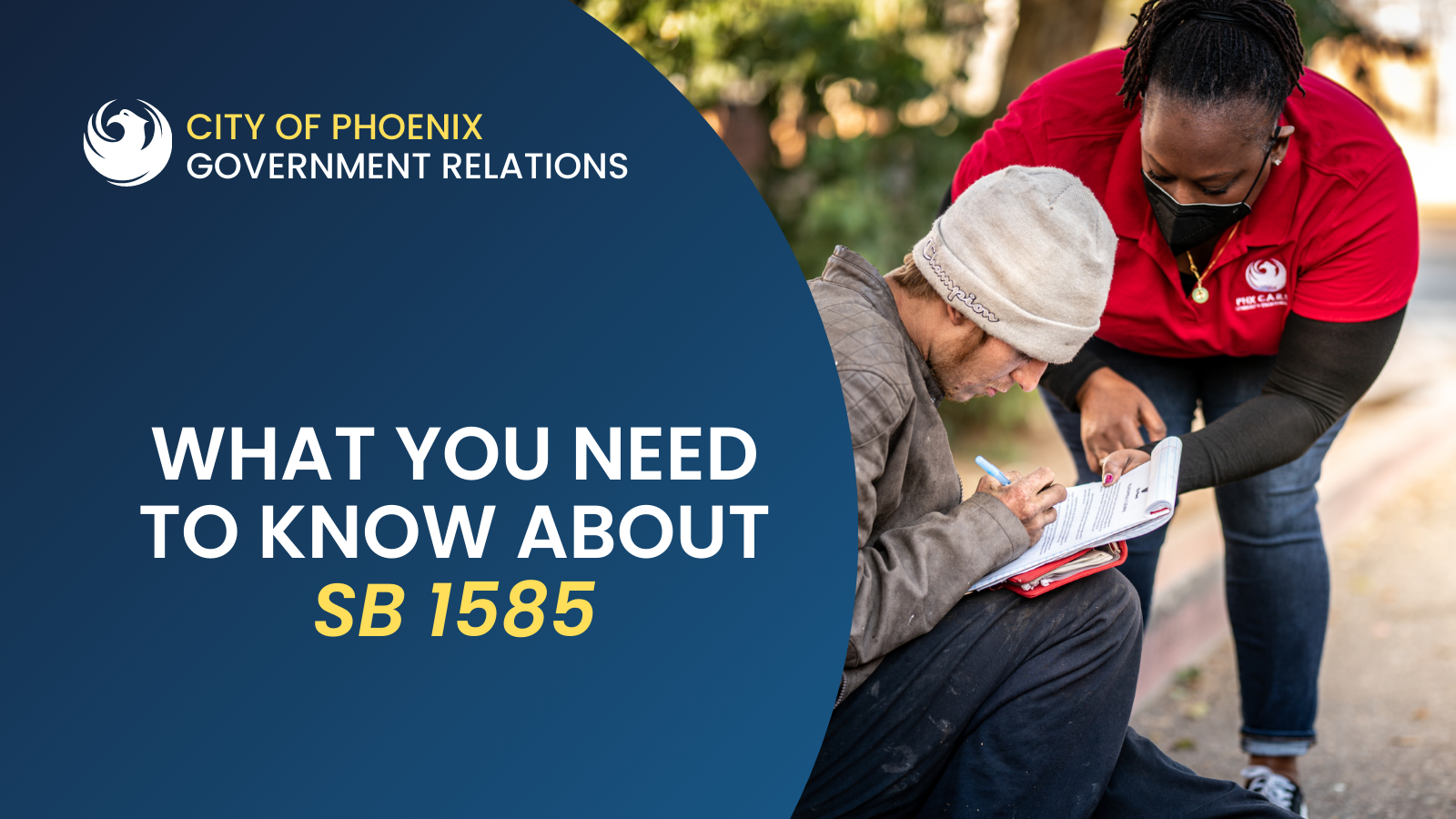 SB 1585 appropriates $155 million for various measures to mitigate and prevent homelessness. If passed, the City of Phoenix could apply for grants to provide sanctioned housing for unsheltered individuals experiencing homelessness. This would go a long way in our efforts to address the homelessness crisis. Contact your legislator and express your support.
Senate Bill 1541 – Permanent Funding for Affordable Housing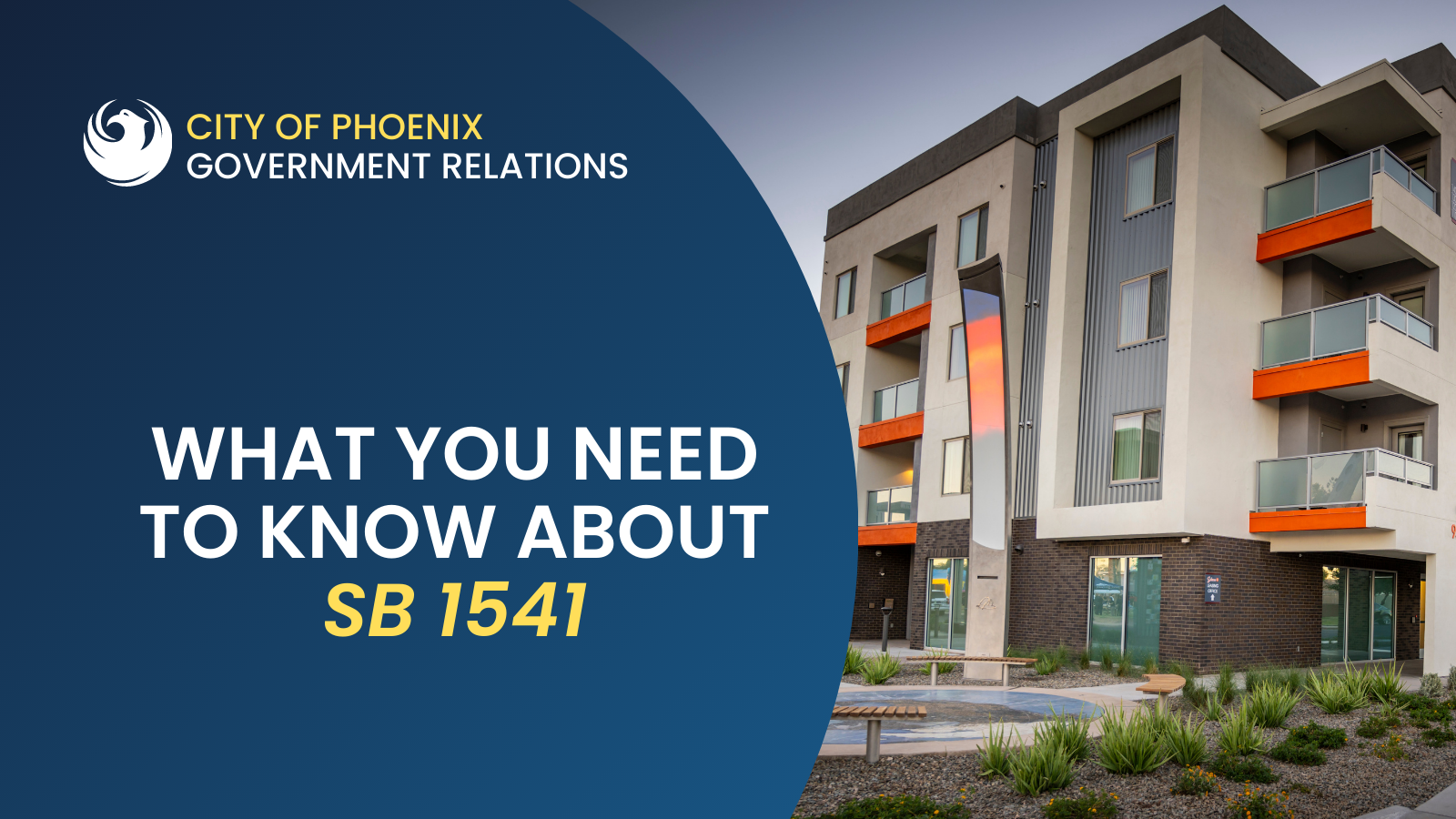 SB 1541 provides a permanent funding stream for the Housing Trust Fund. This Fund provides grants to develop affordable housing opportunities for low- and moderate-income households as well as funding for homeless shelters, transitional housing, eviction prevention and rapid rehousing. With a secure funding source, the Housing Trust Fund will be able to make a positive impact on the current housing crisis. Contact your legislator and express your support.
House Bill 2381 – Increase in Relocation Funding for Displaced Residents Due to Mobile Home Park Redevelopments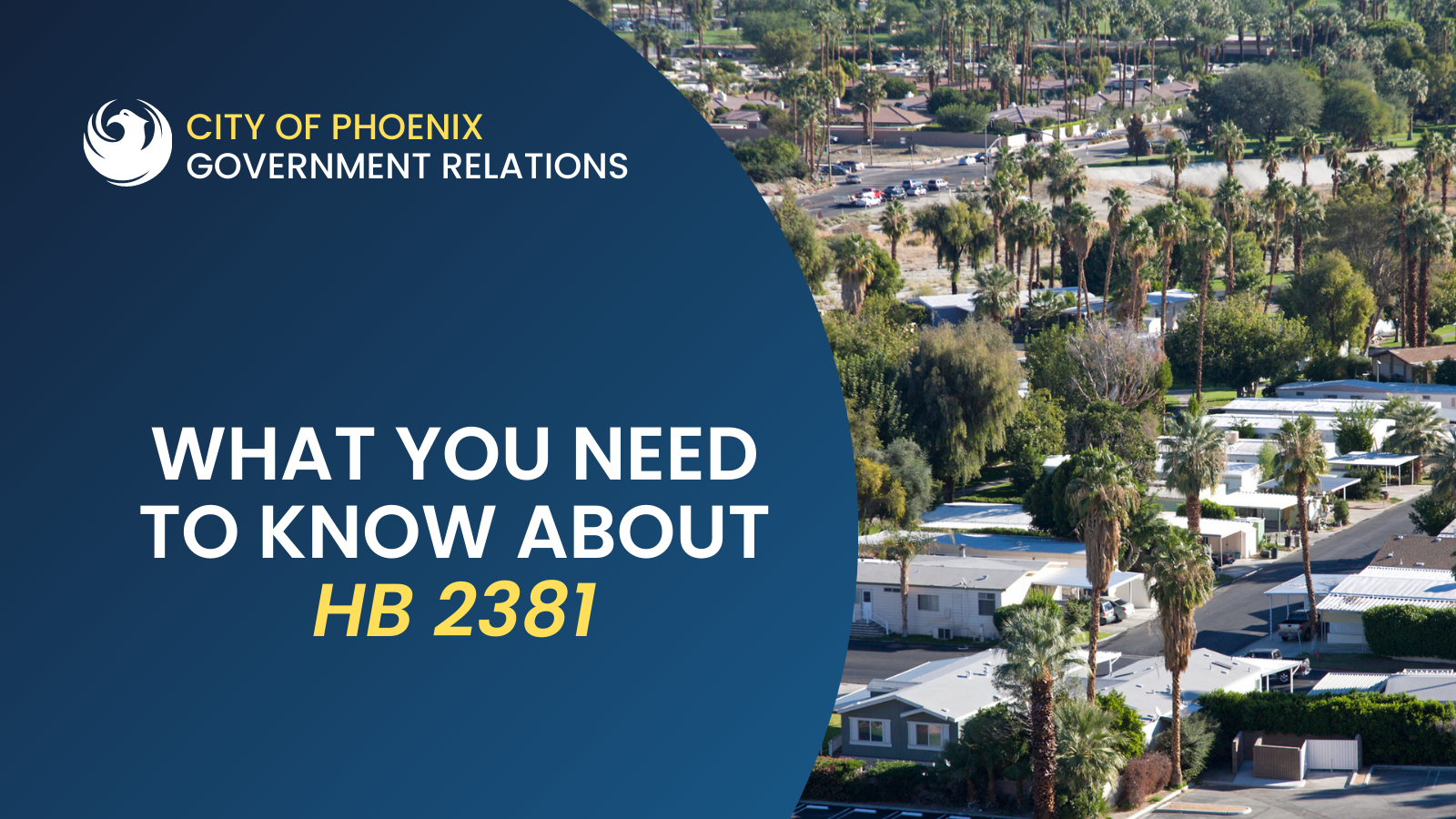 HB 2381 would increase the amount the Arizona Department of Housing will issue a tenant who is required to relocate due to redevelopment of a mobile home park from $7,500 to $12,500 for a single section mobile home or $12,500 to $20,000 for a multi-section mobile home. Although this is not enough to cover the cost of forced relocation, this is a step in the right direction and will provide much needed relief to displaced residents. Contact your legislator and express your support.
---
Mark Your Calendars: Community Meeting
Our next meeting will be April 24th and at this time we are still confirming a location. We will be meeting at our regular scheduled time for our evening meetings. Plan for check in to begin at 5:30pm and the meeting to start at 6pm.
You can register below for the upcoming meeting! As a reminder, please fill out the form SEPARATELY for EACH member of your family planning to attend. Thank you!
---
EXERCISE, EXERCISE!!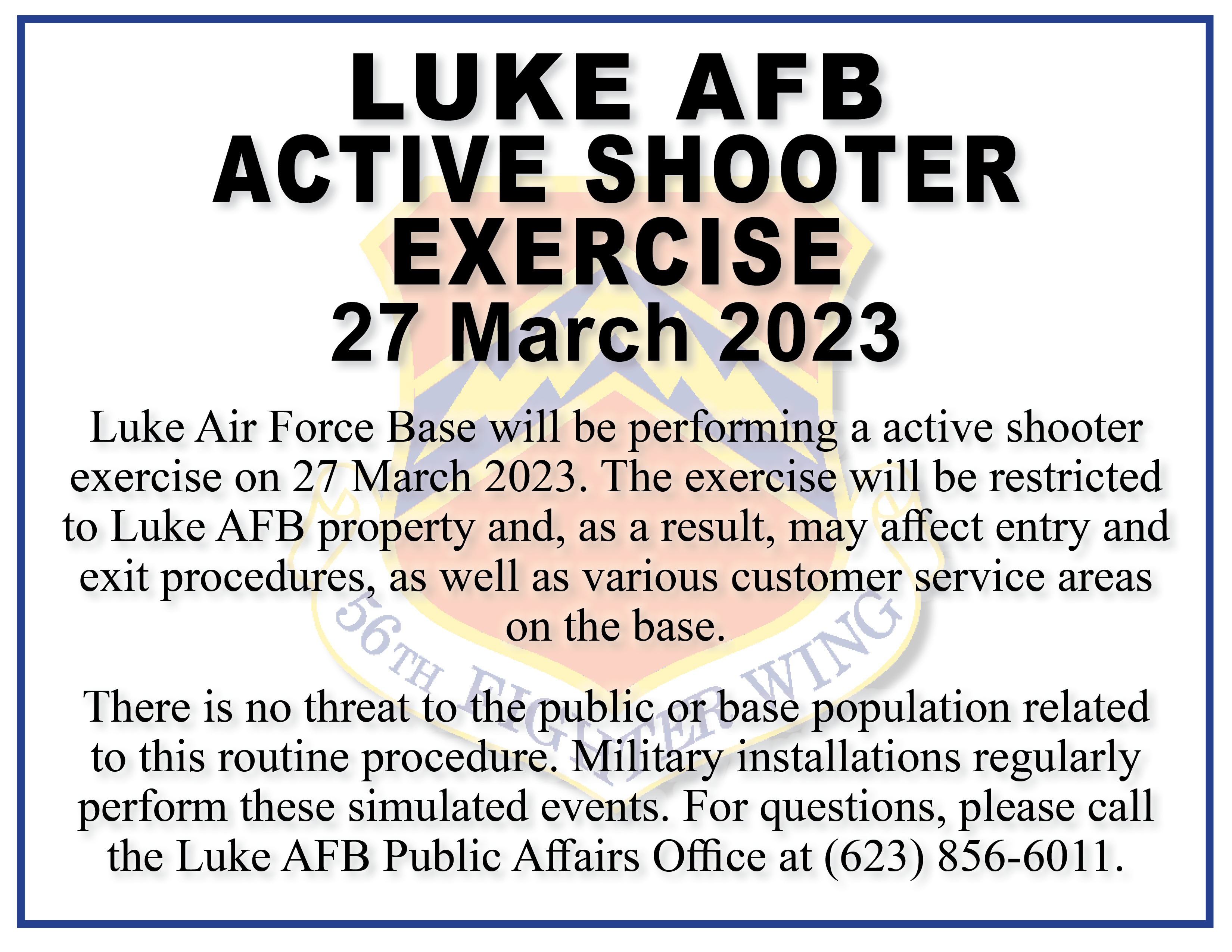 Luke AFB Active Shooter Exercise on 27 March 2023
LUKE AIR FORCE BASE, Arizona – Luke Air Force Base will be performing a full-scale active shooter exercise on 27 March 2023.
The exercise will be restricted to Luke AFB property and, as a result, may affect entry and exit procedures, as well as various customer service areas on the base.
There is no threat to the public or base population related to this routine procedure. Military installations regularly perform these simulated events to ensure the base population is prepared if the real-world scenario were to occur.
For questions, please call the Luke AFB Public Affairs Office at (623) 856-6011.
Code Enforcement Policy (CEP) Community Outreach Meeting Notice
We want to hear from you! The Neighborhood Services Department (NSD) is hosting community outreach meetings to provide an overview of its Code Enforcement Policy, outline the possible updates for consideration by the Phoenix City Council and gather comments and feedback from the public. The Code Enforcement Policy was adopted by City Council and grants NSD the authority to enforce the Neighborhood Preservation Ordinance, and portions of the zoning, animal, and business ordinances.
A total of three meetings will be held, two virtual meetings via Cisco WebEx and one meeting in-person at Phoenix City Hall:
Thursday March 30 @ 5:30pm – virtual meeting
Wednesday April 5 @ 1:30pm – virtual meeting
Tuesday April 11 @ 10:00am – Phoenix City Hall, 200 W. Washington Street, First Floor Assembly Rooms B & C
Upcoming Weatherization Program
The summer heat is just around the corner! Is your home ready? The Phoenix Weatherization Assistance Program can help you lower your power bills by increasing the energy efficiency of your home at no cost to you. Repairing or replacing an old AC, sealing air ducts, or adding window screens can help you beat the heat! Find out if you qualify for a grant to make improvements to your home at phoenix.gov/energysavings or call 602-534-4444 ext.3.
Grant Funding Available for Small, Food-Related Businesses in Phoenix
The City of Phoenix is offering grants to small, food-related businesses that have been negatively impacted by COVID-19 or its negative economic impacts. Applications are now open for the Food Systems Transformation Grant, which is part of the American Rescue Plan Act (ARPA)-funded Phoenix Resilient Food System Initiative.
The Office of Environmental Programs has $800,000 available in grant funding to distribute to small businesses located within Phoenix city limits. Eligible small businesses include those who are a part of the City's food system and play a role in the consumption, distribution, growing, harvesting, processing, packaging, transporting, marketing or the disposal of food and food-related items.
Grants must be used to create a more resilient, sustainable, equitable, healthy, and thriving system. Examples of projects that help transform the local food system include but are not limited to:
Advancing justice, equity, and fairness within the local food system.

Promoting efforts to reduce the impact of the local food system on our changing climate (mitigation).

Strengthening the resiliency of the local food system in the face of the COVID-19 pandemic, various shocks, and disruptions (adaptation).

Enhancing food security, accessibility, affordability, and healthy eating.

Adopting new and/or expanding existing sustainable and innovative urban food production, distribution, aggregation, processing, and recycling practices.

Developing product prototypes.

Creating new, high-quality jobs to implement grant-funded projects.

Improving local market options.
Small businesses are eligible to receive between $5,000 and $99,000 in grants and must use funds to complete all proposed projects within 12 months. Grant applications are due no later than March 31. Apply here to view the full details and eligibility requirements.
Phoenix Seeks Input on Bus Rapid Transit Program Design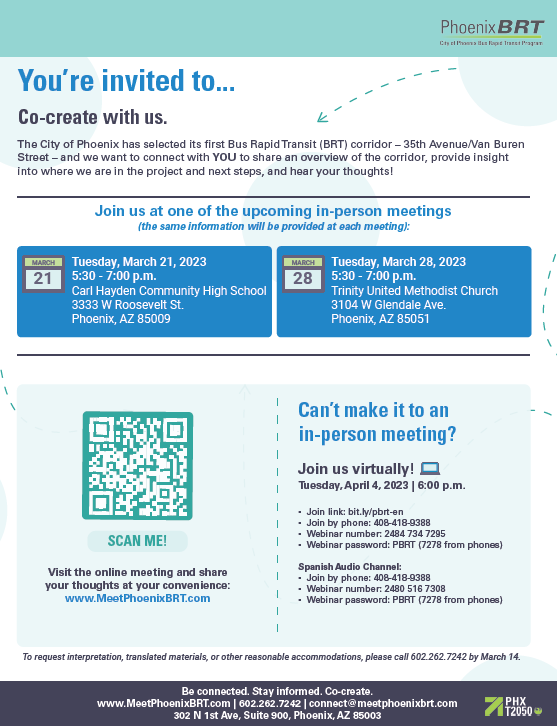 The City of Phoenix Bus Rapid Transit program is beginning its second phase of community outreach related to the design of the City's first Bus Rapid Transit (BRT) corridor – 35th Avenue and Van Buren Street.
To continue engaging the community in the development of this corridor, the Phoenix BRT Program will host five events in March and April 2023.
The Phoenix BRT Program will host two in-person public meetings, one virtual public meeting and two outreach events within the 35th Avenue and Van Buren Street corridor, and everyone is welcome! Additionally, there will be an online survey for the public to provide feedback.
The in-person public meetings will be open-house style with various project team members available to provide information and answer questions. The public will have an opportunity to learn more about BRT and the next steps - including potential design options.
The public's input is highly requested as community feedback will help guide the development of BRT along this corridor. To learn more, visit MeetPhoenixBRT.com.
In-Person Public Meetings | 5:30 p.m. to 7 p.m.
Tuesday, March 28
Trinity United Methodist Church – 3104 W Glendale Ave., Phoenix, AZ 85051
I Recycle PHX Event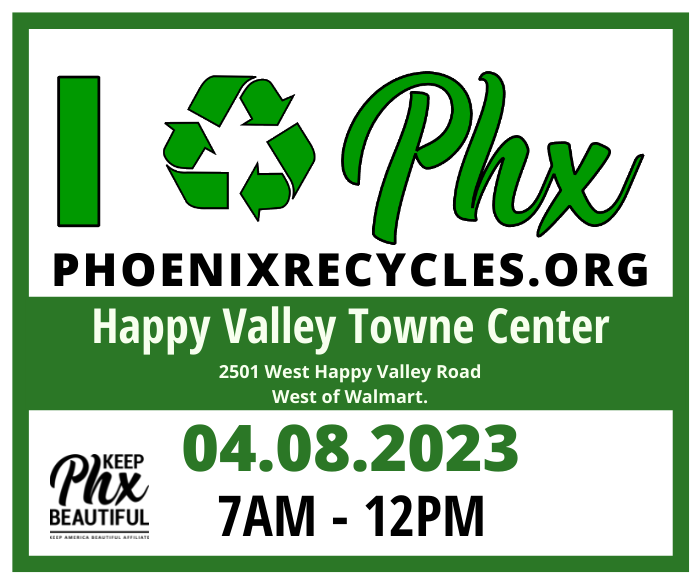 I Recycle PHX is a drive-through event where folks can drop off items for recycling, repurposing, donating. They accept electronics, do paper shredding, take clothing, canned food. bicycles, and teacher supplies like old binders and things they use for art projects. They've actually been doing this event 12 years now! They hit various locations around the City. It's open to everyone, folks don't have to be City of Phoenix Public Works customers. Although Public Works supports this event for us and is a partner. Other partners include: Westech Recyclers, Treasure 4 Teachers, Security Data Destruction, Nourish PHX, and Bike Saviours.
City Launches Community Survey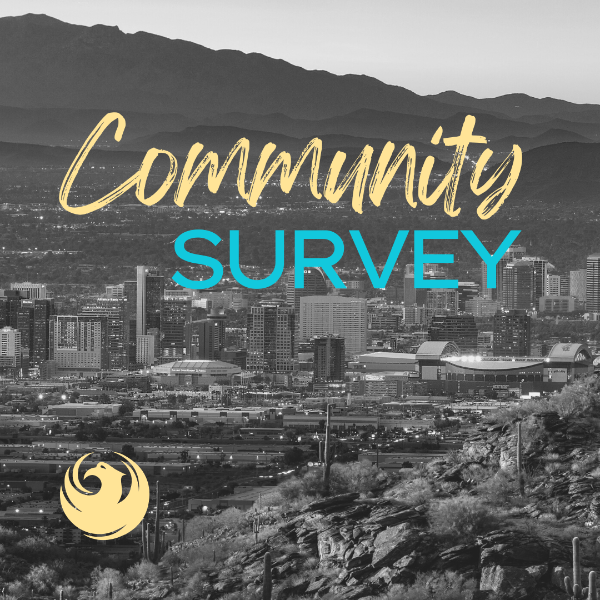 The City of Phoenix is ready to launch the community survey. This survey asks questions on a wide range of topics around life in our community—from what residents think is working, to where they see a need for improvement—providing feedback that is used to calculate ongoing satisfaction scores. The survey is one more way to gather information from residents in our effort to more holistically understand neighborhood issues and enhance our responsiveness to community priorities.
The survey takes less than five minutes to complete and is available in both English and Spanish. The survey system sets response targets based on Census data to ensure community representation. Survey responses will be anonymous.
The survey is served up to residents on various websites and social media platforms. Residents can also respond to the survey directly with this link.
We've also created a survey landing page on Phoenix.gov to answer questions, including the security and privacy of the survey.
Temporary Road Closures
Southbound I-17 closed between Pinnacle Peak Road and Union Hills Drive over the next two weekends (March 17-20 and 24-27)
The Arizona Department of Transportation advises drivers to plan for southbound I-17 to be closed between Pinnacle Peak Road and Union Hills Drive from 9 p.m. Friday, March 24, to 5 a.m. Monday, March 27. The following ramps will also be closed:
Both Loop 101 ramps to southbound I-17

The southbound I-17 on-ramps at Happy Valley and Jomax roads
DETOUR: Motorists may consider exiting ahead of the closures and using southbound 19th or 35th avenues to reach I-17 beyond the closure.
ADOT advises drivers to slow down and use caution around construction personnel and equipment while work is underway.
Cactus Park Coffee With a Cop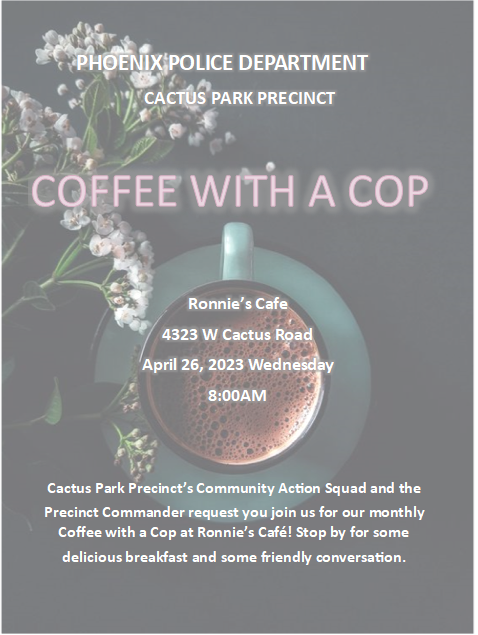 Please join your Cactus Park Precinct Community Action Officers for Coffee with a Cop at Ronnie's Cafe at 4323 W Cactus on April 26th at 8:00am.
---
News From Deer Valley Unified School District
DVUSD Fleet Maintenance Staff Named Arizona Department of the Year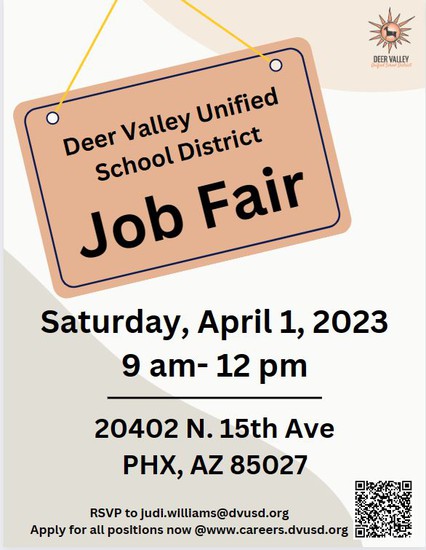 Join the Deer Valley Unified School District team!
DVUSD is hosting a Job Fair Saturday, April 1 from 9 a.m.- 11 a.m. at the DVUSD District Office - 20405 N. 15th Ave. Phoenix, 85027
We are seeking enthusiastic team members for teaching and non-teaching positions who are pursuing greatness and who can help provide our students with diverse opportunities. We know that our employees are the key to maintaining our standards of excellence. From staff members to teachers, we empower our employees to meet the needs of our students and engage in their learning community.
Forbes Magazine named DVUSD America's Best Midsize Employer in 2022 and 2023.
---
News From Washington Elementary School District
Sweetwater School Renews Lighthouse Status Through Leader in Me Program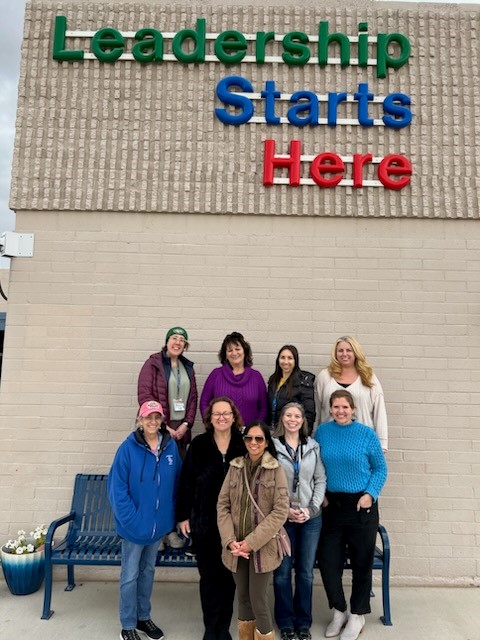 Congratulations to Sweetwater School for earning its Lighthouse Recertification through the Leader in Me program! The Lighthouse Certification "is a highly-regarded standard set by Franklin Covey that is attainable by every Leader in Me school. The certification is evidence that school has produced outstanding results in school and student outcomes, by implementing the process with fidelity and excellence." To earn recertification, Sweetwater completed a virtual self-assessment, describing and celebrating its growth and accomplishments since its original Lighthouse designation.
WESD to Host Teacher Interview Fair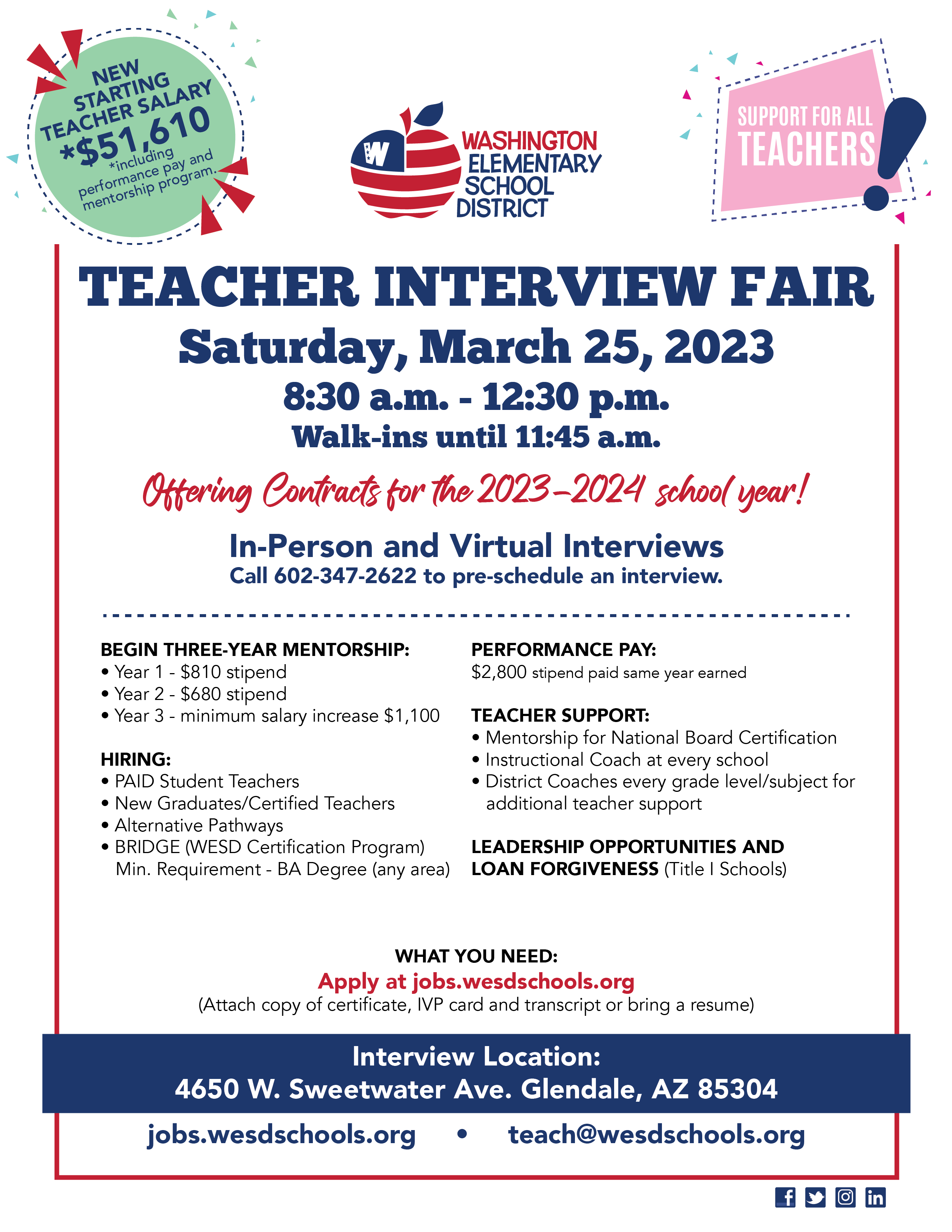 The WESD is offering teacher contracts for the 2023-2024 school year! Please join us for our Teacher Interview Fair on Saturday, March 25, from 8:30 a.m. to 12:30 p.m. at the WESD Administrative Center. In-person and virtual interviews will be available. The WESD offers many great benefits, such as a new starting teacher salary of $51,610, including performance pay and a mentorship program*, teacher support, leadership opportunities, paid time off, loan forgiveness and employer-matched contributions to Arizona State Retirement. *Denotes completion of the BEGIN program and earning performance pay.
To learn more and preschedule an interview, please call 602-347-2622. Apply online today at https://jobs.wesdschools.org/. We hope to see you there!
---
News From Glendale Union High School District
Save the Date for Fentanyl Presentations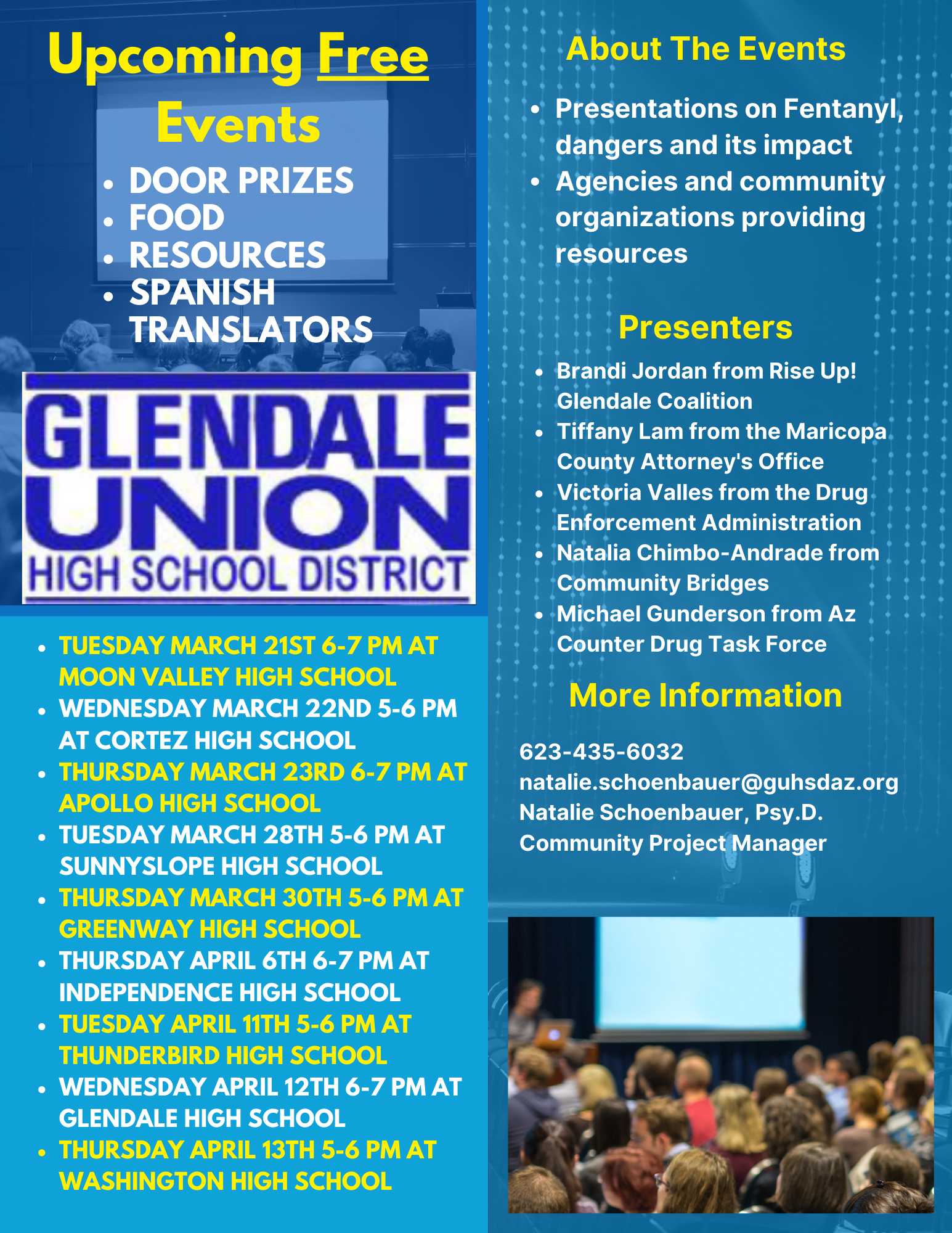 Join the Glendale Union High School District for an in-depth discussion about fentanyl in Maricopa County. Learn about the crisis happening around the Valley and how we can work together to keep families safe. These forums will take place on GUHSD campuses. Below are the dates, times, and locations.
Tuesday, March 28, 5 PM - 6 PM at Apollo High School
Thursday, March 30, 5 PM - 6 PM at Greenway High School
Thursday, April 6, 6 PM - 7 PM at Independence High School
Tuesday, April 11, 5 PM - 6 PM at Thunderbird High School
Wednesday, April 12, 6 PM - 7 PM at Glendale High School
Thursday, April 13, 5 PM - 6 PM at Washington High School
For more information, contact Dr. Natalie Schoenbauer at 623-435-6032.
Greenway High School Students Colunteer at Local Food Bank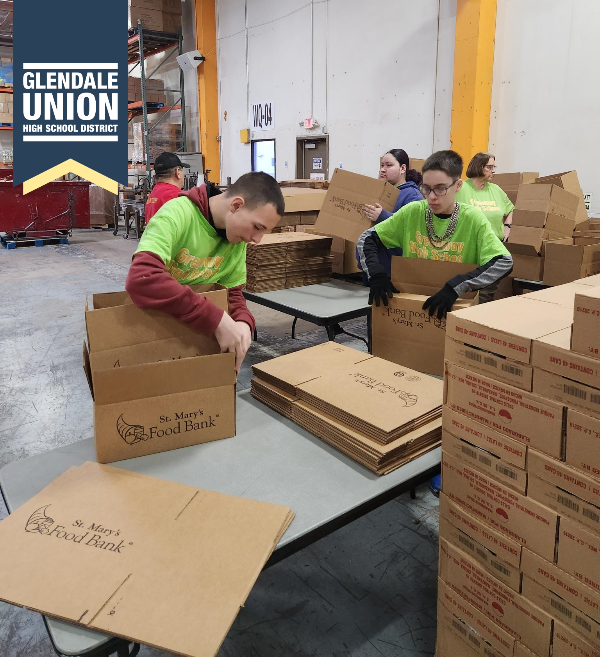 Excellence in service continues at Greenway High School as students volunteered at St. Mary's Food Bank. Student participated in breaking down cardboard, creating canned food boxes, and cleaning up the work area.
To learn more about Greenway High School news, visit @GreenwayHighSchoolAZ on Facebook.
Greenway High School Speech Team Places at State Competition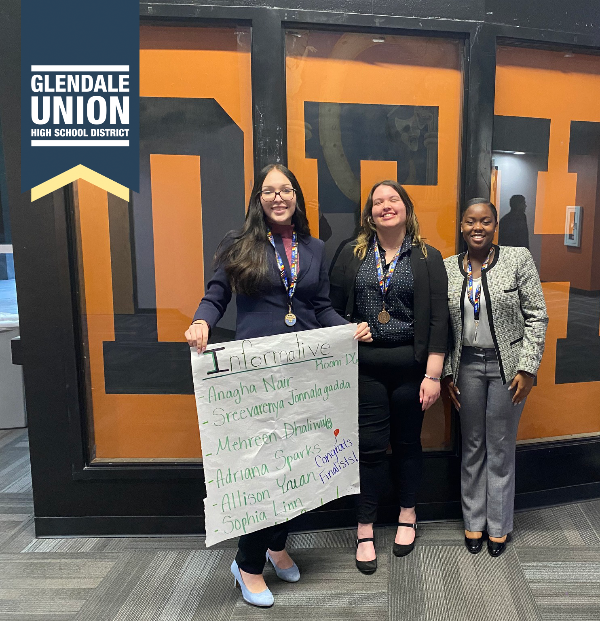 Academic excellence continues at Greenway High School as the speech team received three medals at the Division II State competition. Brooke Subers took sixth in Original Spoken Word Poetry. Queen Lokossou took 2nd place in the state in Original Spoken Word Poetry. Adriana Sparks is the new reigning state champion in Informative Speaking.
To learn more about Greenway High School news, visit @GreenwayHighSchoolAZ on Facebook.
---
Interested in serving on Phoenix's Boards and Commissions?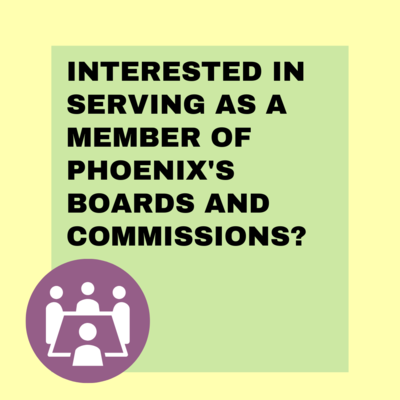 District 1 is seeking community leaders interested in serving as the District's representative for various boards and commissions, such as the Village Planning Committee.
To start the application process, please visit the Boards and Commissions webpage.
---

Upcoming City Council Meetings
Next City Council Policy Meeting: April 18th

Next City Council Formal Meeting: April 5th
Councilwoman O'Brien has been appointed chairperson of the Public Safety and Justice Subcommittee, and is also a member of the Transportation, Infrastructure and Innovation Subcommittee and the Economic Development and Equity Subcommittee. Visit the Council Subcommittee webpage for the schedule of public meetings.
---
Learn more about Councilwoman O'Brien, her priorities and focus for District 1 on the district's webpage.
---