---
Weekly DOJ Investigation Update
Week of May 8
City staff continue to produce records and body-worn camera video to the DOJ.
---
The City of Phoenix opposes the following bills:
Senate Bill 1117 – Restrictions to Zoning Local Authority and Public Input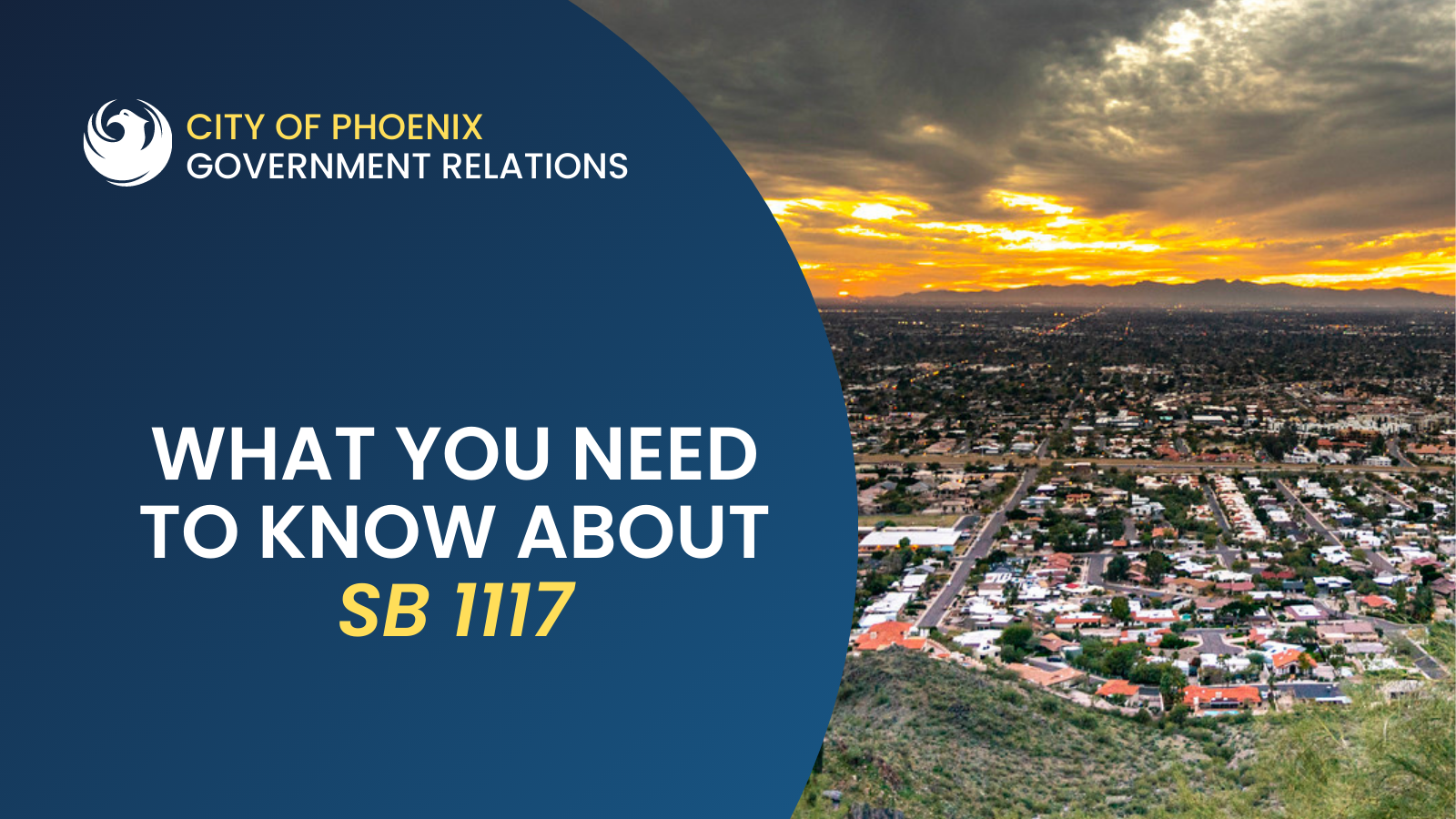 SB1117 entirely removes residents' ability to have a say in how their neighborhoods look and feel. The bill preempts cities and towns in all housing matters and prohibits any "undue burden" on a developer. Under this law, developers would be able to ignore zoning districts, codes, design standards, parking requirements, walkability standards, and other conditions. The bill eliminates the citizen review process for residential and multifamily developments, which will prevent residents from learning about projects or providing input. It prohibits planning commissions from reviewing housing projects, getting community input and providing recommendation to our City Council. Contact your legislator and make your voice heard.
House Bill 2094 – Licensing and Fingerprinting of Mobile Food Vendors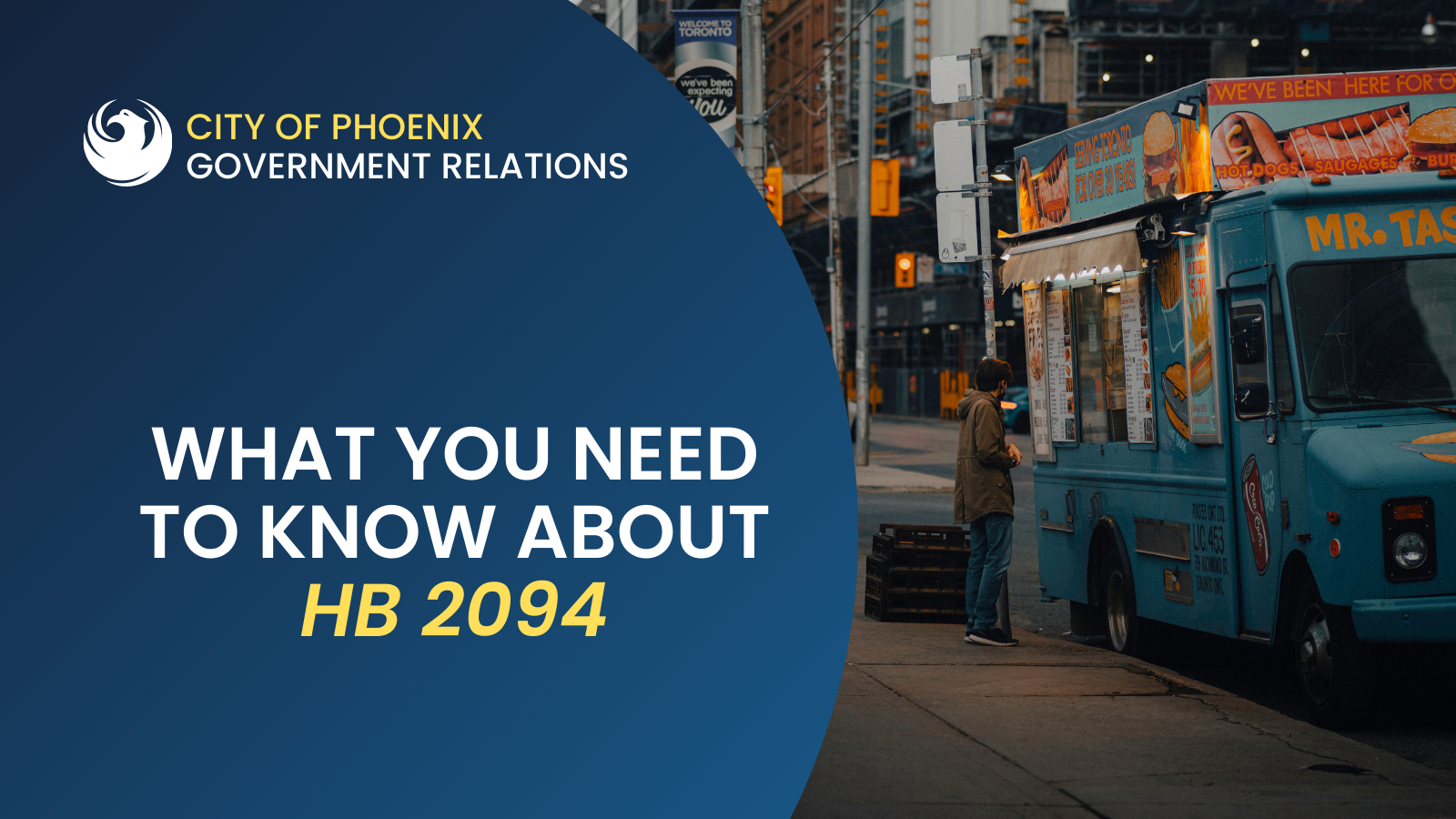 HB 2094 prohibits local governments from requiring mobile food vendors operators to submit fingerprint clearance cards. This would upend the City of Phoenix's current licensure program which has successfully been in place for decades after food and ice cream truck operators came together with residents to develop a system that worked for our community.
Due to public safety concerns, mobile food vendors are required to be fingerprinted prior to being issued a license to operate. It is important for us to go through the extra step of fingerprinting in order to assure our residents' safety due to their proximity to residentially zoned property and interaction with children. Contact your legislator and make your voice heard.
Senate Bill 1162 – Limiting Local Authority of Home-Based Businesses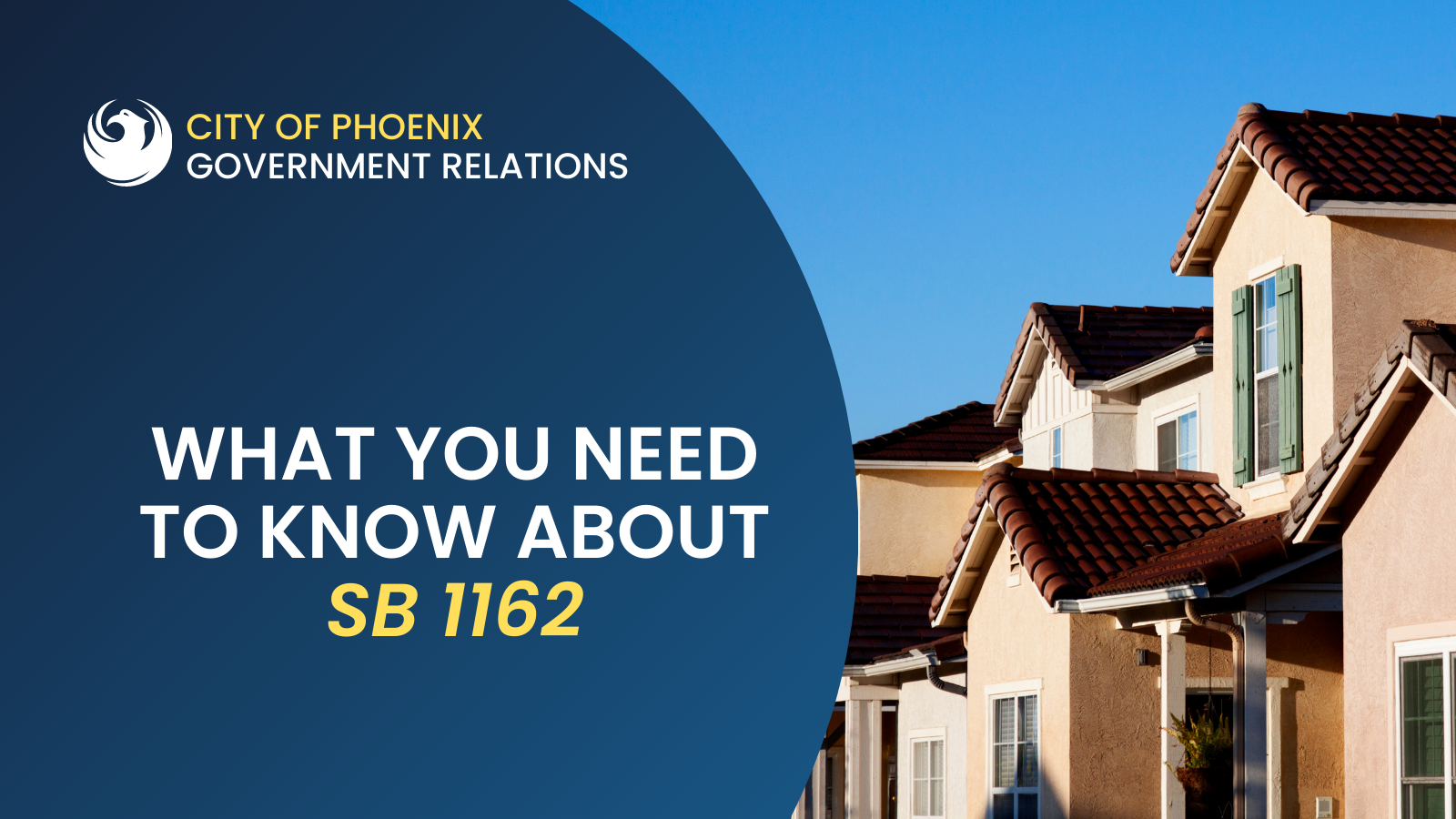 SB 1162 would limit local authority over businesses operating out of a residential home and make it much more difficult to manage the needs of neighboring property owners. The City of Phoenix currently works in collaboration with home-based business owners and their communities to strike a balance that works for everyone, SB 1162 upends this balance.
The City of Phoenix currently allows residential home-based businesses that do not detract from the residential feel and characteristics of the neighborhood by requiring standards to operate a home-based business. Allowing a home-based business by-right and not allowing the City to require the standard already in place could be detrimental to Phoenix neighborhoods. Contact your legislator and make your voice heard.
The City of Phoenix supports the following bills:
Senate Bill 1585 – Funding for Homelessness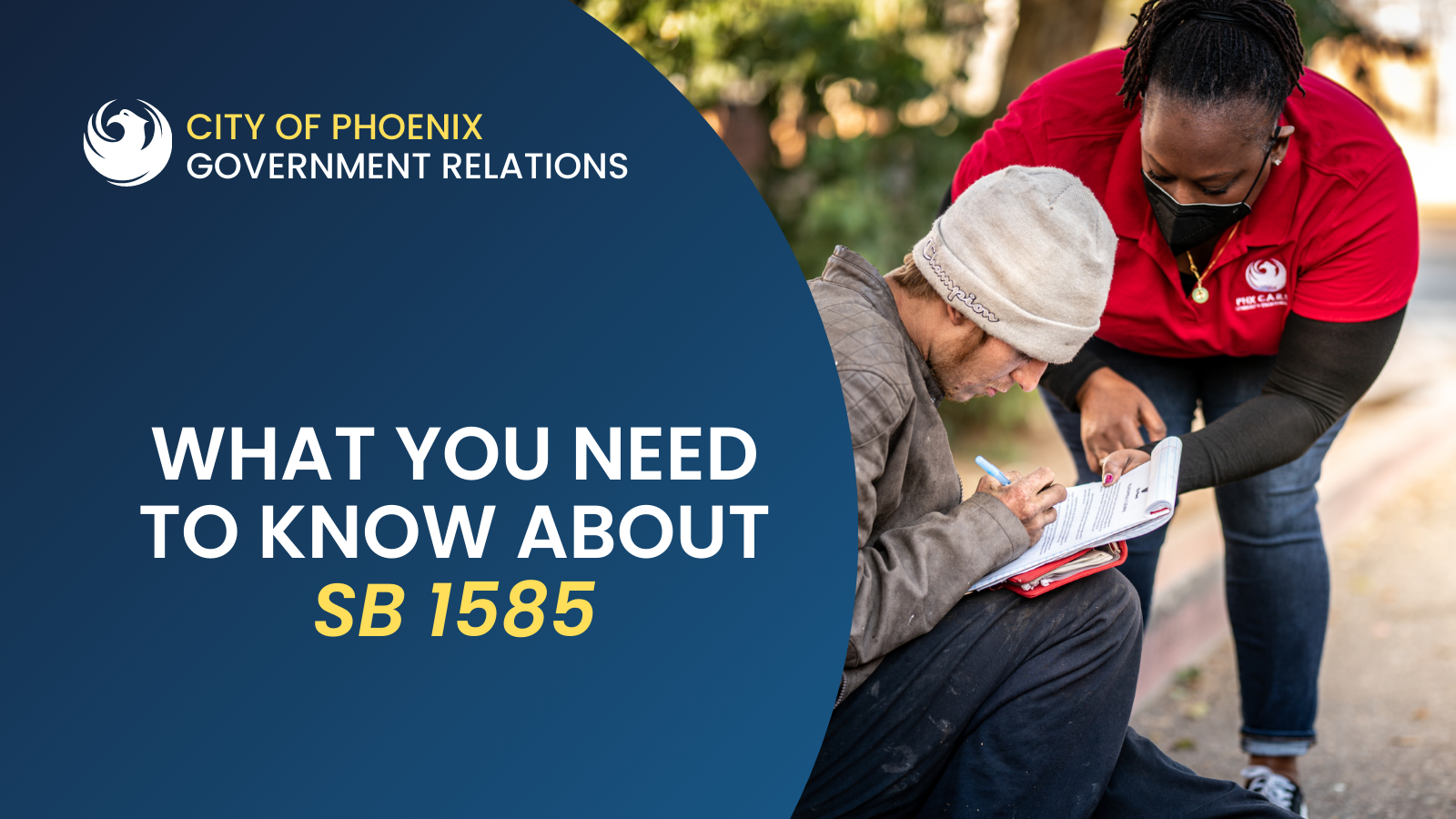 SB 1585 appropriates $155 million for various measures to mitigate and prevent homelessness. If passed, the City of Phoenix could apply for grants to provide sanctioned housing for unsheltered individuals experiencing homelessness. This would go a long way in our efforts to address the homelessness crisis. Contact your legislator and express your support.
Senate Bill 1541 – Permanent Funding for Affordable Housing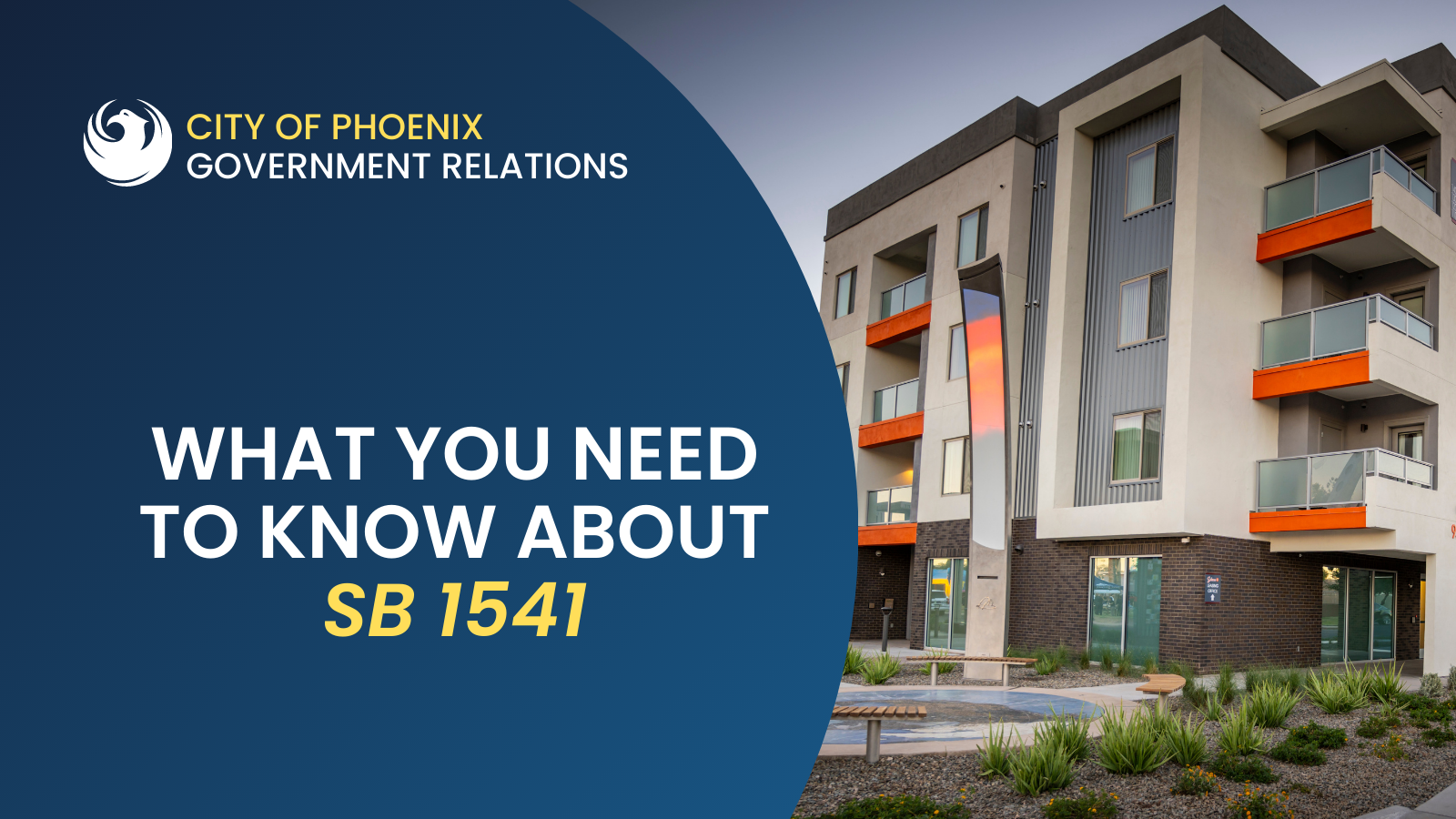 SB 1541 provides a permanent funding stream for the Housing Trust Fund. This Fund provides grants to develop affordable housing opportunities for low- and moderate-income households as well as funding for homeless shelters, transitional housing, eviction prevention and rapid rehousing. With a secure funding source, the Housing Trust Fund will be able to make a positive impact on the current housing crisis. Contact your legislator and express your support.
House Bill 2381 – Increase in Relocation Funding for Displaced Residents Due to Mobile Home Park Redevelopments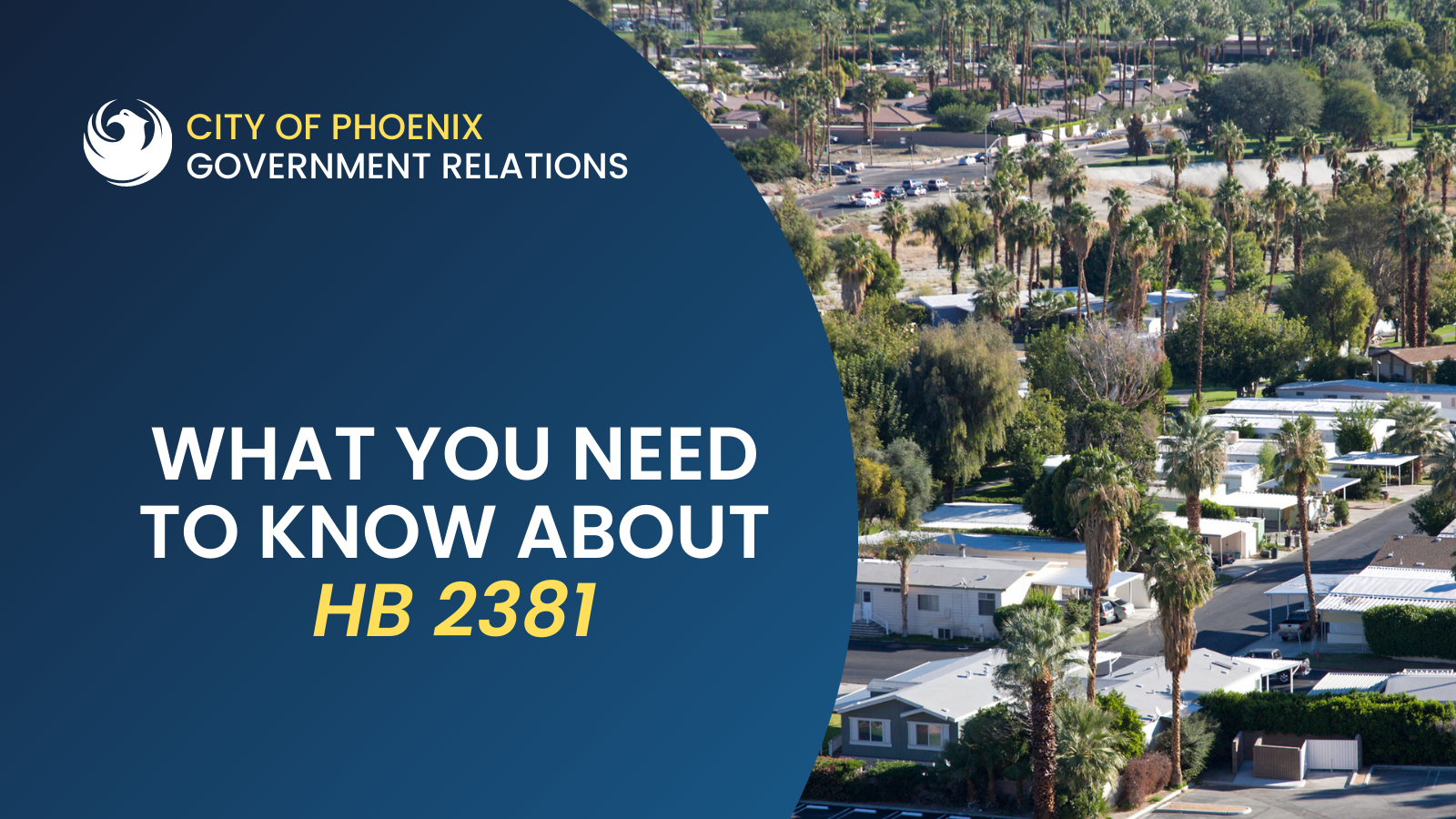 HB 2381 would increase the amount the Arizona Department of Housing will issue a tenant who is required to relocate due to redevelopment of a mobile home park from $7,500 to $12,500 for a single section mobile home or $12,500 to $20,000 for a multi-section mobile home. Although this is not enough to cover the cost of forced relocation, this is a step in the right direction and will provide much needed relief to displaced residents. Contact your legislator and express your support.
---
Mark Your Calendars: Community Meeting
Our next meeting will be May 26th at the DoubleTree Resort at Metrocenter. We will be meeting at our regular scheduled time for our morning meetings. Plan for check in to begin at 7:30am and the meeting to start at 8am.
You can register below for the upcoming meeting! As a reminder, please fill out the form SEPARATELY for EACH member of your family planning to attend. Thank you!
---
Phoenix Awarded Grant Funds to Promote Affordable Connectivity Program
The City of Phoenix Community and Economic Development Department is one of three agencies awarded grant funds from the Federal Communications Commission (FCC) for the Affordable Connectivity Program. The Affordable Connectivity Program is an FCC benefit program that helps ensure that households can afford the internet access they need for work, school, healthcare and more. The program plays an integral role in helping bridge the internet affordability gap.
The Community and Economic Development Department received $700,000 in funding, which will assist in the launch of a collaborative program to educate eligible residents about the Affordable Connectivity Program benefits and assist them in completing their applications. The benefit provides a discount of up to $30 per month toward internet service for eligible households. Eligible households can also receive a one-time discount of up to $100 to purchase a laptop, desktop computer, or tablet from participating providers if they contribute more than $10 and less than $50 toward the purchase price.
The Affordable Connectivity Program is limited to one monthly service discount and one device discount per household.
With guidance and encouragement from Government Relations, the Community and Economic Development Department submitted the grant application for funding consideration. To learn more about the Phoenix program, go to https://www.investinphoenix.com/living-here/phoenix-acp
For more information on grants, call 602-262-1833 or visit the Phoenix Government Relations Office website.
After Dark in the Park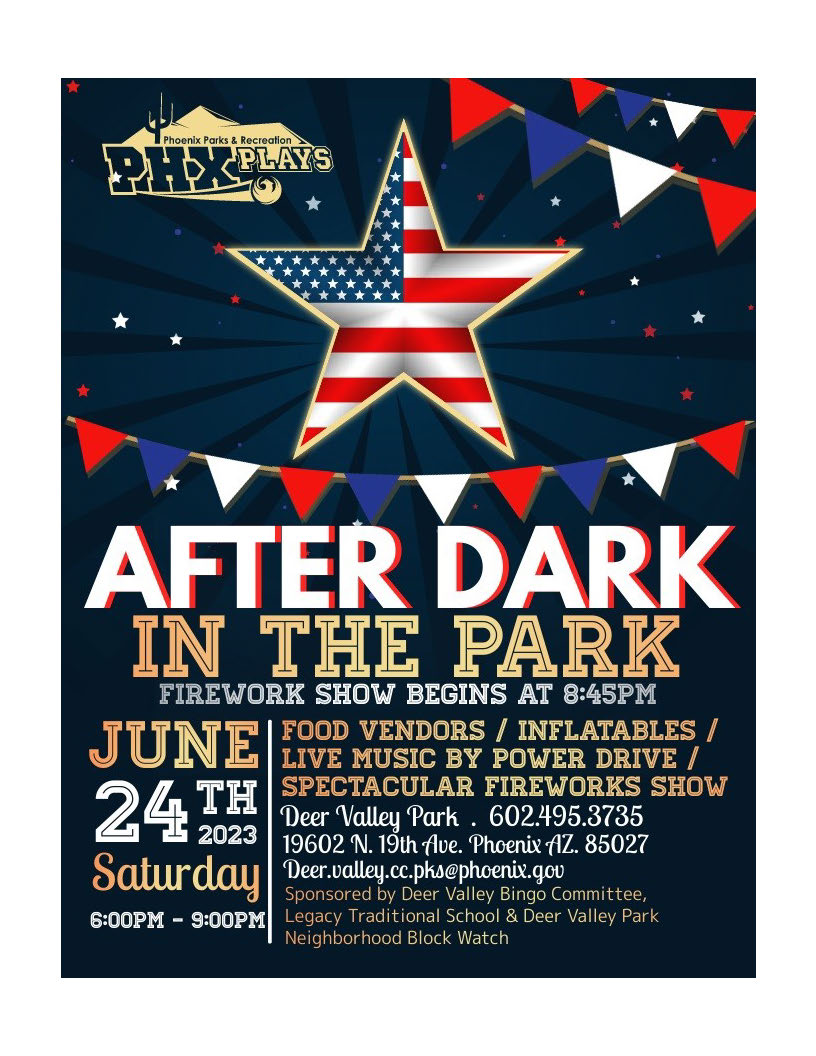 The annual After Dark in the Park event will be held in Deer Valley Park on June 24 from 6 p.m. to 9 p.m. This free event is an annual Independence Day celebration, complete with a fireworks display. This family-friendly event will include live music, inflatables and food vendors, and the fireworks show will begin at 8:45 p.m.
Fabulous Phoenix Fourth
The Parks and Recreation Department is excited to announce that the 35th Annual Fabulous Phoenix 4th Event will be held on Tuesday July 4 from 6 p.m. to 10 p.m. at Steele Indian School Park. Fireworks will begin at 9:15 p.m. This family-friendly and free event will include entertainment, food vendors and more. More information about this event is available on our website here: Parks and Recreation Fabulous Phoenix 4th.
Communities in Action!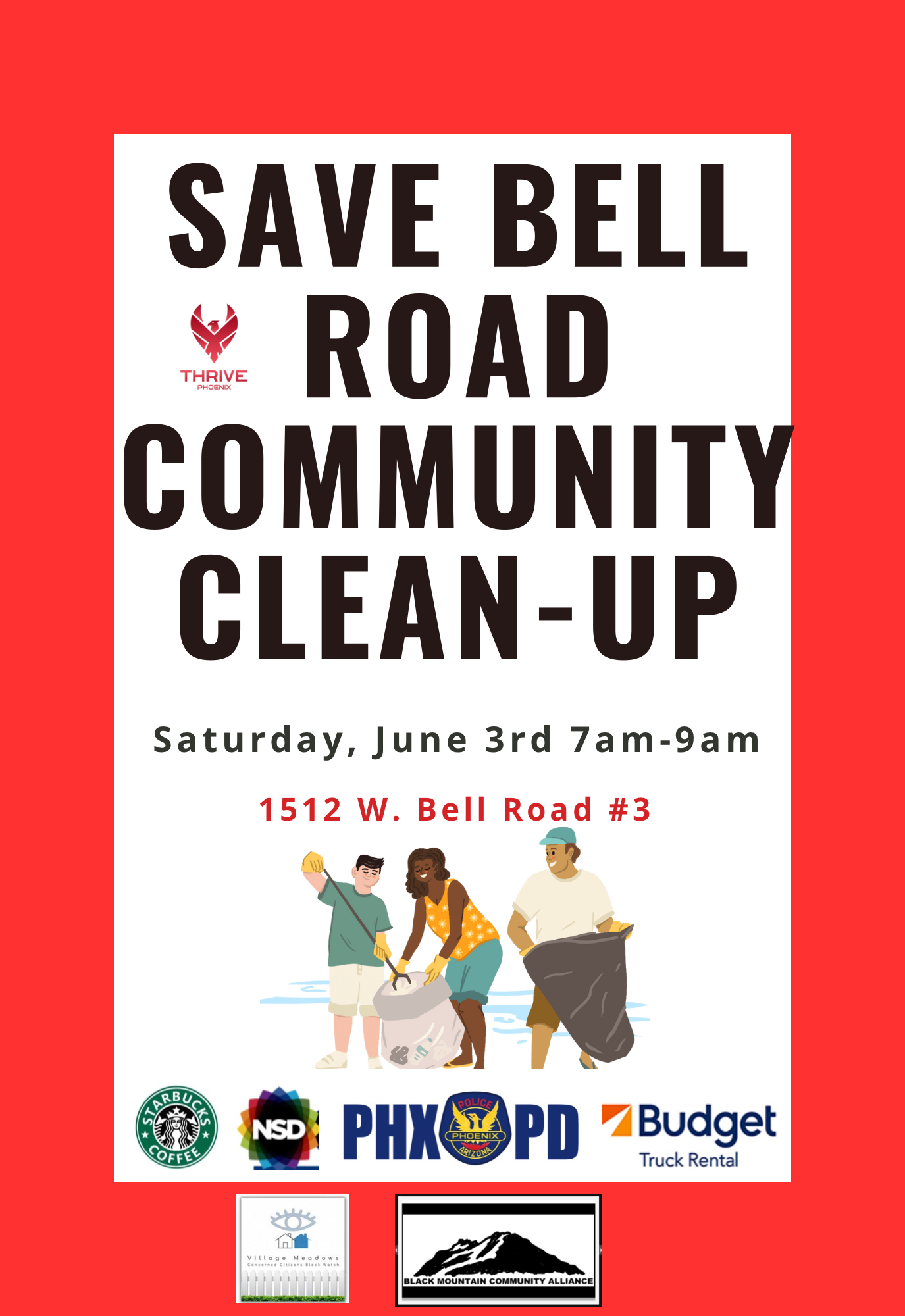 Thrive Phoenix had 28 volunteers on Saturday, May 6th, for a community clean-up. Collectively, they gathered 38 bags of trash throughout their community, and are truly making a difference along the Bell Road Corridor! We can't thank Nina Poole and her volunteers enough for how much pride they put into their city and their neighborhood. If you'd like to volunteer for the next Thrive Phoenix neighborhood clean-up, they're meeting at 7am on Saturday, June 3rd, at their office headquarters located at 1512 W Bell Rd, Ste 3. NOTE: Clean-ups will now start at 7am and end at 9am through the months of June and July as a result of the increasing heat.
Second Annual Officer Appreciation Water Drive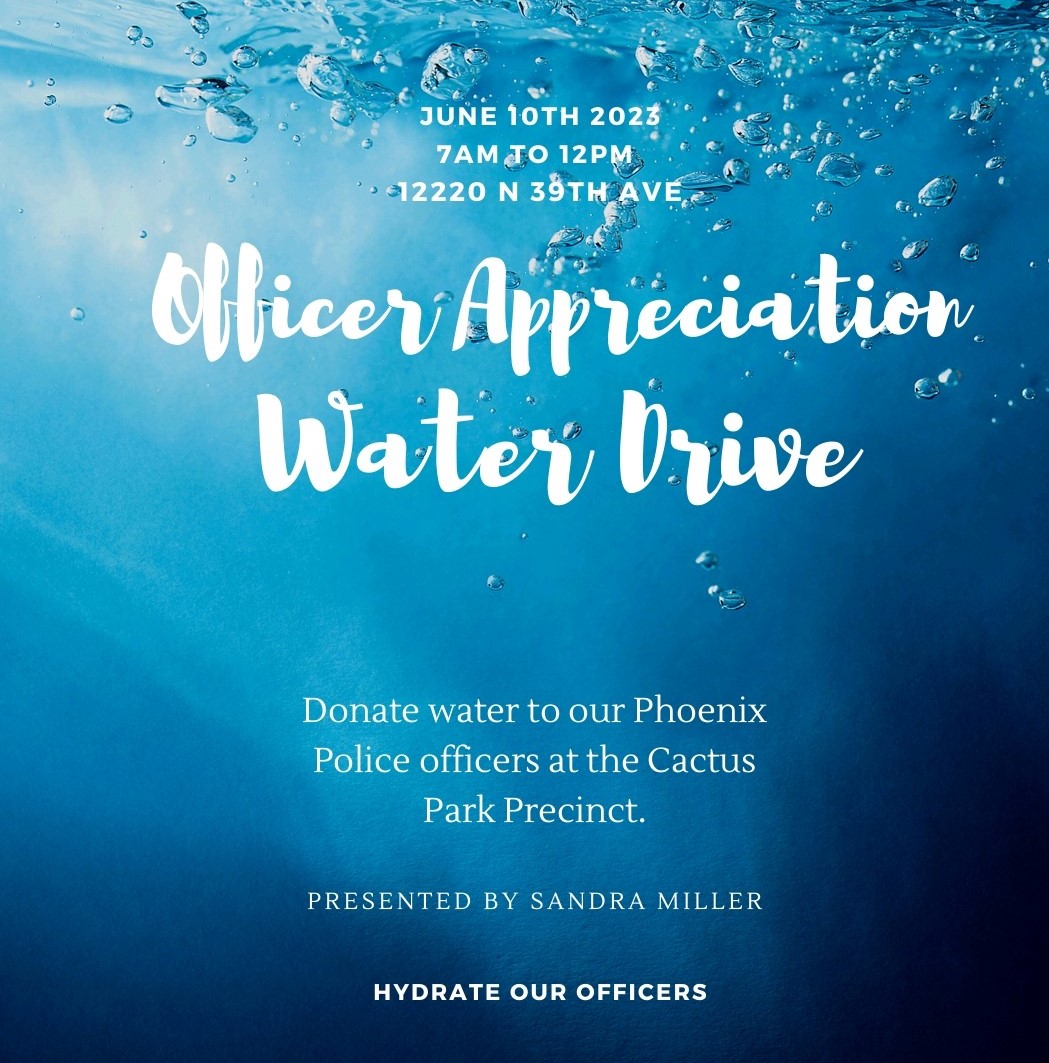 It's that time of year again! Last year's Water Drive for the Phoenix Police Department's Cactus Park Precinct was so incredibly successful, they had to line every wall in the building with three stacks of water cases! Thank you so much to everyone's generosity, and we want to remind everyone that there will be another water drive hosted by Sandra Miller to support our police officers. If you'd like to donate a case of water, snacks, or money to go towards water and snacks, you can come by the Cactus Park Precinct (12220 N 39th Ave) on June 10th from 7am to 12pm to donate. Thank you again to everyone who participated last year!
You Are an Important Part of Planning the City's Future!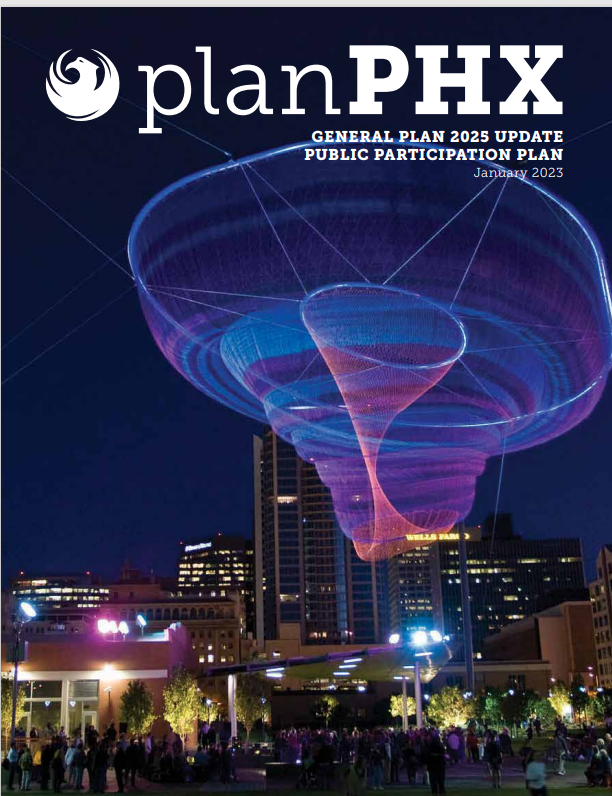 The City of Phoenix Planning and Development Department along with a 16-member Leadership Committee, appointed by the Mayor, is heading up the planning and implementation for the City's 2025 General Plan. The General Plan provides a powerful medium for residents to strategize on how the city will grow. Through this General Plan, Phoenix can continue to shape its natural and built environment in ways that meet the needs of its residents and achieves their vision for its future. In 2015 Phoenix voters approved an update to the Phoenix General Plan generally referred to as PlanPHX. The updated General Plan outlined a new vision for Phoenix focused on creating a more livable and connected city. Staff will work in the coming months to refine the General Plan so that it continues to bring all the city's efforts and initiatives into one cohesive policy framework. Throughout the process there will be many opportunities for residents to have their voices heard and share their priorities for their communities and the City as a whole.
This process will unfold with the following steps:
Building on and refining the existing General Plan Framework

Aligning General Plan's goals and strategies with other City Council adopted initiatives.

Outlining what we will be working on to accomplish goals for the next 10 years.
Go to GeneralPlan2025.gov to learn more about the process and upcoming meetings. Follow us on Twitter and Facebook @phxplananddev.
City Launches Community Survey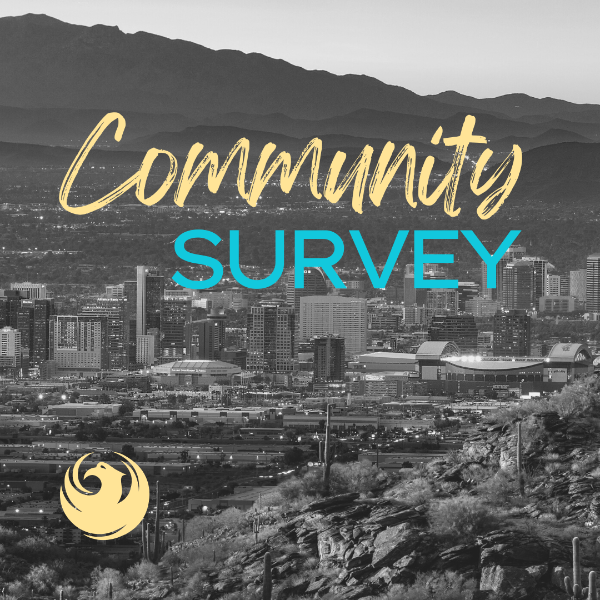 The City of Phoenix is ready to launch the community survey. This survey asks questions on a wide range of topics around life in our community—from what residents think is working, to where they see a need for improvement—providing feedback that is used to calculate ongoing satisfaction scores. The survey is one more way to gather information from residents in our effort to more holistically understand neighborhood issues and enhance our responsiveness to community priorities.
The survey takes less than five minutes to complete and is available in both English and Spanish. The survey system sets response targets based on Census data to ensure community representation. Survey responses will be anonymous.
The survey is served up to residents on various websites and social media platforms. Residents can also respond to the survey directly with this link.
We've also created a survey landing page on Phoenix.gov to answer questions, including the security and privacy of the survey.
Black Mountain Dinner With a Cop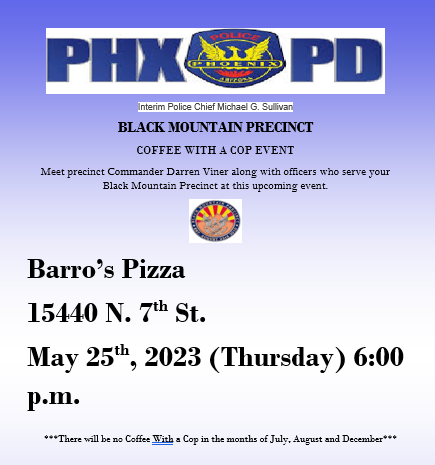 Please join your Black Mountain Precinct Community Action Officers for Dinner with a Cop at Barros Pizza at 15440 N. 7th St on May 25th at 6:00pm.
---
News From Deer Valley Unified School District
---
News From Washington Elementary School District
Acacia Elementary Celebrates Fourth Consecutive A+ School of Excellence Award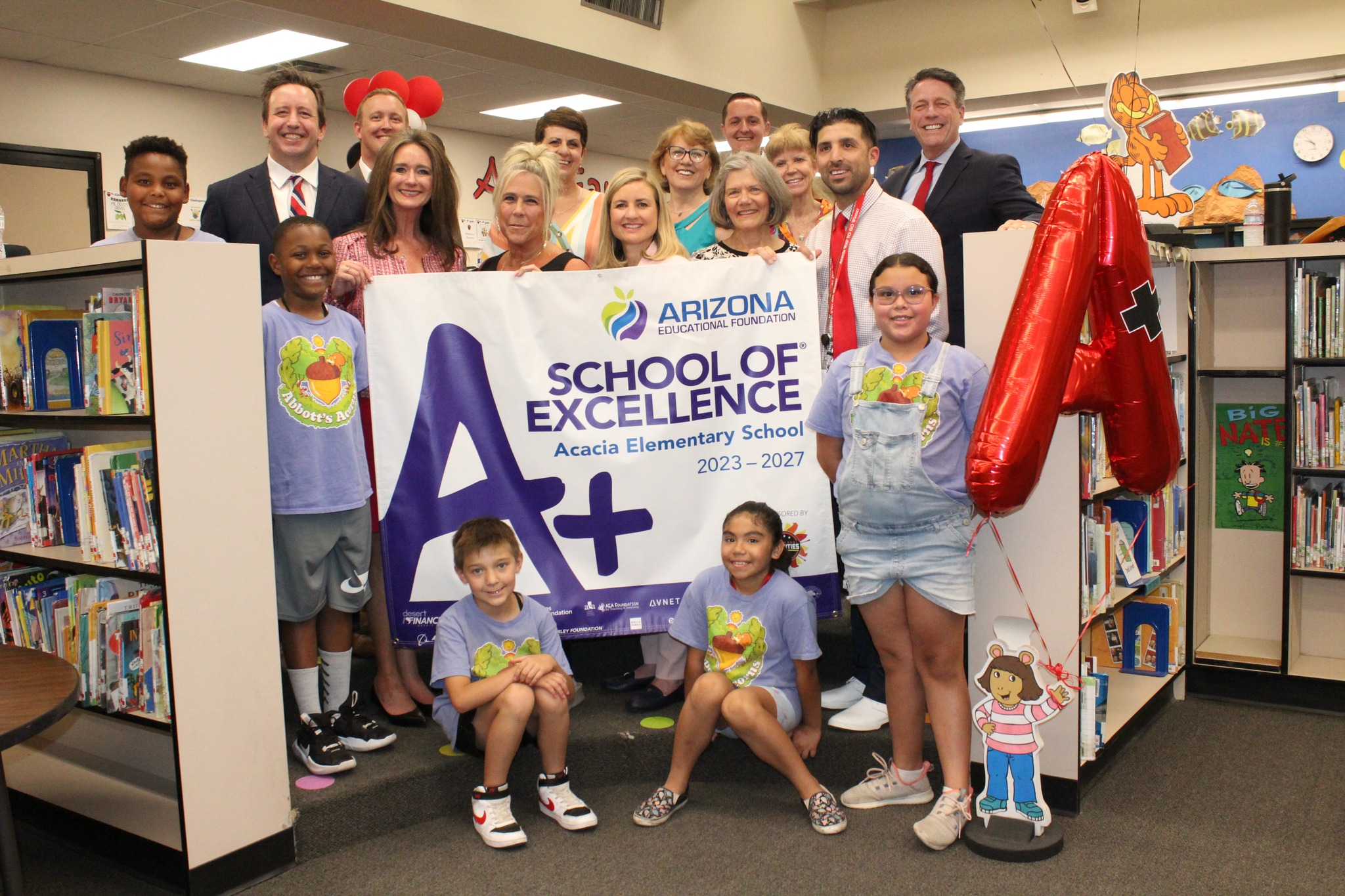 The WESD had a great time celebrating Acacia Elementary May 17 for its fourth consecutive A+ award from the Arizona Educational Foundation! The recognition assembly featured an enthusiastic dance to "What a Feeling" performed by students and teachers, as well as words of congratulation from Phoenix Mayor Kate Gallego and Maricopa County School Superintendent Steve Watson. Other special guests included Arizona Senator Steve Kaiser, State Representative Judy Schwiebert, Phoenix Councilwoman Ann O'Brien, WESD Superintendent Dr. Paul Stanton, WESD Governing Board Vice President Jenni Abbott-Bayardi and WESD Governing Board Member Kyle Clayton.
Acacia was one of 36 schools to receive this award and is one of three schools in the state to have earned an A+ four consecutive applications cycles. Acacia is also the only public elementary school to achieve this honor! The achievement was accomplished under the leadership of Principal Christine Hollingsworth, who has been the principal at Acacia for 20 years and led her school to all four A+ awards.
To watch some special highlights from the celebration, please click here. Congratulations, Acacia! We are so proud of your commitment to educational excellence!
Chaparral Principal Receives Exemplary Principal Honor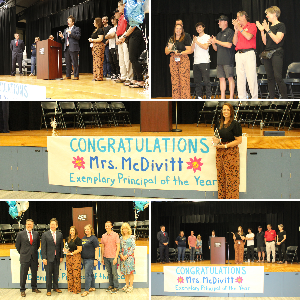 It was a special celebration May 10 as Chaparral Elementary School Principal Kara McDivitt was surprised with the Exemplary Principal Award from the Maricopa County School Superintendent's Office! Each year, Maricopa County School Superintendent Steve Watson visits school districts across Maricopa County to recognize principals who create school cultures where students and teachers thrive! "It is an honor to recognize Kara McDivitt as an Exemplary Principal," Watson said. "Kara is a mission driven leader with an unwavering commitment to student growth. She has created an environment inclusive of high expectations, collective efficacy, and collaborative decision-making where students, teachers, and the community feel valued and inspired."
To qualify for the award, recipients undergo a rigorous evaluation involving a nomination from their superintendent, an application, teacher surveys, interviews, site visits and extensive data review. School leaders are chosen for the award based on their ability to actively engage staff, parents, and community members in developing an effective school culture, utilize data to guide instruction and decisions regarding staff development, consistently demonstrate high teacher retention, and successfully develop and inspire others. Congrats, Mrs. McDivitt!
Suntec Concrete Surprises Manzanita Teacher
Congratulations to Manzanita Elementary Special Needs Preschool Teacher Cindy Rodriguez who was surprised with classroom materials from Suntec Concrete! Nominated by the Apodaca family, Cindy was recognized as part of Suntec Concrete's Education Appreciation Program that encourages its employees to nominate educators who have made a difference in the lives of students. Cindy was also recently honored at a special dinner for her achievement. Special thank you to Suntec for their generous donation and supporting our teachers!
---
News From Glendale Union High School District
Save the Dates for GUHSD Graduations
Mark your calendars for Glendale Union High School District graduations! All graduations will be held at the Desert Diamond Arena located at 9400 W. Maryland Avenue in Glendale. To view, all dates and times see the list below. We look forward to celebrating the Class of 2023.
May 22, 2022
Cortez High School - 10:00 AM
Thunderbird High School - 12:30 PM
Moon Valley High School - 3:00 PM
Greenway High School - 5:30 PM
Sunnyslope High School - 8:00 PM
May 23, 2022
Independence High School - 10:00 AM
Washington High School - 1:00 PM
Apollo High School - 4:00 PM
Glendale High School - 7:00 PM
To learn more about GUHSD news, visit @GUHSDAZ on Facebook.
Join GUHSD's Free, Signature Summer Opportunities
Glendale Union High School District's signature, free Summer Opportunities are available once again for eighth-grade students and current GUHSD students. GUHSD's Summer Opportunities include Summer School, and Summer Academies, which will provide students with opportunities to expand their skills and knowledge, and prepare them for the important next step. Don't allow your child/teen to miss out on this chance to attend GUHSD summer opportunities!
To learn more GUHSD news, visit our Facebook page@GUHSDAZ.
---
Interested in serving on Phoenix's Boards and Commissions?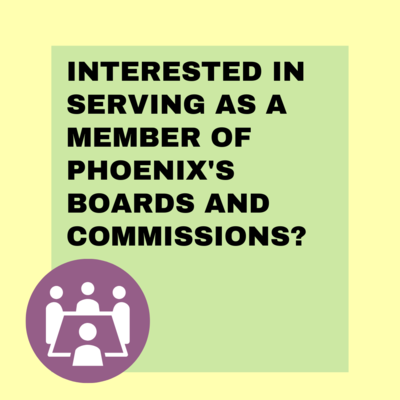 District 1 is seeking community leaders interested in serving as the District's representative for various boards and commissions, such as the Village Planning Committee.
To start the application process, please visit the Boards and Commissions webpage.
---

Upcoming City Council Meetings
Next City Council Policy Meeting: June 13th

Next City Council Formal Meeting: May 31st
Councilwoman O'Brien has been appointed chairperson of the Public Safety and Justice Subcommittee, and is also a member of the Transportation, Infrastructure and Innovation Subcommittee and the Economic Development and Equity Subcommittee. Visit the Council Subcommittee webpage for the schedule of public meetings.
---
Learn more about Councilwoman O'Brien, her priorities and focus for District 1 on the district's webpage.
---