---
Mark Your Calendars: Community Meeting
If you were unable to attend our Community Meeting this evening, fear not, we have our next Community Meeting scheduled for Friday, October 29th, 2021 at 7:30 am. We will be back at the DoubleTree Hotel in MetroCenter and I look forward to seeing you all again soon!
We will have the RSVP link open soon and send it out.
---
COVID-19 Free Testing & Vaccine in District 1
COVID-19 Testing & Vaccinations
As many of us begin the trek back to the workplace, some companies may require employees to get tested for COVID-19 before coming back.
On Monday, October 11th, from 7:15 a.m. to 1:15 p.m., the mobile testing van, managed by Vincere Cancer Center, will be at Cholla Library (10050 N Metro Pkwy E, Phoenix, AZ 85051), to offer free antigen (viral test) and antibodies tests to individuals. This location is also offering COVID-19 vaccinations for those who have not yet received the vaccine and would like to. Walk-ups are welcome. No out-of-pocket cost for anyone.
---
Become A Phoenix Water Wrangler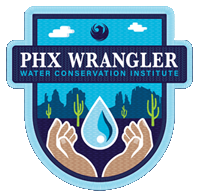 This innovative volunteer program mobilizes community members to promote responsible water stewardship within the City of Phoenix. Phoenix Water Wranglers will serve as representatives in local events, community meetings, and educational workshops under the direction of a Site Coordinator and/or Water Conservation Staff, by assisting in water conservation outreach, communication, and education.
Who we are looking for:
At least 18-years old

Has high school diploma or equivalent

Excellent communication skills

Successful completion of pre-service training

Enjoys public speaking, community development and working with diverse groups

Creative, responsible, organized, flexible, and self-motivated

Has a passion for learning and promoting water conservation and sustainability in our desert city
Where: Virtual (via Webex or other digital platform)
When: Saturdays - October 23rd, 30th, November 6th and 13th (tentative: 9am – 12pm)
Interested? Click Here!
Community Feedback Event - Saturday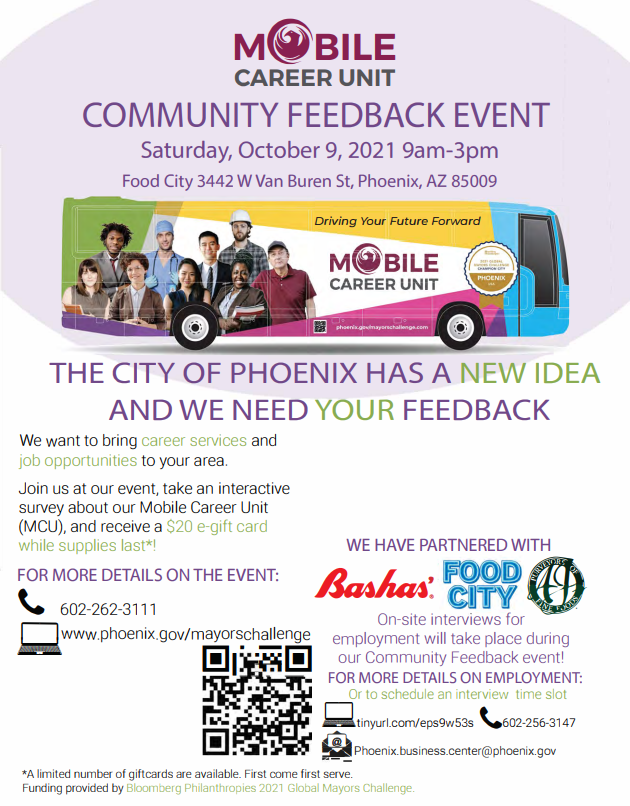 The City of Phoenix has a new idea and we need your feedback! We want to bring career services and job opportunities to your area. Join us at our event, take an interactive survey about our Mobile Career Unit (MCU), and receive a $20 e-gift card while supplies last!
For more details on the event, click here!
New Resource from Phoenix Public Library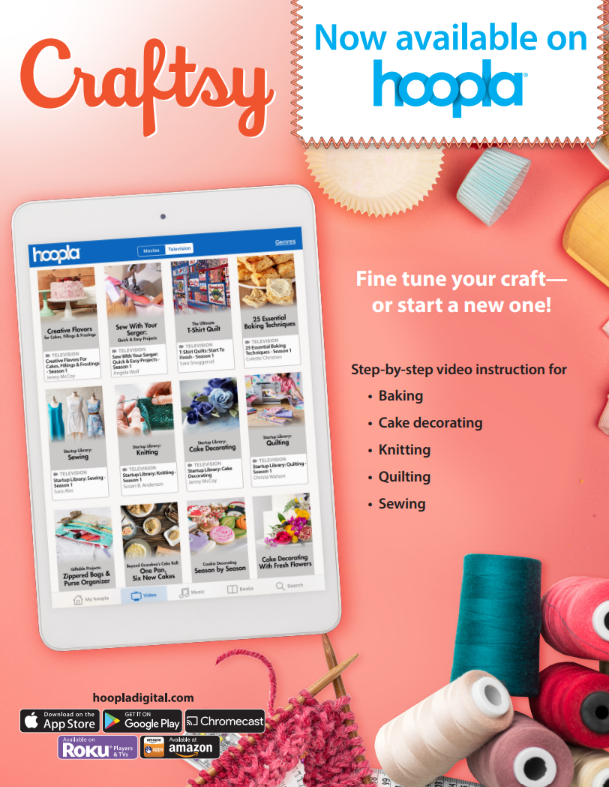 The Phoenix Public Library has a new resource available for all crafters and DIY-ers! Fine tune your craft or start a new one with Craftsy, now available on hoopla. This resource has step-by-step video instructions for baking, cake decorating, knitting, quilting and sewing. The hoopla app can be downloaded on any app store!
GAIN — Get Arizona Into Neighborhoods
Get Arizona Into Neighborhoods is typically the third Saturday in October (October 16th); however, October 16th is the rescheduled date for the National Police Week in Washington, DC. We have a large contingent of staff attending the national memorial as we will be honoring two fallen Phoenix Police Officers – Officer Paul Rutherford and Commander Greg Carnicle.
We are going to work on moving GAIN to the following weekend – Saturday, October 23, 2021. Most of the groups enjoy having Executive and Command staff attending their GAIN events and by moving it back one week we can also pair the events with the DEA's National Drug Take-Back Day.
We will be messaging the community groups but would appreciate if the Council Districts would do so too.
Important Dates:
GAIN Events with DEA Drug Take Back Day – Saturday, October 23, 2021
Cactus Park Coffee With A Cop: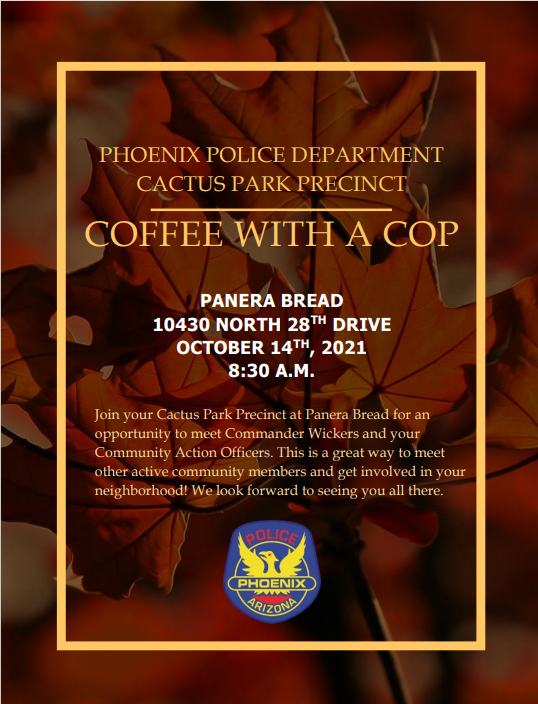 Please join the Cactus Park Precinct at our upcoming 'Coffee with a Cop' at Panera Bread located at 10430 N 28th Dr. on October 14th, 2021, at 8:30 a.m. This is a great opportunity to meet Commander Wickers and your Community Action Officers from the Cactus Park Precinct.
We look forward to seeing each of you there!
Harmon Library Costume Drive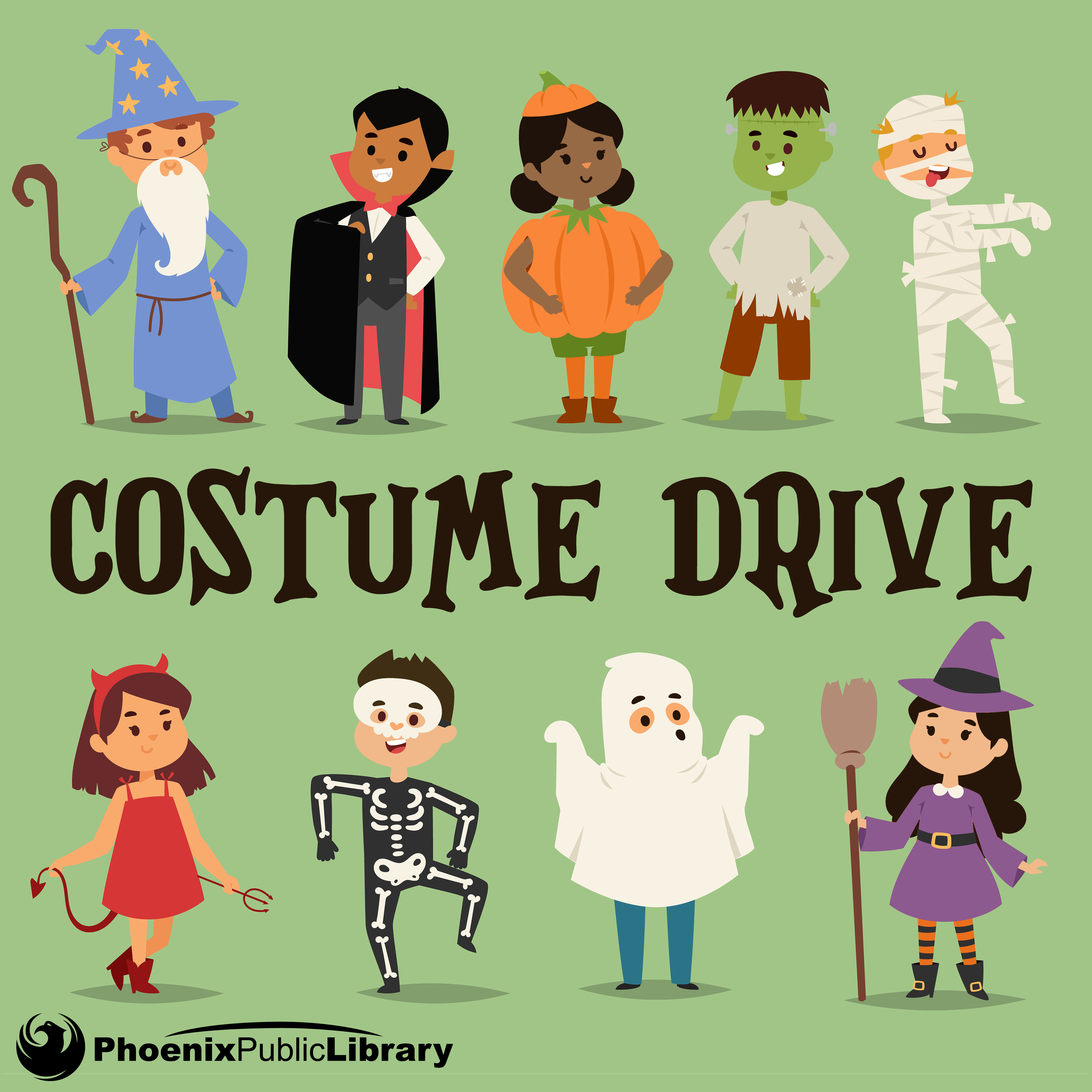 Harmon Library is excited to be hosting its annual Halloween Costume Drive! Harmon Library is collecting new and used costumes for children and teens. Costumes will be given out to the Harmon community. If you or anyone you know would like to donate, please drop off at Harmon Library before Saturday, October 16. Harmon Library is located at 1325 S 5th Ave. in Phoenix and is open Mondays, Fridays, and Saturdays 9 a.m. to 5 p.m, Tuesdays through Thursdays 10 a.m. to 6 p.m. and is closed Sundays.
CONSTRUCTION INFORMATION — 67th Avenue and Deer Valley Road
Glendale's Water Service crews and its contractor, Achen-Gardner Construction, are scheduled to work on various water system improvements along 67th Ave intermittently over the next several weeks. These efforts contribute to Glendale's commitment to ensuring water system reliability, redundancy, and resiliency. The following information is provided related to upcoming work: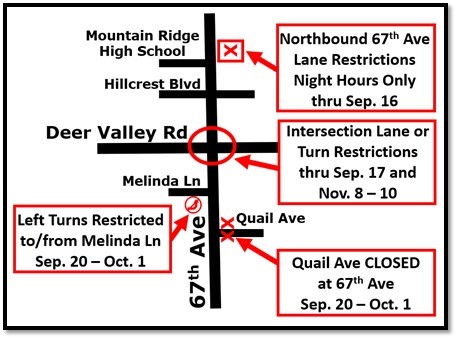 Nov. 8 – 10: For about 1-2 hours each day or evening, intermittent lane/turn restrictions in the 67th Ave / Deer Valley Rd intersection as crews open and close water valves to move water through the system to accommodate water improvements. No water interruptions are expected; however, you may experience issues with water pressure or cloudy water, which is normal and doesn't affect water quality.
This work has been coordinated with emergency responders and access to businesses and residences will be maintained.
Thank you for your patience during this work.
Project Hotline: 602.532.6250
---
News From Deer Valley Unified School District
Free COVID-19 Testing during October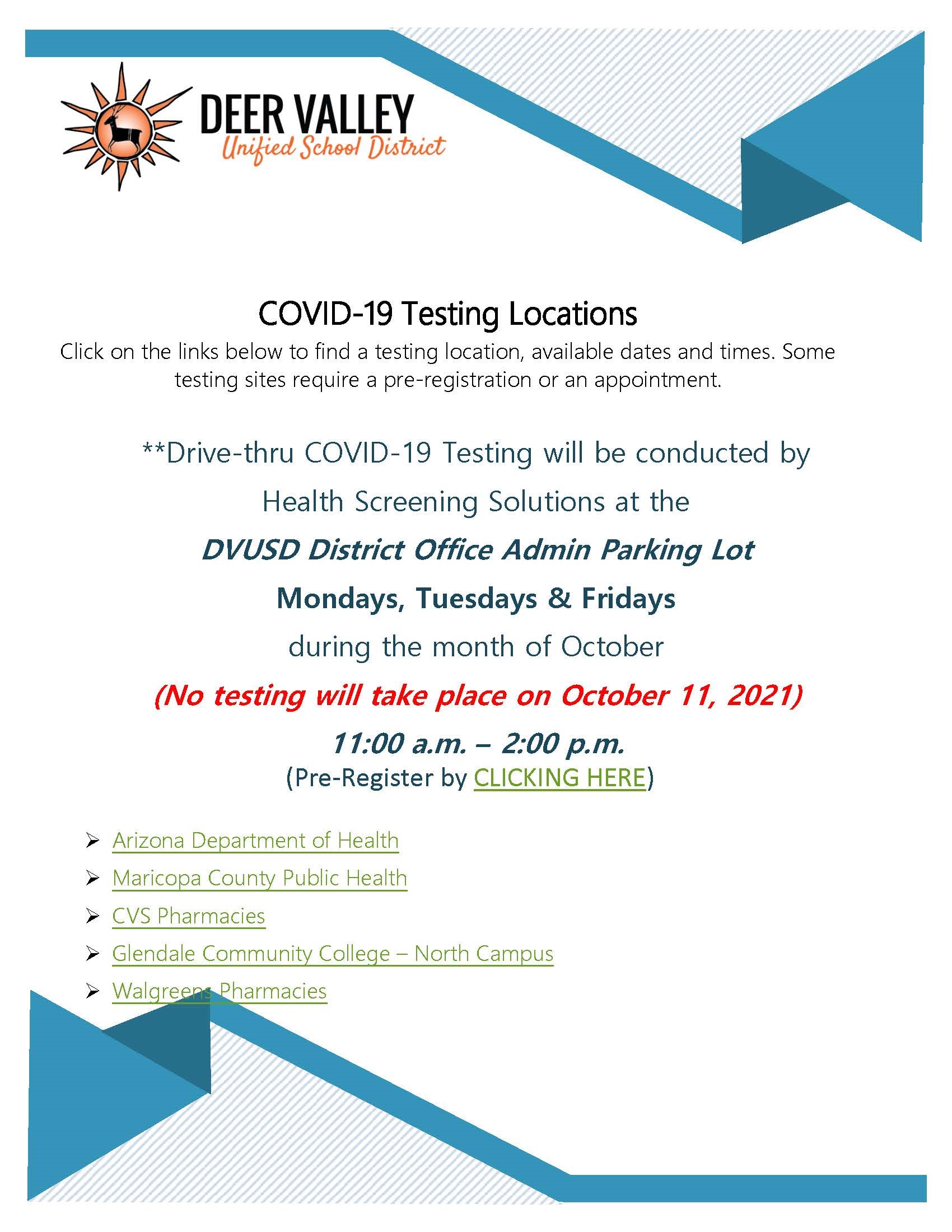 During the month of October, Deer Valley Unified School District will be holding drive-thru COVID-19 testing events every Monday, Tuesday and Friday. There will be no testing done on Monday, Oct 11th. Testing will be done at the DVUSD District Office Admin Parking Lot (20402 N 15th Ave, Phoenix, AZ 85027) between the hours of 11:00 a.m. and 2:00 p.m. Pre-Registration is required and can be done by clicking here.
---
News From Washington Elementary School District
Ironwood Principal Receives Recognition from County Superintendent
Congratulations to Ami Grant, principal at Ironwood Elementary, for being recognized as a School Leader of the Month by Maricopa County School Superintendent Steve Watson! Ami was nominated for this award by her colleagues, who appreciate her hard work and dedication to the Ironwood family. Congratulations, Ami!
AzM2 Perfect Score Students Honored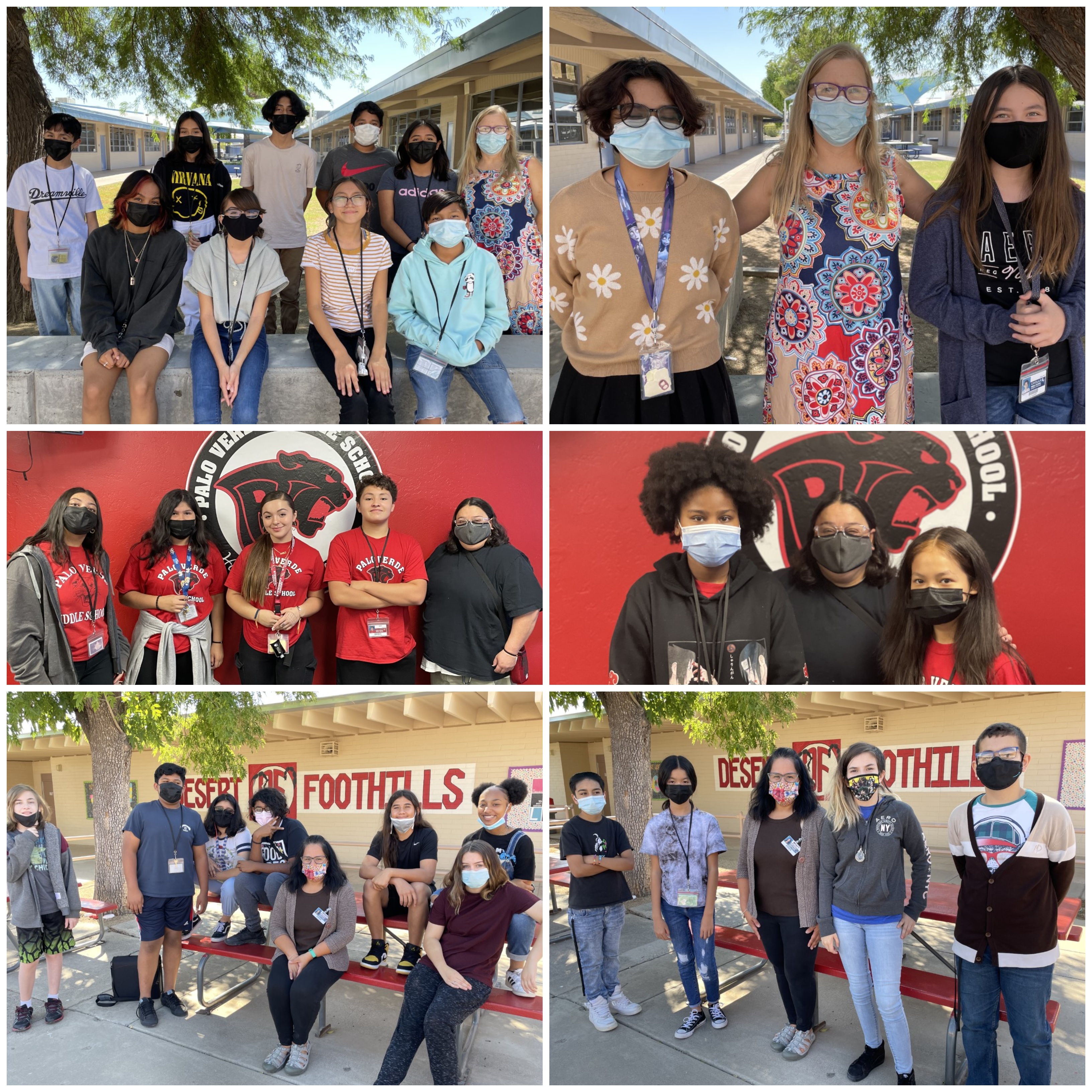 Congratulations to our WESD student artists from Cholla Middle School, Desert Foothills Junior High and Palo Verde Middle School who were recently selected to have their art showcased as part of the Clorinda Graziano Art Gallery Board Room display. This display is in remembrance of Clorinda Graziano, former WESD Governing Board Member and Lifetime Advocate of Arts Education who passed away in 2016.
These students were also recognized at the September 23 Governing Board meeting for their wonderful contributions to this display.
---
News From Glendale Union High School District
Cortez High School Hosts Special Olympics Badminton Tournament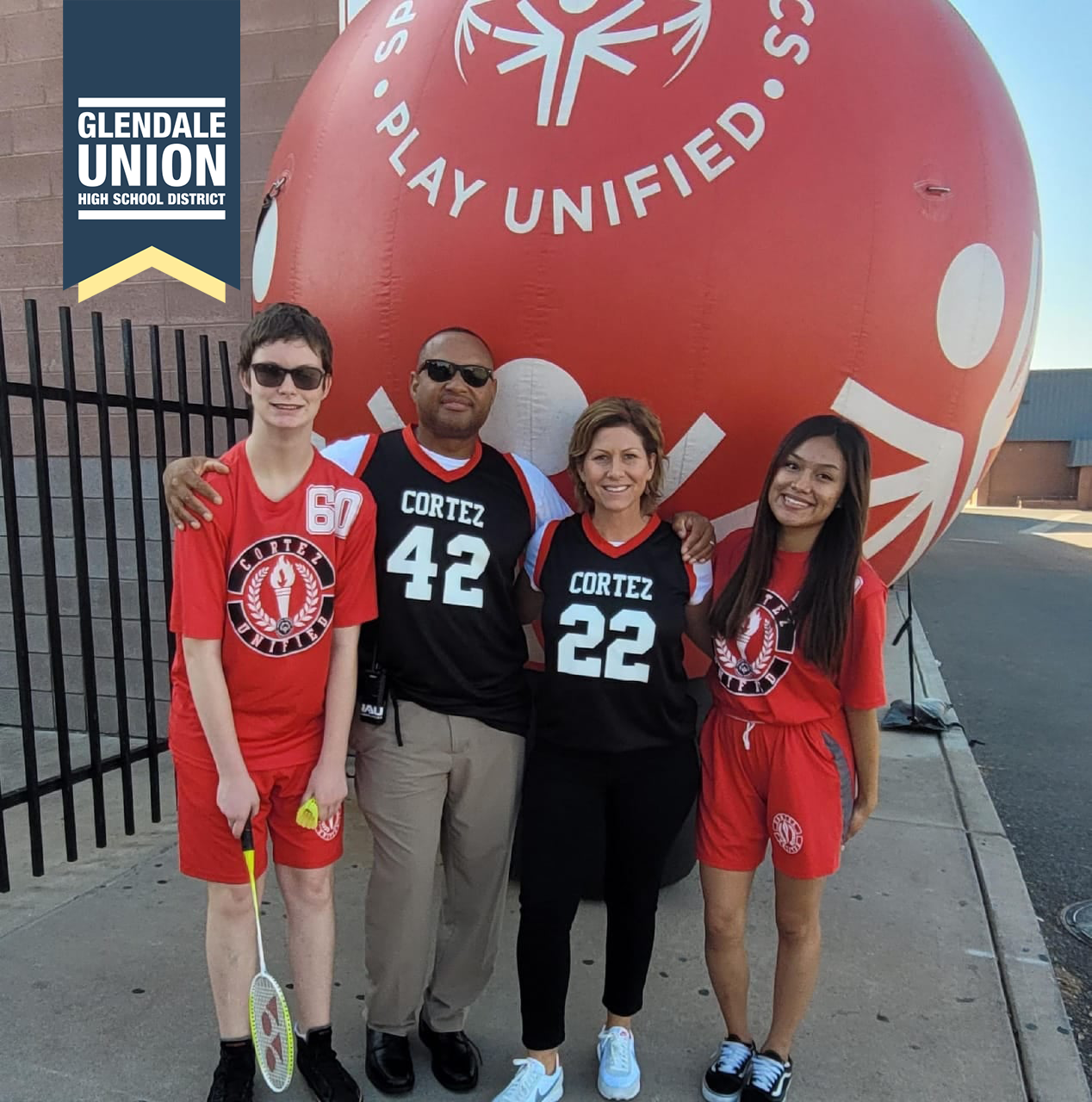 Athletic excellence continues at Glendale Union High School District as Cortez High School hosts Special Olympics Badminton Tournament. Students from all over the district came to compete. Badminton was first established at Special Olympics in 1995.
To learn more about Cortez news, follow @CortezHighSchoolAZ on Facebook.
Greenway High School's Special Olympics Athletes Prepare for Tournament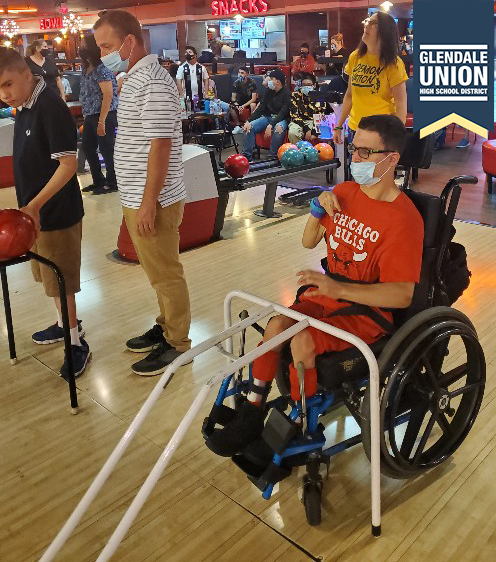 Another example of athletic excellence at Glendale Union High School District is Greenway High School's Special Olympics athletes preparing for their upcoming bowling tournament. Greenway's Special Olympics athletes will be participating in Palo Verde's Special Olympics Tournament in November. They are also practicing to compete in Bocce.
To learn more about Greenway news, visit @GreenwayHighSchoolAZ on Facebook.
Moon Valley High School Student Becomes a 2022 National Merit Semifinalists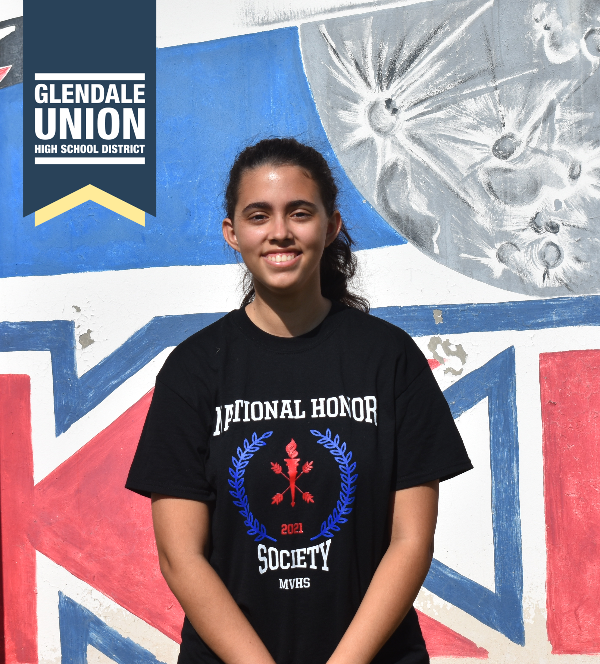 Moon Valley High School senior, Lia Arrencibia Rodriguez, a proud member of the Glendale Union High School District, is a 2021 National Merit Semifinalist. All GUHSD semifinalists attended a special recognition reception at the district office and received a certificate of achievement from the GUHSD Governing Board. Last school year, Rodriguez received a perfect score on her ACT.
National Merit Semifinalists are selected every September from 1.5 million entrants across the United States. Out of the 50,000 students with the highest PSAT/NMSQT Selection Index scores, approximately 16,000 high academically performing high school students are notified that they have qualified as semifinalists.
To be considered for a Merit Scholarship award, semifinalists must fulfill several requirements to advance to the finalist level of the competition. About 90 percent of the semifinalists are expected to attain finalist standing, and about half of the finalists will win a National Merit Scholarship, earning the prestigious Merit Scholar title. Winners can receive one of three different types of National Merit Scholarships, including the $2,500 National Merit Scholarship, corporate-sponsored scholarship, and college-sponsored scholarship.
To learn more GUHSD news, visit @GUHSDAZ on Facebook.
---
Interested in serving on Phoenix's Boards and Commissions?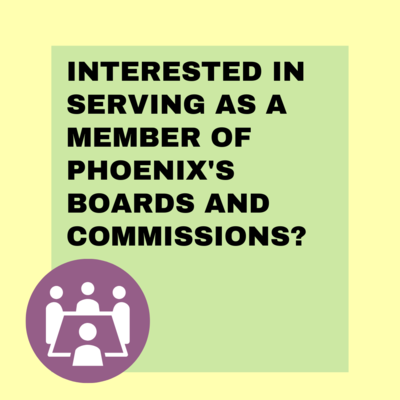 District 1 is seeking community leaders interested in serving as the District's representative for various boards and commissions, such as the Village Planning Committee.
To start the application process, please visit the Boards and Commissions webpage.
---

Upcoming City Council Meetings
Next Policy Meeting: October 12th

Next Formal Council Meeting: October 27th
Additionally, Councilwoman O'Brien has been appointed chairperson of the Public Safety and Justice Subcommittee, and is also a member of the Transportation, Infrastructure and Innovation Subcommittee and the Economic Development and Equity Subcommittee. Visit the Council Subcommittee webpage for the schedule of public meetings.
---
Learn more about Councilwoman O'Brien, her priorities and focus for District 1 on the district's webpage.
---