---
Weekly DOJ Investigation Update
Week of Jan 9
The Office of Homeless solutions met virtually with the DOJ to discuss Phoenix homeless programs that provide emergency shelter and other services to community members.

Staff prepared draft Use of Force policy for public feedback.
---
Mark Your Calendars: Community Meeting
Our next meeting will be Jan 27th and will be located back at the DoubleTree Hilton in MetroCenter (10220 N Metro Pkwy E, Phoenix, AZ 85051). We will be meeting at our regular scheduled time for our breakfast meetings. Plan for check in to begin at 7:30am and the meeting to start at 8am. We will be hearing from Police Department Leadership about their Use of Force Police Draft.
You can register below for the upcoming meeting! As a reminder, please fill out the form SEPARATELY for EACH member of your family planning to attend. Thank you!
---
PUBLIC INPUT SOUGHT ON POLICE USE OF FORCE POLICY
The Phoenix Police Department is currently revising its Use of Force policy. As part of the Department's ongoing commitment to transparency with the community we serve, we will be seeking public input involving major policy revisions.
A draft copy of the proposed Use of Force policy is available here for review. It is important to note that this draft is not the entire policy.
This initial draft includes the foundational components of the Use of Force Policy: Core Principles, expanded Definitions, Levels of Force, and revised General Policies.
The public input and comment period will last for two weeks beginning on Tuesday, January 17, 2023, and ending on Tuesday, January 31, 2023. The public is invited and encouraged to submit feedback. All comments will be reviewed and taken into consideration before the policy is finalized.
You can provide feedback through this link.
PHN Cesar Chavez Community Engagement Scholarship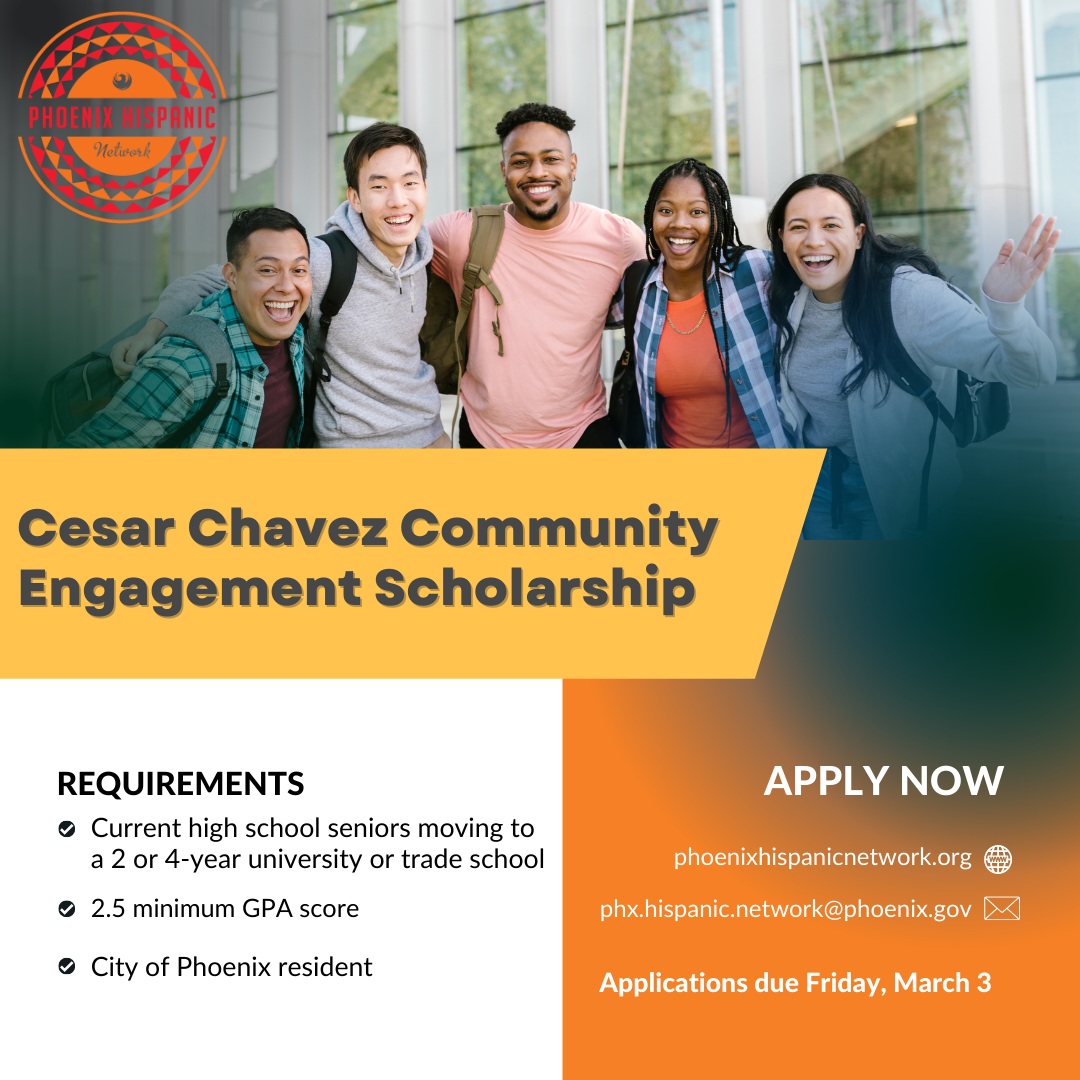 As part of the Phoenix Hispanic Network's (PHN) vision, PHN is dedicated to collaborating with community partners to strengthen relationships with the residents we serve. We are pleased to announce our fifth annual Community Engagement Scholarships, to be presented at our Cesar Chavez Celebration on March 30, 2023.
Two scholarship recipients will be selected and will receive a $1,500 scholarship to be used towards their college education in the field of local government or civic engagement.
Eligibility
City of Phoenix resident

Current high school seniors who are moving on to a two or four-year university,

Must submit a copy of a high school transcript showing a minimum 2.5 Grade Point Average.
Glo-in-the-Dark Pickleball
You know pickleball, but how about glow-in-the-dark pickleball?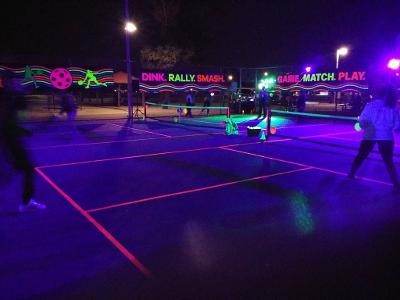 On Friday December 9, 2022, at Telephone Pioneer Park of America (1946 W Morningside Dr., Phoenix, AZ 85023) Ability360 teamed up with Cosmic Tennis and Pickleball LLC to bring you Glo-in-the-Dark Pickleball, a unique, engaging, and social Glo-in-the-Dark experience for players and spectators of all ages and skill levels. The event left the participants thinking what an AMAZING time they had. It made the dark FUN and ENJOYABLE for All!
Subscribe to Ability360 news and future events at Telephone Pioneer Park of America. https://ability360.org/calendar/
Human Trafficking Prevention Presentation & Discussion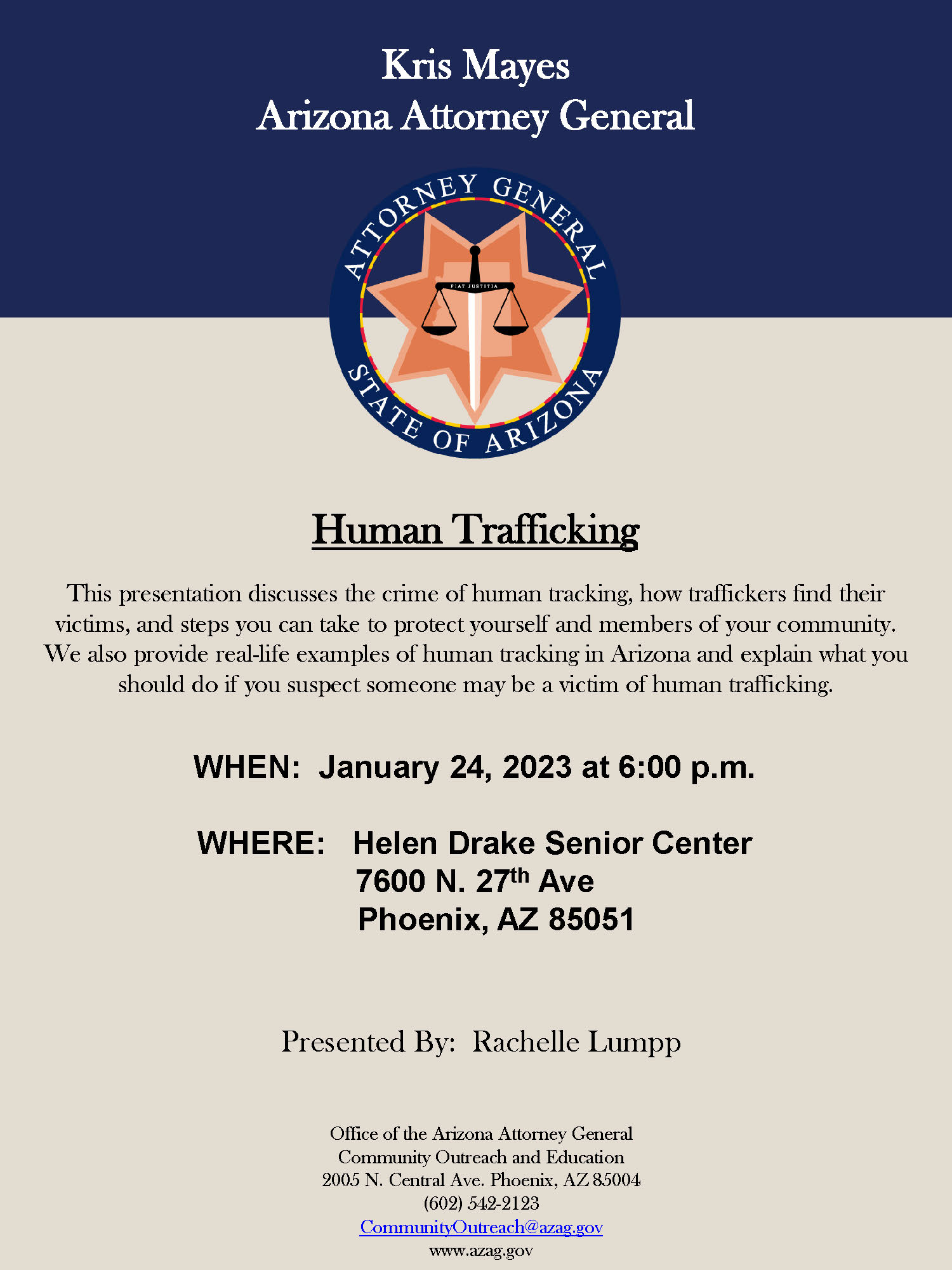 This presentation discusses the crime of human tracking, how traffickers find their victims, and steps you can take to protect yourself and members of your community. We also provide real-life examples of human tracking in Arizona and explain what you should do if you suspect someone may be a victim of human trafficking.

WHEN: January 24, 2023 at 6:00 p.m.
WHERE: Helen Drake Senior Center 7600 N. 27thAve Phoenix, AZ 85051
Thrive Bell Rd Community Clean Up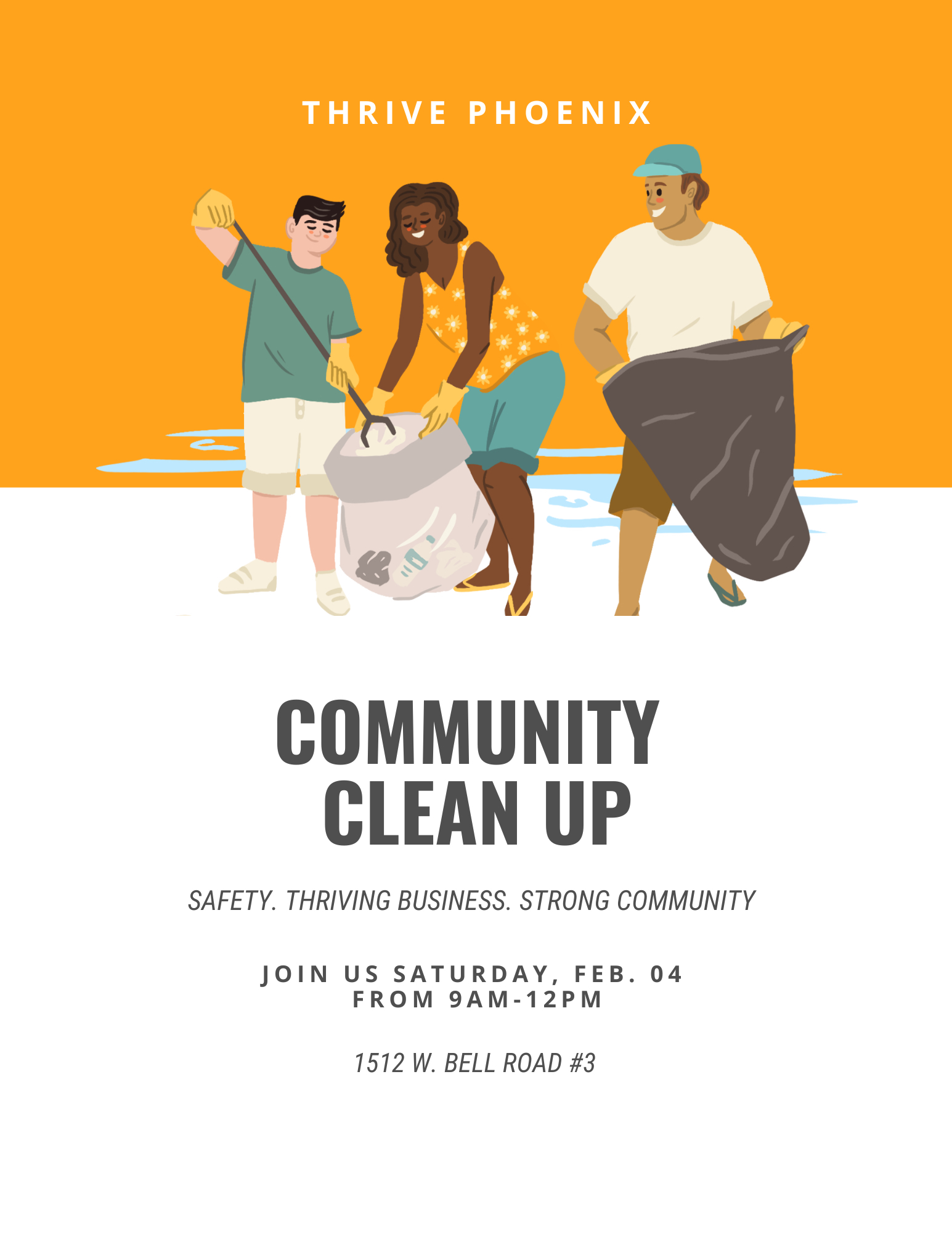 Join the folks from Thrive Phoenix for another Bell Road clean up! They will be starting at 9am on Saturday, February 4th at their new headquarters off 15th Ave and Bell Rd. Their clean-up will last until noon or as soon as everything is picked up! Address: 1512 W Bell Rd Ste 3
City Launches Community Survey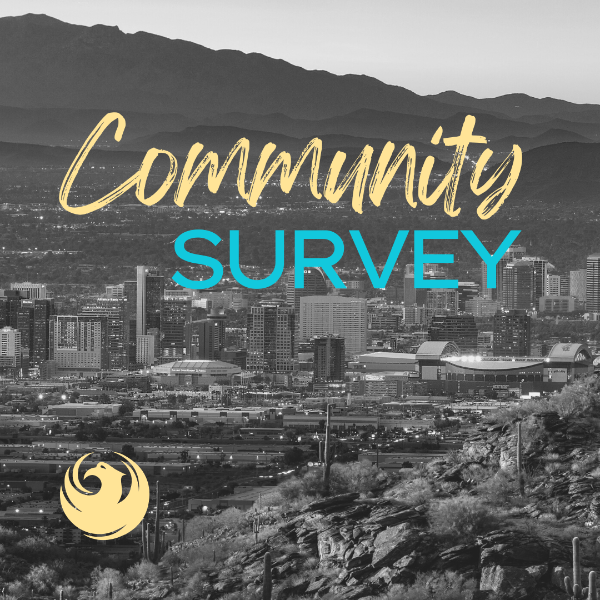 The City of Phoenix is ready to launch the community survey. This survey asks questions on a wide range of topics around life in our community—from what residents think is working, to where they see a need for improvement—providing feedback that is used to calculate ongoing satisfaction scores. The survey is one more way to gather information from residents in our effort to more holistically understand neighborhood issues and enhance our responsiveness to community priorities.
The survey takes less than five minutes to complete and is available in both English and Spanish. The survey system sets response targets based on Census data to ensure community representation. Survey responses will be anonymous.
The survey is served up to residents on various websites and social media platforms. Residents can also respond to the survey directly with this link.
We've also created a survey landing page on Phoenix.gov to answer questions, including the security and privacy of the survey.
Heat Safety Program Survey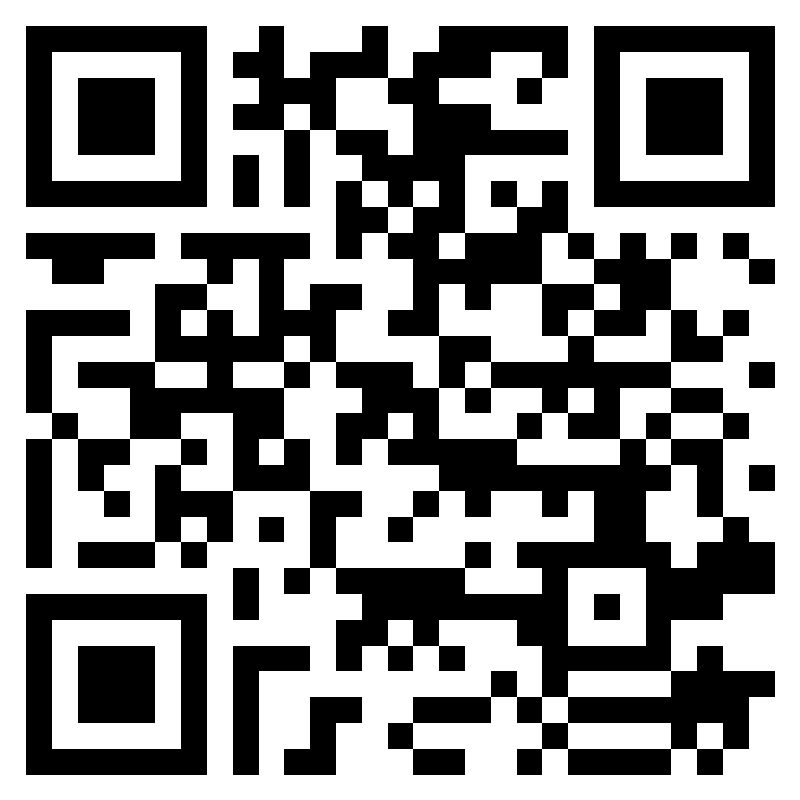 We wanted to make you aware that we will be seeking feedback from the Phoenix community regarding proposed changes to the Hiking and Heat Safety Program, which closes trails from 11 a.m. to 5 p.m. on Camelback Mountain and Piestewa Peak on summer days that the National Weather Service issues a heat warning. This program was developed in partnership with the Phoenix Fire Department in order to protect both the public and first responders during extreme heat. It began as a pilot in the summer of 2021 and was officially adopted as policy at the October 2021 Parks and Recreation Board Meeting.
Based on Fire Department mountain rescue data, trail counter data, and National Weather Service Heat Warning data, staff is considering making two changes to the current Heat Safety Program:
The closure time would be moved two hours earlier, so that closures would be from 9 a.m. to 5 p.m. rather than 11 a.m. to 5 p.m.

The program would be in effect all year round, rather than just in the summer months from May to October.
A survey gathering community feedback on these proposed changes will be open for responses beginning tomorrow December 21 until January 31. This survey can be accessed using the QR code attached or by clicking here. Parks and Recreation staff will incorporate this community feedback into a final recommendation for Parks and Recreation Board consideration at their March 23, 2023 meeting.
Celebrate Lunar New Year of the Rabbit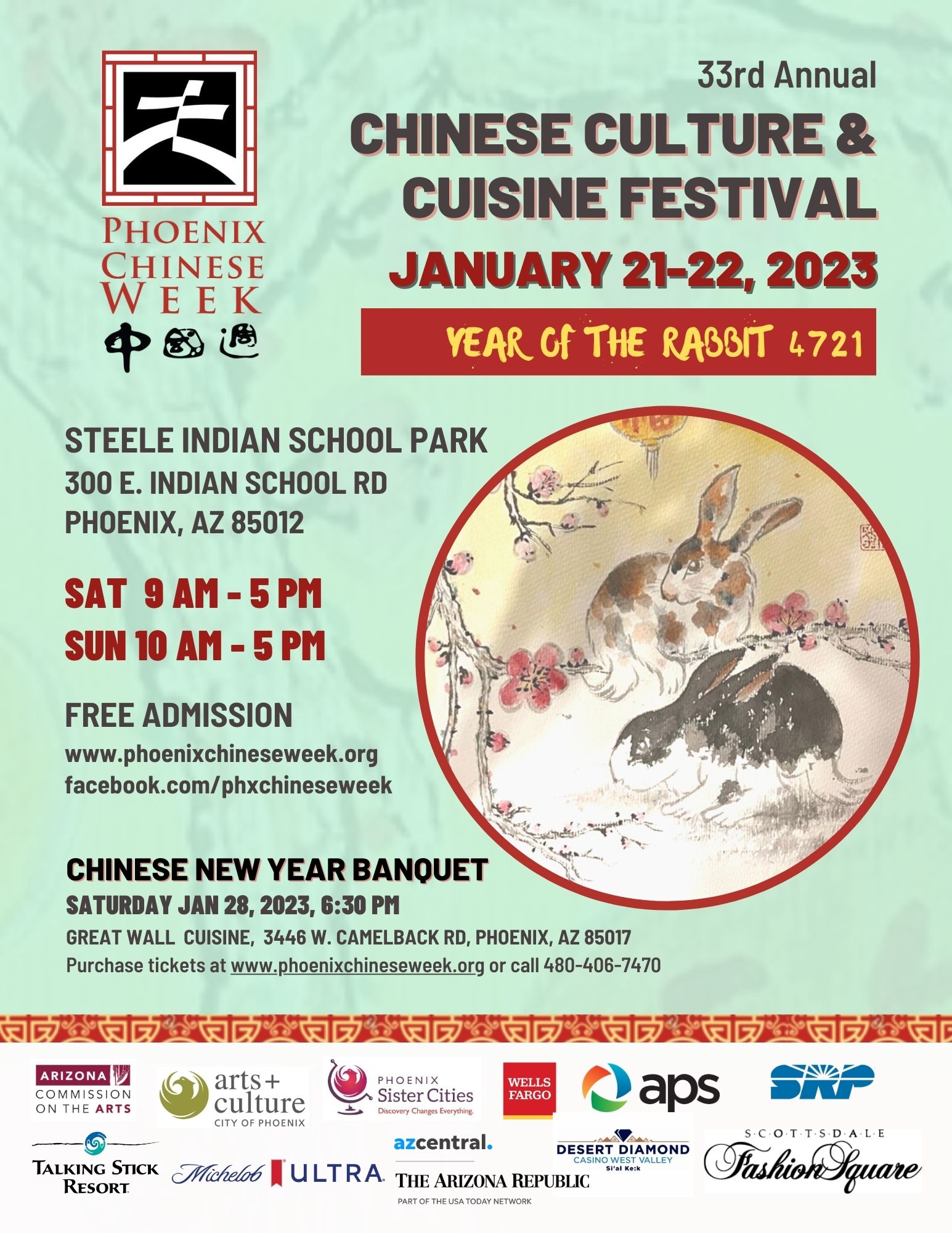 Kick off the Lunar New Year of the Rabbit at the 33rd Annual Phoenix Chinese Week Culture and Cuisine Festival, 9 am to 5 pm January 21 and 10 am to 5 pm January 22 at Steele Indian School Park, located at 300 E. Indian School Road. Admission is FREE. The festival features dragon and lion dances, martial arts demonstrations, activities for the kids, authentic Asian food, beer garden, souvenir booths and much more. Visit phoenixchineseweek.org or call 480-406-7470 for more information.
Temporary Road Closures
Upcoming Restrictions/Closures
Eastbound Loop 303, between Lake Pleasant Parkway and I-17, is scheduled to be closed from 4 a.m. Saturday, Jan. 21, to 7 p.m. Sunday, Jan. 22, for freeway construction.
Detour: Drivers are encouraged to use alternate routes including northbound Lake Pleasant Parkway to eastbound State Route 74 to connect to Loop 303 beyond the closure.
Intermittent Rolling Closures
Intermittent rolling closures will continue through January on east- and westbound Loop 303, between I-17 and Lake Pleasant Parkway. They are limited to weekdays, between 9 and 11 a.m. and 7 and 9 p.m.
Northbound I-17 weekend closures planned between Northern Avenue and Greenway Road Jan. 20-23 and Jan. 27-30
The Arizona Department of Transportation advises drivers who use Interstate 17 between Northern Avenue and Greenway Road in Phoenix to plan for the following two weekend closures for pavement resurfacing:
Northbound I-17 between Northern Avenue and Greenway Road, along with the northbound frontage road between Dunlap Avenue and Greenway Road, will be closed from 10 p.m. Friday, Jan. 20, to 5 a.m. Monday, Jan. 23, and during the same times the weekend of Jan. 27-30. The following ramps will also be closed:

Northbound I-17 on-ramps at Bethany Home Road, and Glendale Avenue.
DETOUR: Drivers may consider exiting ahead of the closure and using northbound 19th or 35th avenues to connect with I-17 beyond the closure.
Cactus Park Dinner With a Cop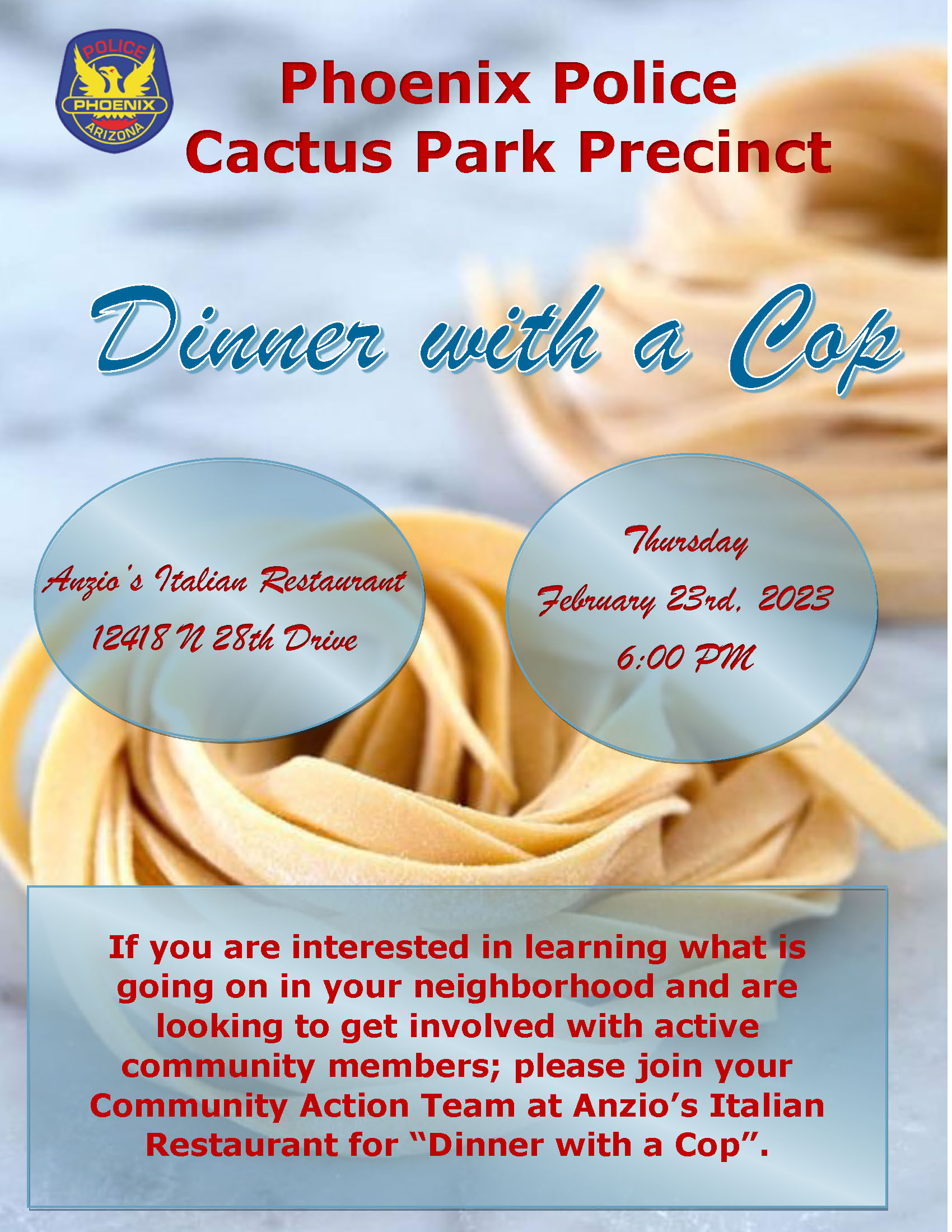 Please join your Cactus Park Precinct Community Action Officers for Coffee with a Cop at Anzio's Italian Restaurant at 12418 N 28th Dr #1, Phoenix, AZ 85029 on February 23rd 2023 at 6:00pm on Thursday.
Black Mountain Coffee With a Cop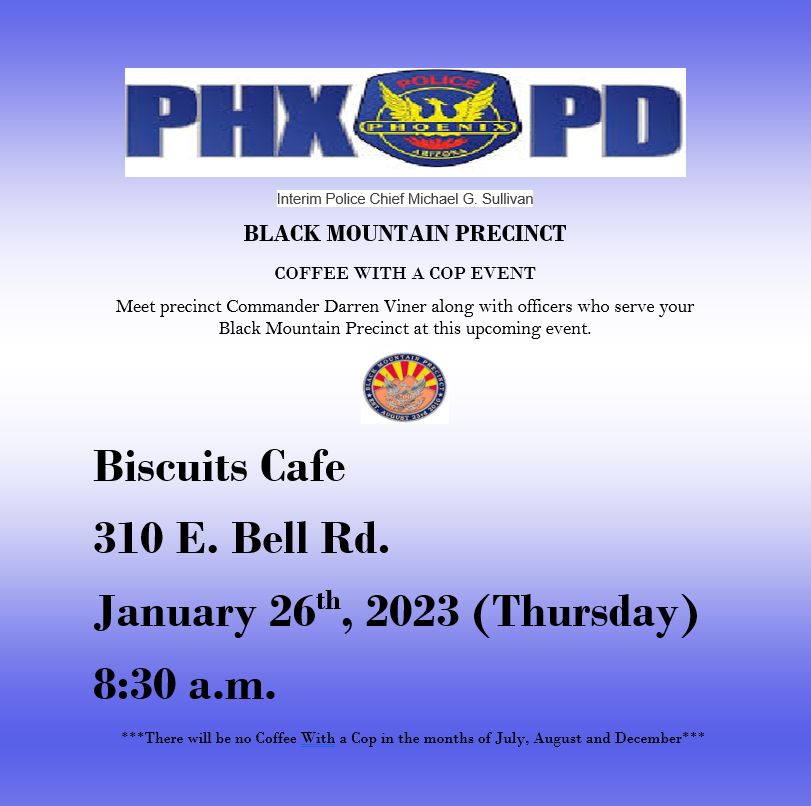 Please join your Black Mountain Precinct Community Action Officers for Coffee with a Cop at Biscuits Café at 310 E Bell Rd on January 26th 2023 at 8:30am on Thursday.
---
News From Deer Valley Unified School District
State of the District 2023 from Superintendent Dr. Curtis Finch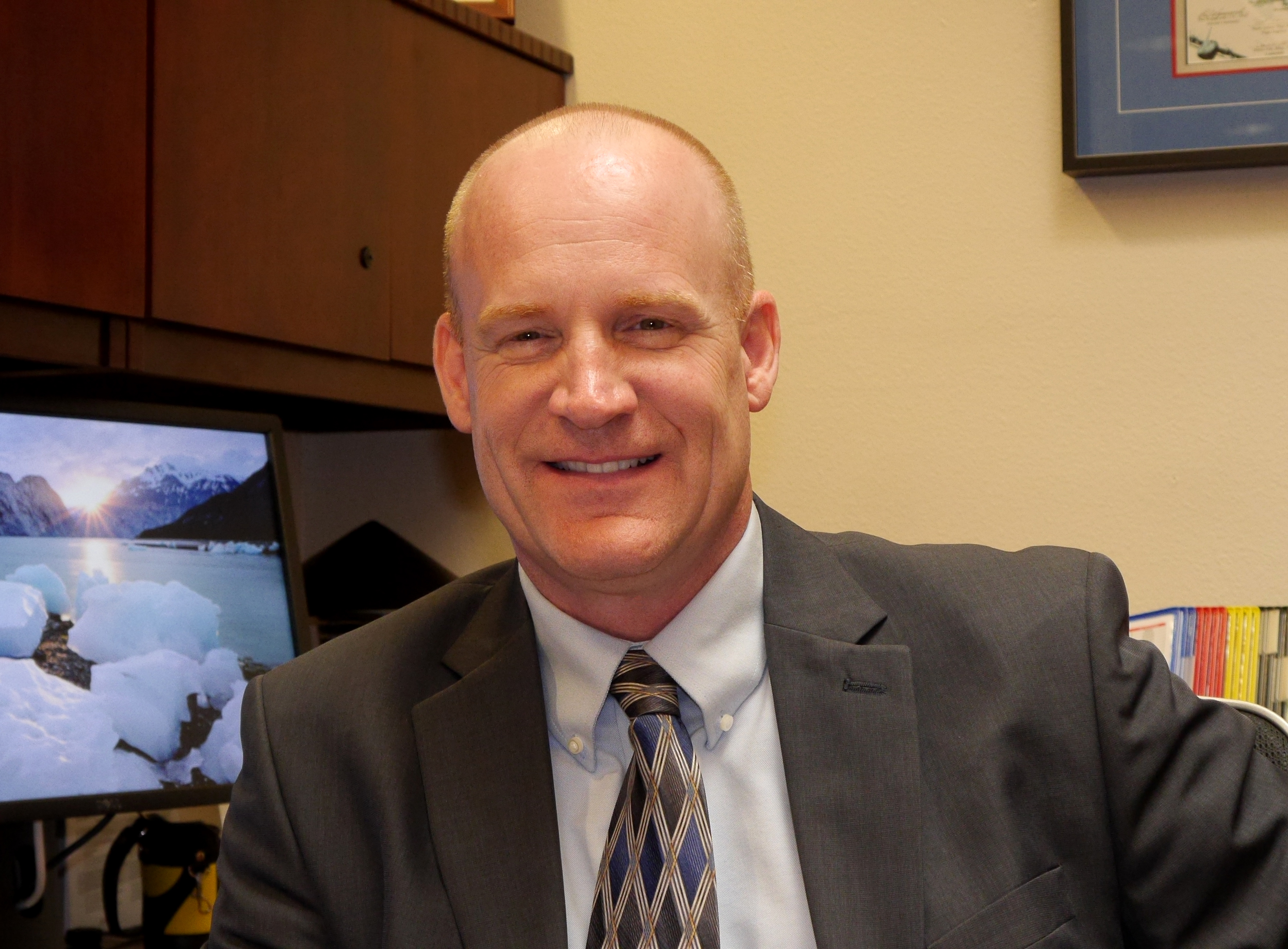 As the calendar flips over into a new year, one often thinks of a "fresh start," as a chance to make drastic changes and begin the "new you," but this is not the case at the Deer Valley Unified School District (DVUSD). Signs that point to an already healthy organization have been realized by its sustained excellence and an atmosphere of continuous improvement. Jim Collins, Stanford PhD professor of the internationally recognized book series, "Good to Great," said it best this way, "Good is the enemy of great." Deer Valley Unified isn't looking for a fresh start; we are looking to improve each day, each week, each month, and each year. Only then will we push forward our mission of providing #extraordinary educational opportunities for students.

DVUSD completed another outstanding calendar year spanning from the end of a pandemically-impacted school year to a successful start of our first "normal school year" in a while. The hope is that COVID-19 is in the rear view mirror, and remains so into the future. This State of the District is designed to assist students, staff, and community members to grasp the breadth and depth of DVUSD, its mission, vision, and to recognize some impactful accolades on our school community. The 33,000 students, 4,000 employees, and thousands of parents, grandparents, aunts, uncles, and community members should always be apprised of the accomplishments of DVUSD.

The value of a calendar-year summary is that it reminds us about the end of the last school year and the beginning of the current school year, tying the two together. The work accomplished in an academic year can often be seen bearing fruit in the next school year – educational planning, execution, and improvement are cyclical. The final prediction of the 2022 State of the District was the future of DVUSD "shining brighter" – this prediction proved to be spot on. With our supportive students, staff, parents, and community members, the tough times seem manageable and the great times are celebratory; teamwork truly does "make the dream work."

To read the full 2023 State of the District, visit www.dvusd.org/StateofDistrict
DVUSD is one of the top districts in Arizona with the highest number of dollars invested back into students' education.
---
News From Washington Elementary School District
Top WESD Spellers Move on to the Regional Bee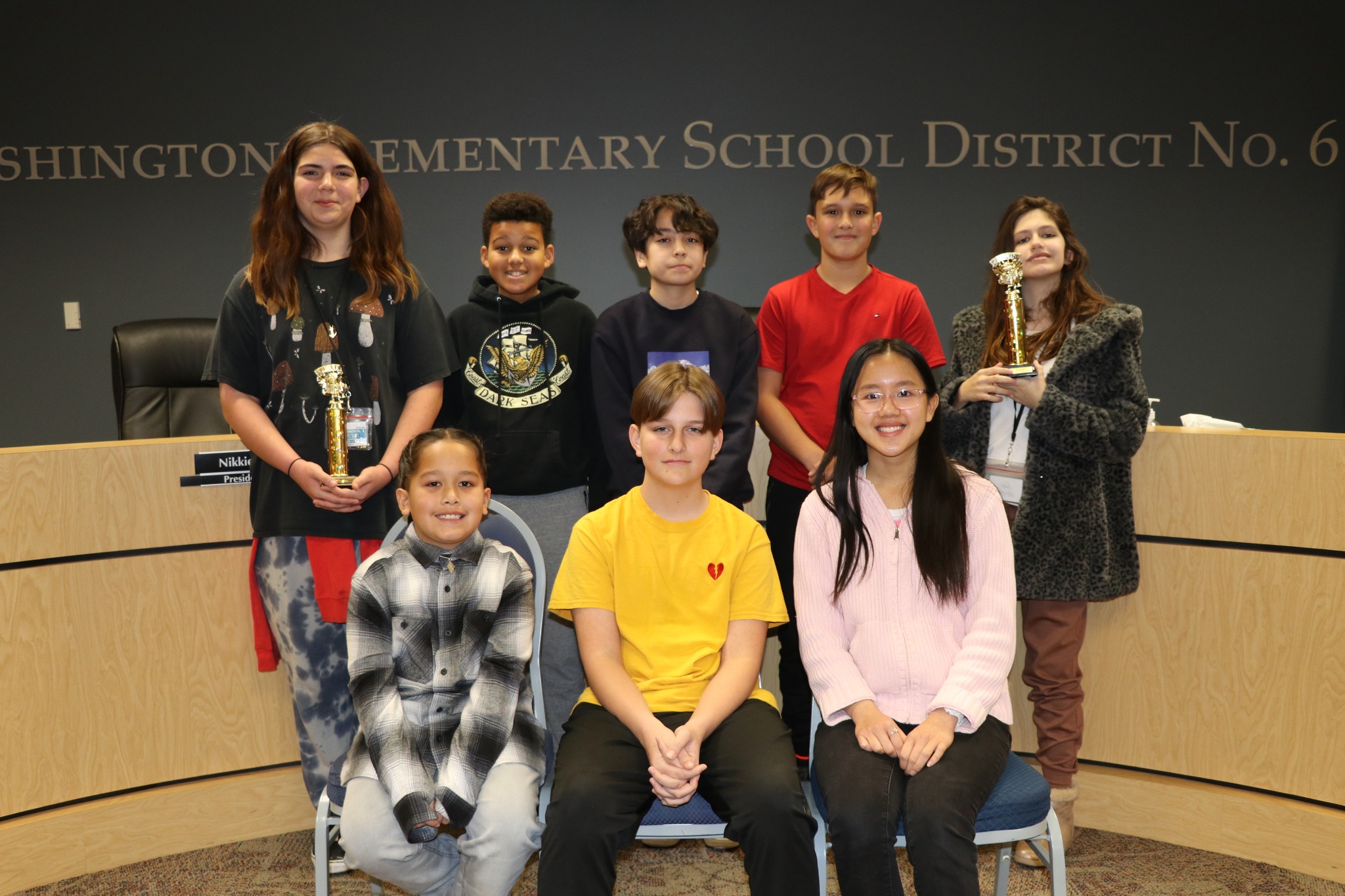 It's spelling bee season! More than 30 students participated in the 2023 WESD Spelling Bee last week, which lasted seven rounds to determine the champion! Congratulations to first place winner Ava S., eighth grader from Sweetwater School, for correctly spelling the championship word "pomposity." Ember M., eighth grader from Arroyo School, came in second place!
Six additional students will be moving on to the Regional Spelling Bee with the two finalists:
Yannis W., Abraham Lincoln Traditional School (last year's second place winner);
German N., Cactus Wren Elementary;
Samuel P., Cholla Middle School;
Kenny T., Desert Foothills Junior High;
Milan C., Lakeview Elementary; and
Elohim O., Orangewood School.
The Regional Spelling Bee will take place on February 17 at 10 a.m. at Mountain Sky Junior High. The top two spellers from the Regional Bee will advance to the State Spelling Bee in March.
Teacher Surprised with Silver Apple Award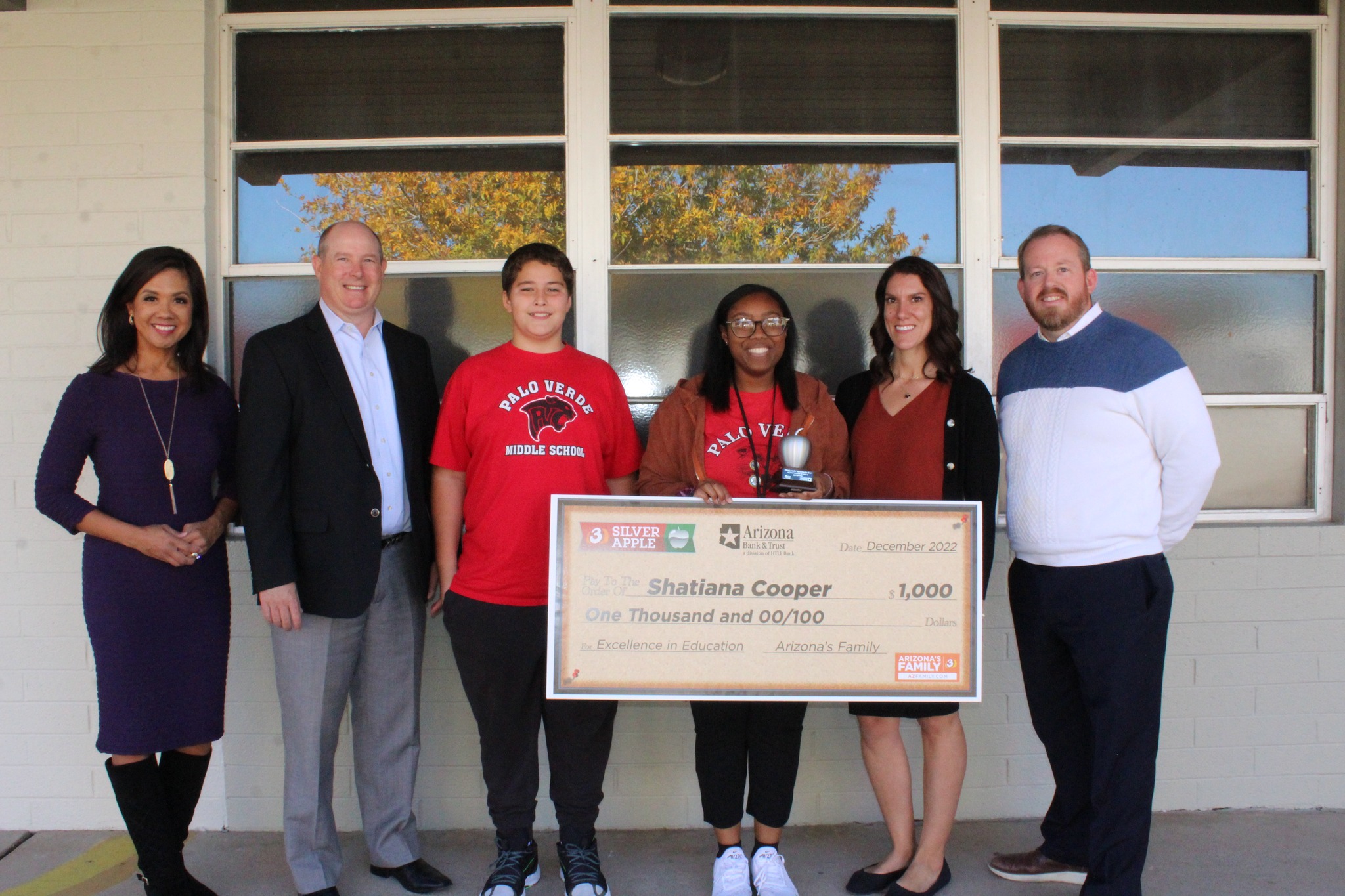 Before the winter break, seventh grade special education teacher Shatiana Cooper from Palo Verde Middle School was surprised with the Silver Apple Award! Sponsored by azfamily 3TV CBS 5 and Arizona Bank & Trust, the Silver Apple Award is presented to teachers who demonstrate dedication to students, commitment to education and originality in their approach to teaching. Her story aired this week. Be sure to CLICK HERE to see her story!
WESD to Host Kindergarten Open House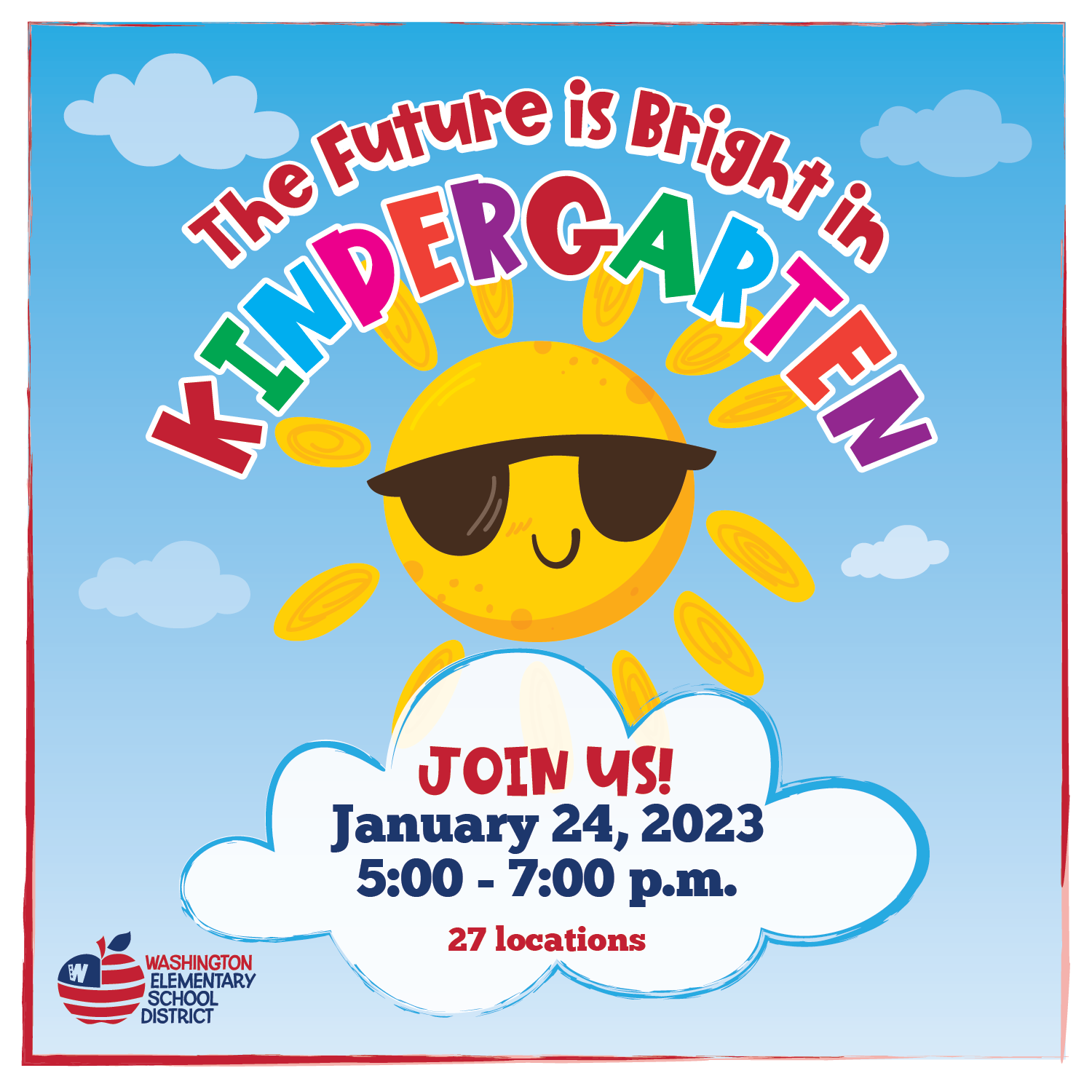 The Future is Bright in Kindergarten! If you or someone you know has a child turning five before September 1, 2023, please join us for our kindergarten open house event on Tuesday, January 24, 2023, from 5:00 to 7:00 p.m. You will have the opportunity to meet teachers, explore classrooms, and receive important information about the WESD KidSpace childcare program, transportation services, school meals and so much more! We look forward to meeting our newest kindergartners! To learn more about kindergarten enrollment, please call 602-896-6950 or visit https://www.wesdschools.org/kindergarten.
---
News From Glendale Union High School District
GUHSD Teacher Job Fair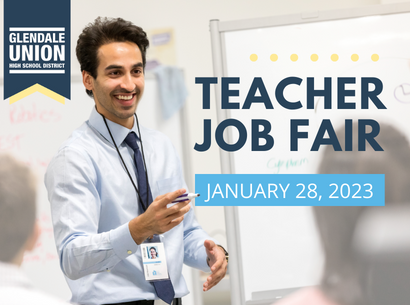 Glendale Union High School District is hiring for the 2022-2023 school year! Become part of a top-performing high school district in the Metro-Phoenix area. Join us for the annual GUHSD Teacher Job Fair:
Saturday, Jan. 28
8:00 a.m. to 2:00 p.m.
Greenway High School Media Center
3930 W. Greenway Rd. Phoenix, AZ 85053
GUHSD is committed to hiring exceptional teachers and providing the necessary resources to enable them to achieve success and satisfaction while fulfilling the mission of the district. GUHSD offers a nationally recognized teacher-mentoring program, extensive professional development opportunities, competitive teacher salaries, generous benefits package, and much more!
Apply here, https://www.applitrack.com/guhsdaz/onlineapp/ and then reserve your interview today by calling the GUHSD Human Resources Department at (623) 435-6017. The GUHSD Human Resources Department will be on-site to conduct interviews at the event.
Help Support GUHSD Students with a Tax Credit Contribution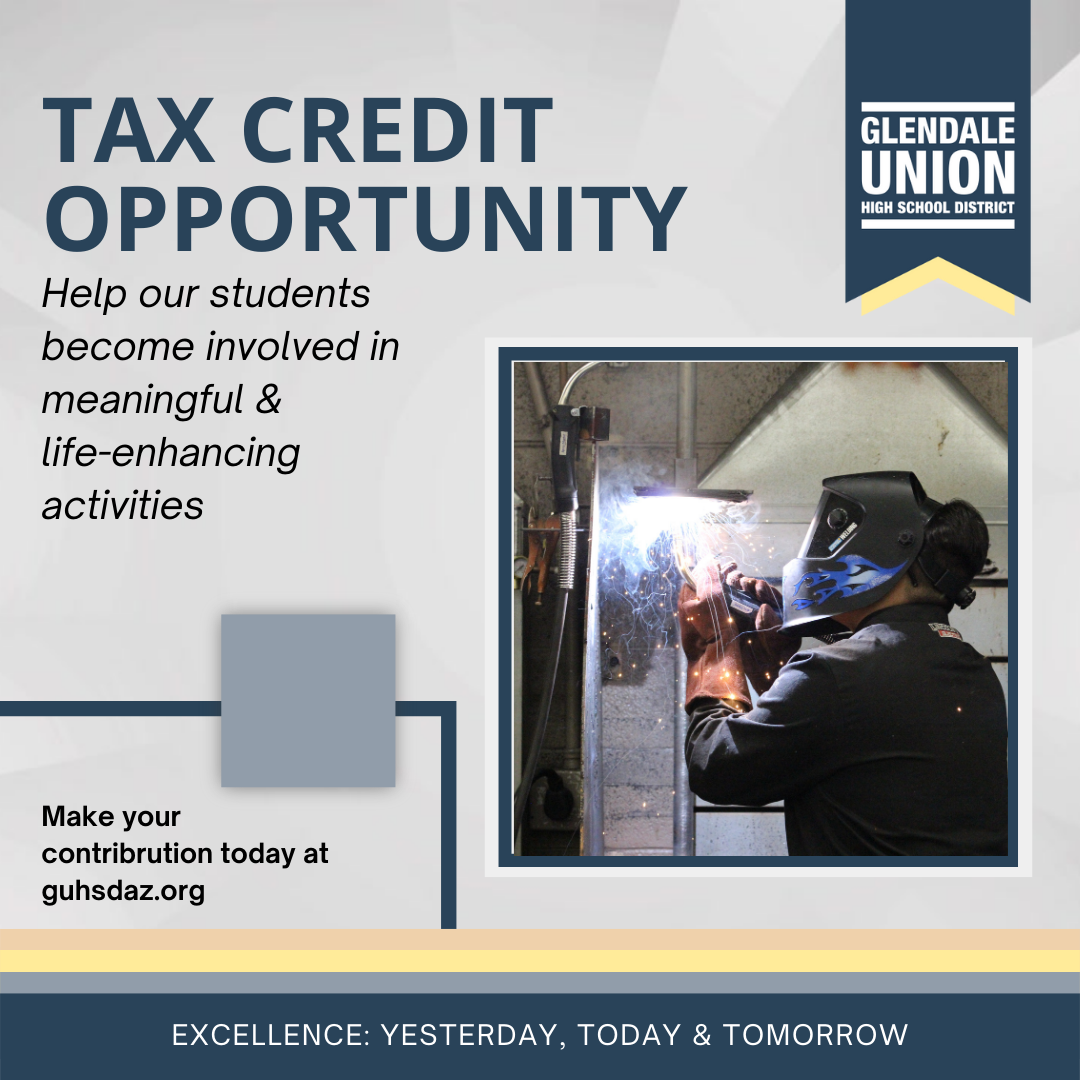 There is still time to give back to GUHSD students with a tax credit contribution. By donating to a GUHSD high school or program of your choice, you can benefit students' high school experiences and positively affect your community.
Arizona state law also allows you to receive a dollar-for-dollar tax credit for contributions that you make to an Arizona public high school, which you can use as a credit against any state income taxes that you may owe.*
Married couples can contribute up to $400 when filing jointly; $200 per person if filing separately; and single individuals can make a maximum contribution of $200.
*Please consult a tax professional for more information.
To make a tax credit contribution, click here.
You can also make a larger donation through the GUHSD Education Foundation (501c3) here.
Cortez High School Students Attend Future Business Leaders of America Competition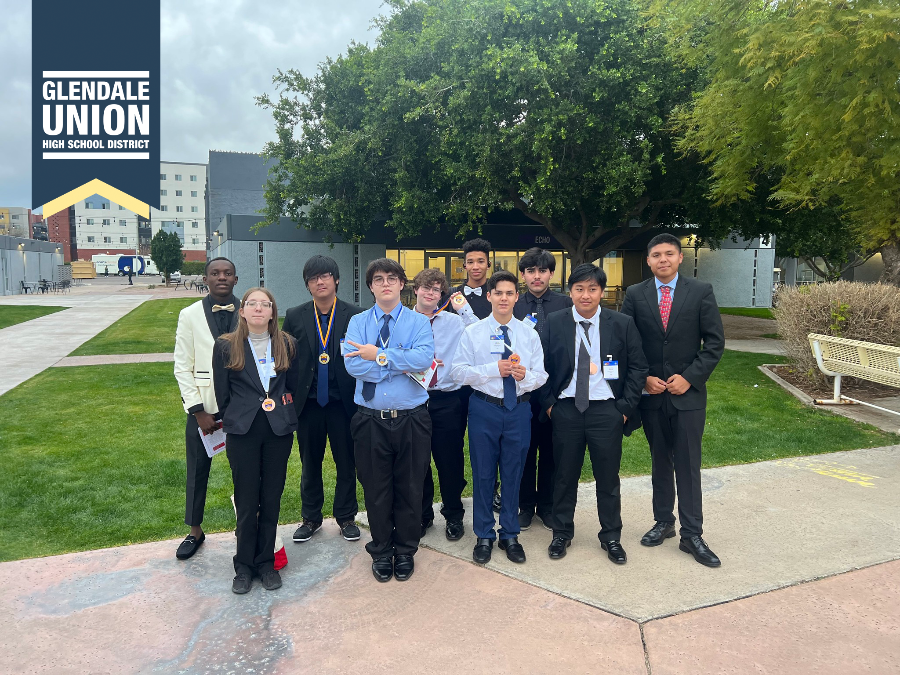 Excellence continues at Cortez High School as Future Business Leaders of America (FBLA) students compete at the Region 3 Competition at Grand Canyon University. Six students from Film & TV and five students from Coding and Computer Science participated. Shawn Ruggiero won 2nd place for Digital Animation, Xandra Cornelius won 3rd place in Job Interview, Daniel Pham and Aeryk Snyder took 2nd place for E-Business Design, and Lance Phan and Mason Tallman won 1st place in Mobile App Design.
To learn more about Cortez High School news, visit @CortezHighSchoolAZ on Facebook.
Greenway Students Display Artwork at Local Art Show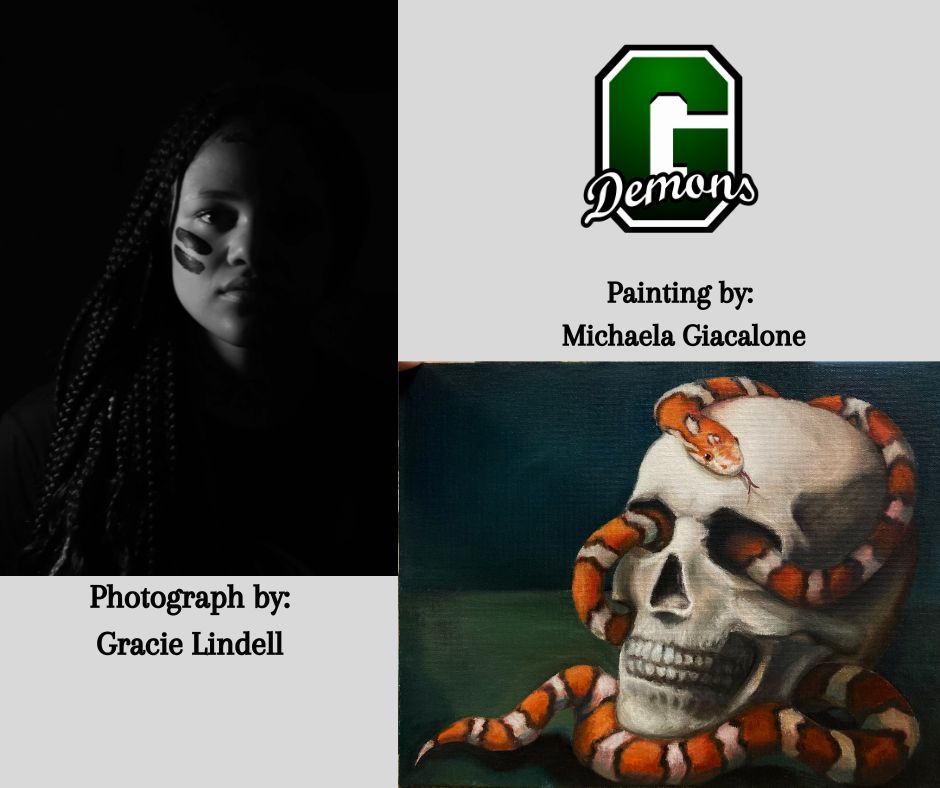 Excellence continues at Greenway High School as students Michaela Giacalone and Gracie Lindell's artwork is on display at the Shemer Art Center's exhibit New Horizon. This exhibit is showcased from now through February 16th, 2023. While on display, this artwork is open for donors from the community to come in and choose a student (or students) they would like to encourage with a scholarship. Scholarships, often named by the donor in honor of a friend or family member, will be awarded in increments of $50, $75, and $100, and presented to the artists at an awards ceremony attended by their instructors and family members at the Shemer on Saturday, January 21, at 11 a.m.
To learn more about Greenway High School news, visit @GreenwayHighSchoolAZ on Facebook.
---
Interested in serving on Phoenix's Boards and Commissions?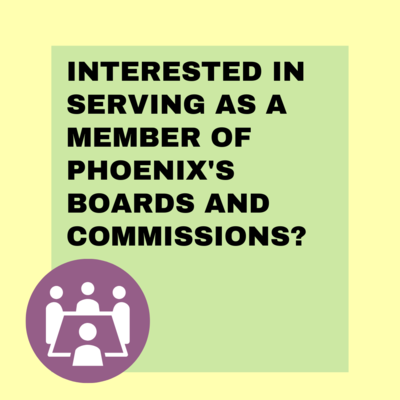 District 1 is seeking community leaders interested in serving as the District's representative for various boards and commissions, such as the Village Planning Committee.
To start the application process, please visit the Boards and Commissions webpage.
---

Upcoming City Council Meetings
Next City Council Policy Meeting: January 24th

Next City Council Formal Meeting: January 25th
Councilwoman O'Brien has been appointed chairperson of the Public Safety and Justice Subcommittee, and is also a member of the Transportation, Infrastructure and Innovation Subcommittee and the Economic Development and Equity Subcommittee. Visit the Council Subcommittee webpage for the schedule of public meetings.
---
Learn more about Councilwoman O'Brien, her priorities and focus for District 1 on the district's webpage.
---