---
Weekly DOJ Investigation Update
Week of June 6
City staff continue to work on DOJ's Third Request for document production.

City staff and DOJ discuss next in-person visit schedule and request for production regarding document formatting and email searches.
---
Mark Your Calendars: Community Meeting
Our next meeting will be June 27th and located back up in the northern part of the district. We will be meeting at the Hilton Garden Inn located at Pinnacle Peak and 19th Ave (1940 W Pinnacle Peak Rd, Phoenix, AZ 85027). We will be meeting at our regular scheduled time for our evening meetings. Plan for checking to begin at 5:30pm and the meeting to start at 6pm.
You can register below for the upcoming meeting! As a reminder, please fill out the form SEPARATELY for EACH member of your family planning to attend. Thank you!
---
COVID-19 Free Testing & Vaccine
COVID-19 Testing & Vaccinations
As many of us begin the trek back to the workplace, some companies may require employees to get tested or vaccinated for COVID-19 before coming back.
Testing and vaccinations are offered by the city at no out-of-pocket cost. Please check out the Phoenix COVID testing and vaccination page for a list of events scheduled.
---
New Crime Stop Phone Tree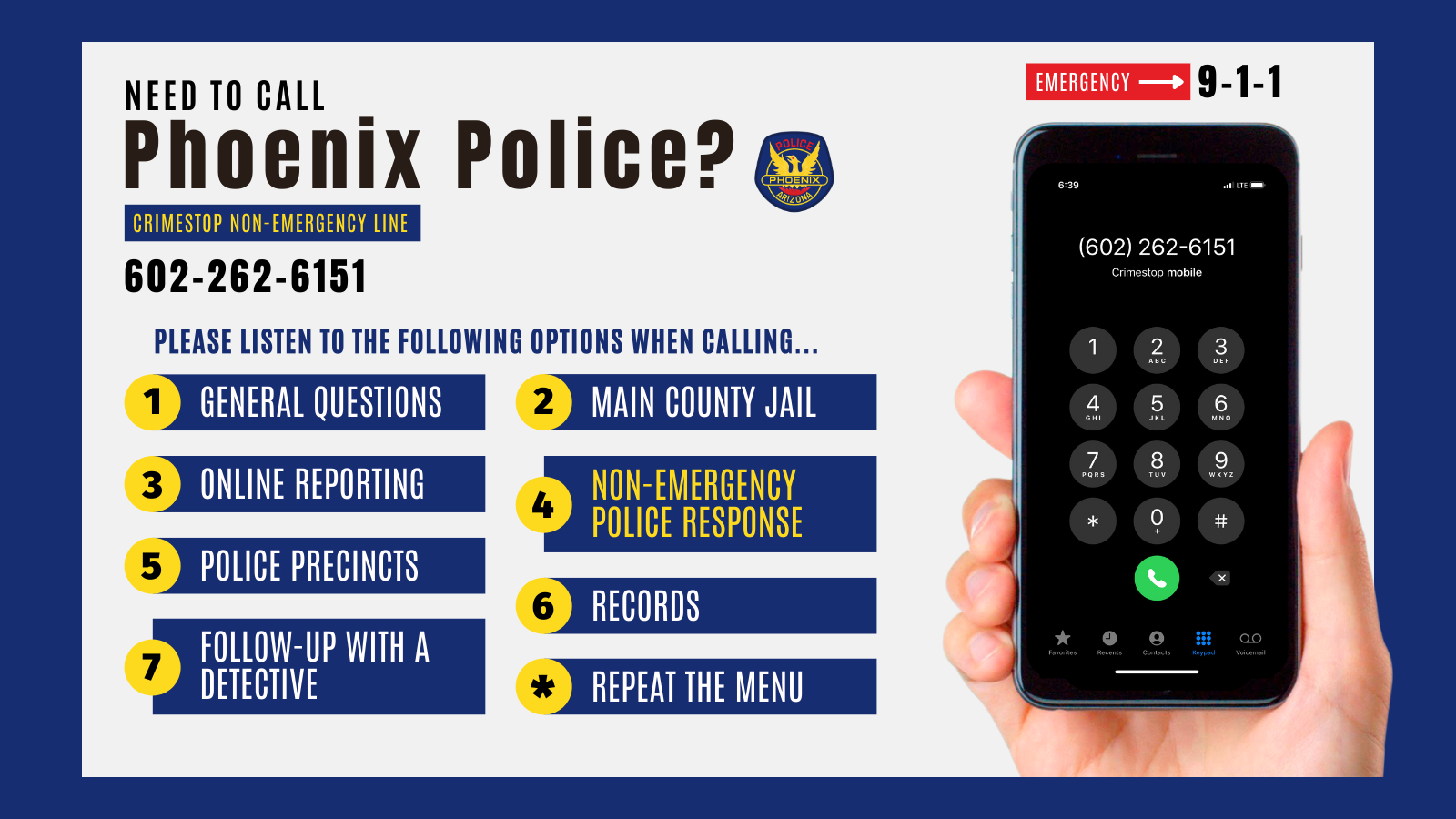 Earlier this year a phone tree was implemented when callers contact the non-emergency phone number for the police department (602-262-6151). This was done to allow those callers who were looking to reach other departments or outside agencies the ability to directly connect to them. If you are calling Crime Stop and need to speak to the non-emergency police, remember to press 4!
Black Mountain Coffee with a Cop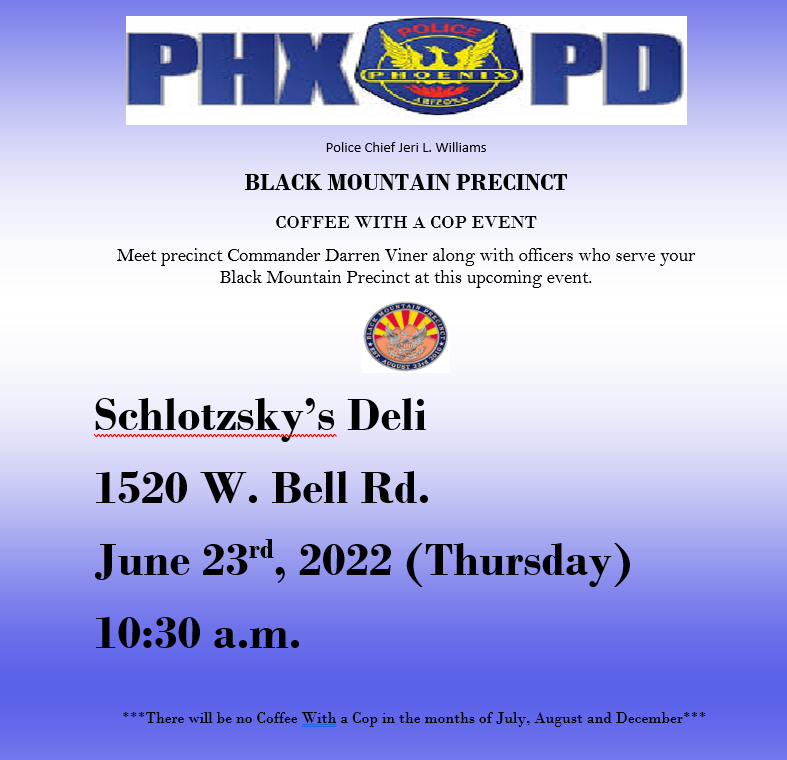 Please join us and your Black Mountain Community Action Officers for Coffee with a Cop. The upcoming coffee with a cop will be held on June 23rd at 10:30am. It'll be located at Schlotzky's Deli (1520 W Bell Rd). This is a great way to meet other active community members and get involved in your neighborhood!
Phoenix Public Library Summer Reading 2022 Game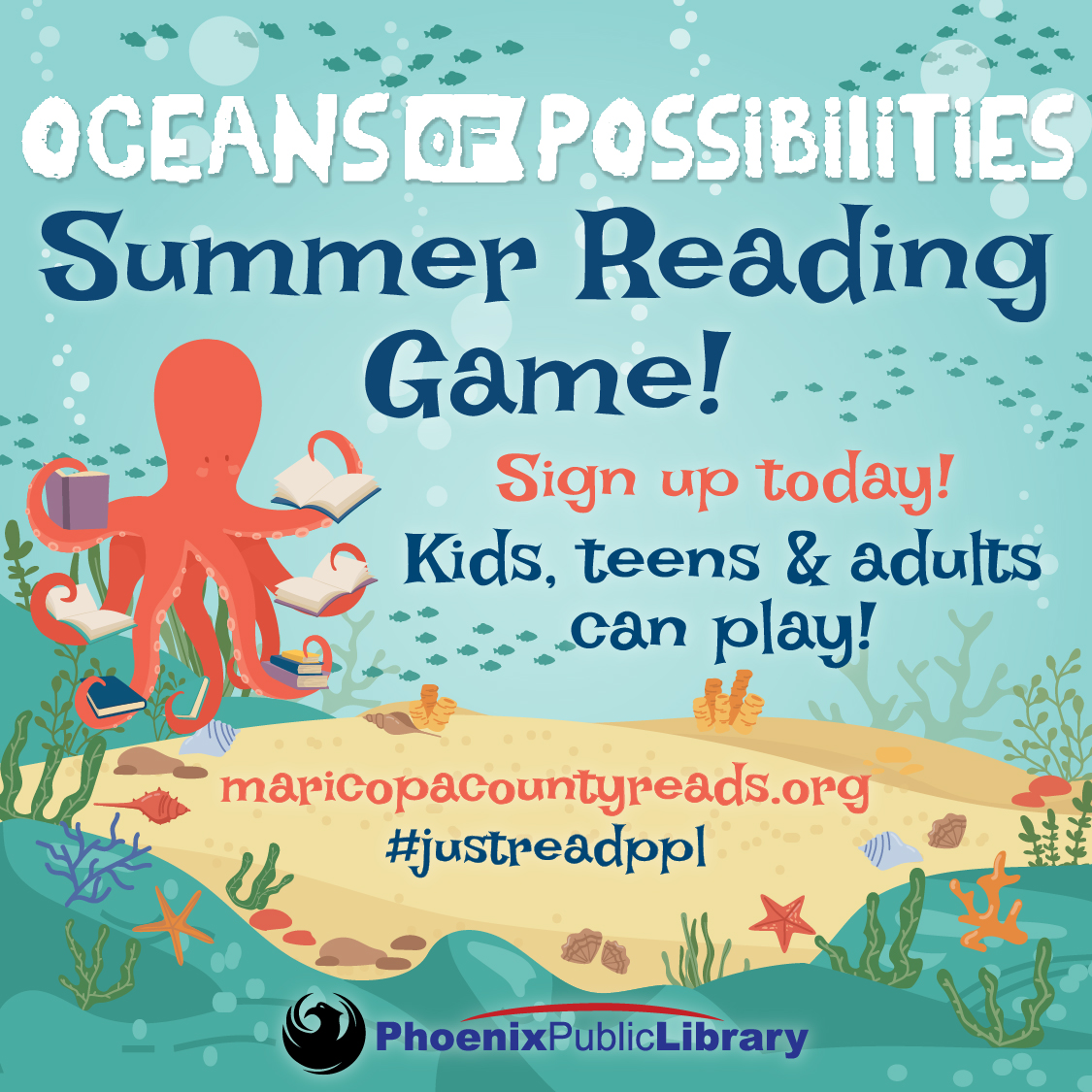 As of Sunday, May 1st, registration for Summer Reading 2022, themed, "Oceans of Possibilities" is open on maricopacountyreads.org and the game officially begins on June 1st. From June 1st through August 1st, participants are encouraged to read (and log) at least 20 minutes a day…and all reading counts! Throughout the 2 months of the game, those playing and achieving 500-1750-1,000 minutes read are eligible to earn special badges and prizes such as: free books, AZ State Park Passes, Phoenix Mercury tickets; free Rubios, Raising Caine's and Peter Piper Pizza meals. And those achieving 1,000 minutes or more read are entered into a drawing to win a Family 4 pack to the Superbowl Experience 2023 and more! Learn more by clicking here.
---
News From Deer Valley Unified School District
DVUSD Transportation Jobs Now Available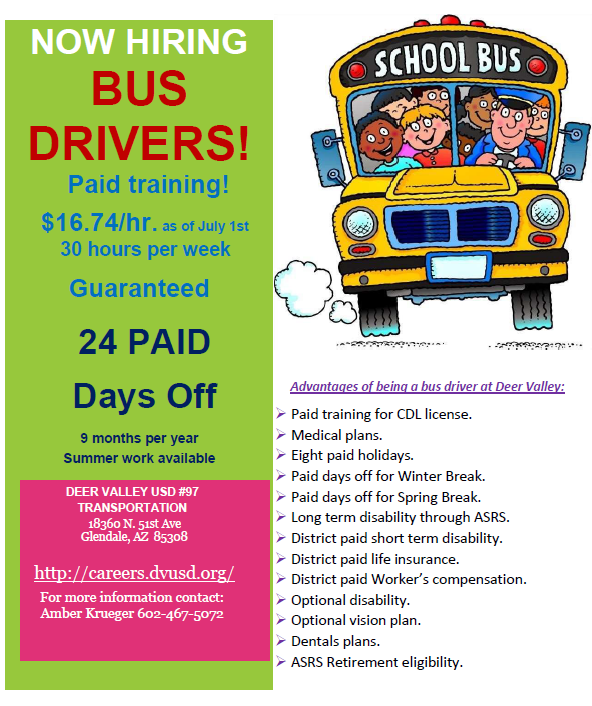 Deer Valley Unified School District (DVUSD) is hiring bus drivers and assistants for next school year. Training is paid, including for a CDL license. Employees receive paid winter break, paid spring break, and eight additional paid holidays. Benefits include medical insurance, life insurance, disability, and retirement plans.
For more information, visit https://careers.dvusd.org/ or call Amber Krueger at 602-467-5072.
---
News From Washington Elementary School District
WESD Announces New Online School, Enrolling Now!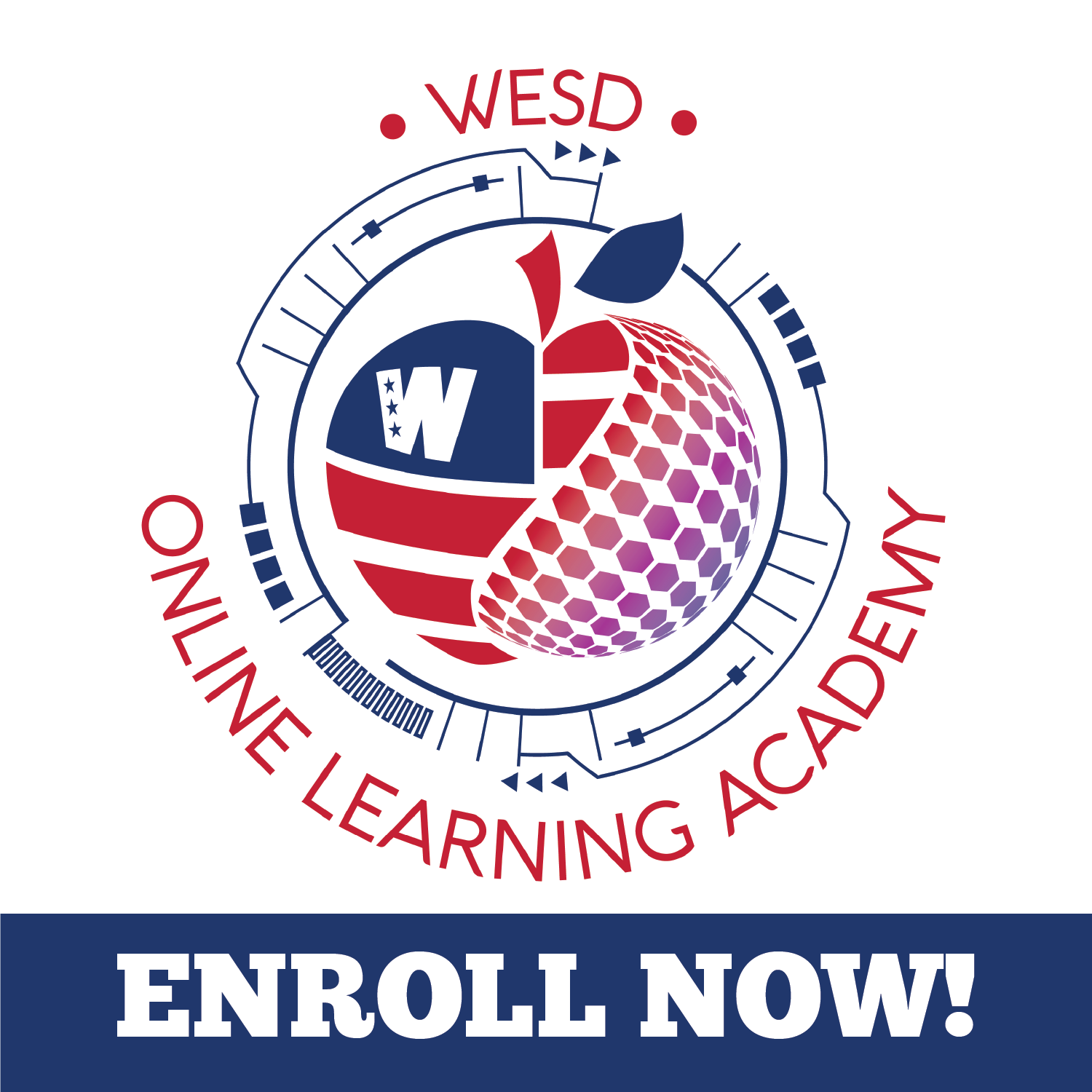 We are excited to announce the opening of the WESD Online Learning Academy, our Arizona Online Instruction (AOI) school approved by the Arizona State Board of Education. The Online Learning Academy will serve grades K-8 starting in August. This school will take the place of the Distance Learning Programs (DLP) that were hosted by Desert View Elementary (K-4) and Royal Palm Middle School (5-8). The WESD Online Learning Academy will provide real-time instruction with WESD teachers. Space is limited in each grade level.
If you would like your child(ren) to attend online for the 2022-2023 school year, the enrollment window is currently open through Friday, June 24, 2022. For more information about Online Learning Academy and how to enroll, please click the link below or email DistanceLearning@wesdschools.org.
https://www.wesdschools.org/wesdola
Now Enrolling Families for the 2022 - 2023 School Year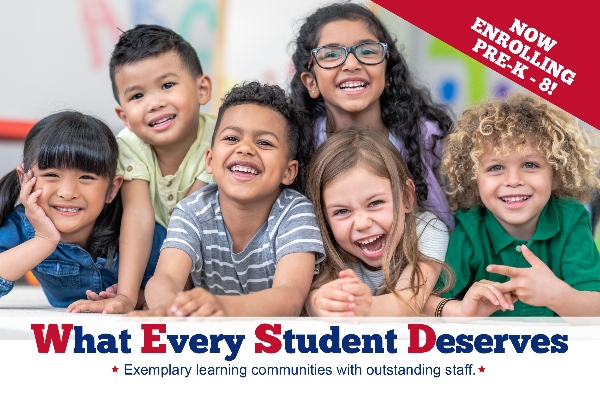 WESD is enrolling kindergarteners for the 2022-2023 school year. Our free, full day program includes research-based curriculum that addresses reading, writing, math, science, social studies, physical education and art with plenty of time for exploration and play. Please share this information with your friends and neighbors who have children turning 5 before September 1. Online registration makes enrollment easy! Click the link for more info.!
https://www.wesdschools.org/registration
---
News From Glendale Union High School District
World-class Education in Your Own Backyard: Enroll Today!
Glendale Union High School District offers nine nationally recognized high schools right in your own backyard. All schools are ranked among America's best high schools by U.S. News & World Report. GUHSD is proud to provide championship athletics, extracurricular activities, cutting-edge STEM opportunities, career & technical education options, and so much more. The new school year begins on August 8. It is not too late for new students to enroll for the 2022-2023 school year.
To learn more GUHSD news, visit our Facebook page @GUHSDAZ.
---
Interested in serving on Phoenix's Boards and Commissions?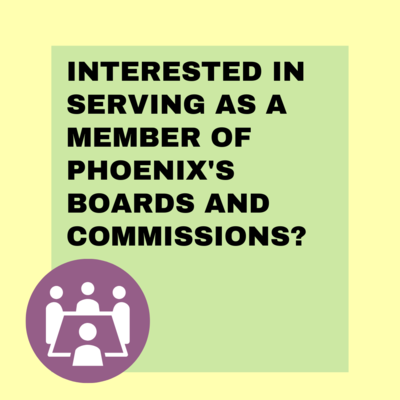 District 1 is seeking community leaders interested in serving as the District's representative for various boards and commissions, such as the Village Planning Committee.
To start the application process, please visit the Boards and Commissions webpage.
---

Upcoming City Council Meetings
Next City Council Policy Meeting: June 28th

Next City Council Formal Meeting: July 1st
Councilwoman O'Brien has been appointed chairperson of the Public Safety and Justice Subcommittee, and is also a member of the Transportation, Infrastructure and Innovation Subcommittee and the Economic Development and Equity Subcommittee. Visit the Council Subcommittee webpage for the schedule of public meetings.
---
Learn more about Councilwoman O'Brien, her priorities and focus for District 1 on the district's webpage.
---